Can Someone Please Explain To 'The Walking Dead' How Guns Work?
The Walking Dead has gone out of its way to be extra exciting this year with a non-stop array of gunfights and explosions, starting in the season 8 premiere and continuing week to week, living up to the "All Out War" name of this current comic storyline.
This week produced the best episode of the season to date, and honestly, probably one of the best episodes in the past year or two, a story that focused on the slow breakdown of Ezekiel after he survives a Savior ambush. It was a fantastic episode and I highly recommend you watch it even if you've been disappointed with the show as of late.
But there were other aspects of the episode that were…less good. Specifically, this episode highlighted something that the show has struggled with for years, but last night it actively made some would-be badass scenes worse.
I'm talking about how The Walking Dead seems to have very little idea how guns actually work.
Now, I'm no gun person. While I've shot some at the range, I don't own any nor possess an encyclopedic knowledge of firearms.
But I have watched thousands of hours of action movies and TV shows, and The Walking Dead is one of the only times that how poor the gunplay looks, sounds and feels really stands out to me. Even if the way The Walking Dead uses guns isn't realistic, to me, it's not even "movie/TV realistic" either.
I can remember as far back as season 3 when the gang got their hands on automatic rifles for the first time. There were these scenes where they were fighting off walkers or invaders, but their guns had literally no recoil. They were just standing there, pretending to fire, and later the CGI team was adding in muzzle flashes and sound was putting in gunfire effects. It all felt so horribly…fake.
That continues to this day, to some extent. While rifles and pistols and SMGs exhibit a little more recoil than they did a few years ago, something is just off with the visuals and sound effects of firing. It feels noticeably fake in way that most other shows and movies don't.
Weirdly, some scenes are okay, like when Carol shredded a group of Saviors by shooting through the ceiling, or when Morgan went full John Wick in a hallway a week ago. But other times? It's horrendous.
The scene I'm referring to in this week's episode was the Rick/Daryl motorcycle/jeep chase. It should have been one of the most badass action sequences the show has done to date, but instead it just felt stupidly silly. As the two pursue the truck loaded with the heavy guns, one of the Saviors pops one out of its crate and starts opening fire on their vehicles.
This is not a peashooter. This is a .50 caliber machine gun that is designed to shred vehicles, and those in them.
The problem? The Walking Dead treated the gun like it was lobbing paintballs at Rick's car. We see these little spatters of CGI light on the metal and Rick swerves around like this is some kind of movie from the '50s, and it's just so bizarre. This gun should be carving up Rick's Jeep. If you want the engine to survive so the car can keep going, fine. If you want Rick to survive because he's a lucky SOB, fine. But at least pretend you know what a gun like this can do to a car like that. Show giant holes being blown in the metal, shatter the windshield, anything. Make it feel powerful. Instead, it barely felt like a threat at all, and it totally killed the scene for me.
This seems like a budget problem, but I don't know why it needs to be. This is one of the most popular shows on cable and if it can spend a zillion dollars on ridiculously elaborate zombie make-up and cast salaries every week, it should be able to increase its practical and digital effects budget to make these gunfights feel more convincing. Particularly when this entire season is based around non-stop gunfights. If Game of Thrones can convince me an army is fighting a real-life dragon, The Walking Dead should be able to give us believable gunfights, at the very least.
There are other issues, major and minor. The Walking Dead does not respect the idea of limited ammo in the least, and even if America is loaded with guns, ammo really needs to be treated like the scarce resource it is, and not be used to do incredibly stupid things like waste thousands of rounds to shoot out the windows of a building. The concept of reloading only seems to crop up when the plot demands it, and sometimes weird things happen with zombie/human gunfire victims, like how Carol dropped five walkers more or less simultaneously as she rescued Ezekiel, which just looks goofy. Also, zombies are all instantly headshot 99% of the time while humans almost never are. There are smaller issues too, like how Ezekiel's captor already had the trigger of his Glock pulled, and had to pull the slide back to chamber another round in order to fire (someone on Twitter told me this, as I missed it). Minor, but an indicator no one is there to tell them these things on set.
Simply put, the guns need to feel more real when they're firing and hitting things. It seems like a minor issue, but it's something that has bothered me about The Walking Deadfor years, and it distracted me from an otherwise great episode this week.
If you liked this article, listen to our new video game podcast, Overworld, below.
Avengers: Infinity War Content Coming To Marvel Games
We are literally just days away from the release of Marvel's Avengers: Infinity War in theaters, and the company is going all out on the marketing push for the blockbuster film. That includes its games division, in which many of its titles will soon be updated with Infinity War content.
Marvel Games filled us in on what games will be getting updates over the next few weeks, including mobile favorites like Marvel Future Fight and Marvel: Contest of Champions, as well as the console hit Lego Marvel Super Heroes 2. The full breakdown can be found below — and you'd probably better gear up for Thanos' arrival.
Marvel Contest of Champions: April 19 – Players join Black Panther's Chadwick Boseman and Spider-Man's Tom Holland for a Champion Challenge. April 25 – Four new events surface, including the "Infinity Nightmare" story quest, a daily "Infinity Trials" quest, a solo challenge, titled "Vanquishing Blows" and "Infinity Dungeons", featuring social co-op quests. New characters launching include Proxima Midnight (available now), Corvus Glaive (April 26), as well as Captain America (Infinity War) and Iron Man (Infinity War) coming in May.
Marvel Future Fight: April 24 – Fight legendary battles in three iconic environments: Titan, Sanctum Sanctorum and Wakanda. The first wave of a two-part update debuts with new film-inspired costumes, including Thanos, Captain America, Iron Man, Spider-Man, Black Widow, Thor, Corvus Glaive, Winter Soldier, Proxima Midnight and Groot.
Marvel Puzzle Quest: April 19 – In-game event begins. April 24 – New supports become available, including Children of Thanos and Infinity Stones. New characters include Captain America (April 19), Black Widow (May 3), Okoye (May 17) and Spider-Man (Iron Spider) on May 31.
MARVEL Strike Force: New Avengers: Infinity War characters assemble, including Thanos, Vision, Star-Lord, Loki and Doctor Strange.
LEGO Marvel Super Heroes 2: Event content coming soon with a new level and Avengers: Infinity War characters
Marvel Avengers Academy: April 26 – The in-game event goes live, featuring Scarlet Witch, Thanos, Killmonger, Cosmic Ghost Rider, and Thane (son of Thanos).
MARVEL Spider-Man Unlimited: April 25 – Updates include new film-inspired characters: Spider-Man (Iron Spider), Thanos (Boss Battle).
The company expects millions of players to partake in the Infinity War activities. It reported, "Marvel continues to be the one of the biggest licensed IPs in mobile gaming. During the month of February, Marvel's multi-game live event – which featured all-new characters, costumes and gameplay inspired by the box-office record-breaking film Marvel's Black Panther – was played by over 16M active players and generated close to 10M new installs for the Marvel Games portfolio."
Marvel's Avengers: Infinity War hits theaters on April 27.
How Can Tarot Reading Benefit Your Life?
Life can be described as a journey of self-discovery. With every step in life, you get to learn new things and make progress. But to unleash your full potential, you need to ponder about the past and the future. This is where tarot reading can help you. There are several aspects of life that can be enhanced or resolved through tarot readings. Let us take a look at how tarot reading can benefit your life:
Obtain New Perspectives
Everyone has their own perspective on life and whatever happens in life. Tarot reading helps you to gain a different perspective on what is happening in your life. It is as if a new window of knowledge opens up and you gain clarity about things that were not clear to you before. This awareness helps you to make decisions with confidence and stride towards your future with new-found enthusiasm.
Identify Varied Options
Sometimes it so happens that you fail to identify the various options available to you to reach a particular goal in your life. A tarot reading can enlighten you about these options and help you evaluate them. As a result, you can find yourself in a better position to choose the right direction to fulfill your goal.
Recognize Areas That Needs Improvement
It's a known fact that no one's perfect and there is always room for improvement in everyone. But more often than not, people fail to realize that they need to improve or do not recognize the areas that need improvement. With the help of tarot reading, you can gain insights into the areas in your life that need a bit of care and improvement. This one step can go a long way in improving the overall quality of your life. To know more about improving your life with tarot reading, you can check out https://www.psychic2tarot.com.
Overcome Your Worries And Fears
Anxieties and worries are a common part of life. Yet, sometimes they can reach such a crescendo that it may become difficult for you to focus on the positive aspects of your life. You may be inundated with tensions or become fearful about facing the challenges in front of you. Tarot reading can be a boon in such times. It can help you to calm down, overcome your fears, and face your struggles with renewed vigor.
Transform Your Life
Transforming your life is easier said than done. If you want to change your life significantly, a tarot reading may be the best place to start. You will be able to discover hitherto unknown or hidden facets of your personality. Also, you will be able to find the inspiration to adopt actionable steps and become a better and happier version of yourself.
Improve Your Relationships
It takes much effort to build harmonious relationships with others. A tarot reading can enable you to understand and improve your relationships and encourage you to nurture them. You will be able to appreciate the positive traits of your relationships and work towards developing them into long-lasting bonds.
7 Best Hacker Apps For Android 2018
Welcome! Gamers, playing games on Android is nowadays a very common trend. With these games a game hacking tool is is very necessary. In this article, I will share the list of the best game hacking apps for Android.
Game hacking apps are so important because these apps allow you to manipulate any game. These apps will help you to hack and crack any game to get unlimited game resources. Such as gems, coins, unlimited life, Amos etc. these apps are so cool that they help you to clear any level of the game when you are unable to clear it. It is very annoying sometimes when you struck at any level and can not clear it, These apps are very useful at that time. So, the best game hacking apps are listed below
Best Game Hacking Apps for Android 2018
This app allows you to clear any level of any game by providing you unlimited Amos, gems, coins, and lives. This is also used to purchase any apps from Google play store, without using a penny. It skips the payment gateway during the purchase of any premium app.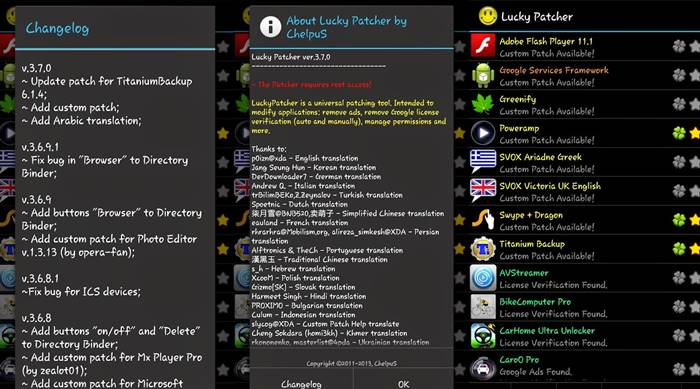 Highlights
You can get any premium app for free
Makes the app's ad free
Helps you to clear hard levels of any game
You can easily get all features of any game.
This game hacking app is the best game hacking app for Android platform. It allows you to manipulate the game settings and get unlimited resources. This app also helps to get premium apps for free. It removes ads from the app and removes bugs. It works only in rooted devices.
Highlights
It comes in multiple languages
Understands fazzy and accurate searches
Remove bugs
Filters the data
Prevents the Ads.
This app is another best app for hacking games, and brings you unlimited resources, also clears levels for you. It also bypasses the payment gateway during the purchase of any premium apps. Thus this app allows you to enjoy your games without any interruptions
.Highlights
Purchase free games for you
Allows you to manipulate game settings
Also works on non-rooted devices.
Useful for near about all devices.
Overcomes payment gateways.
This app is the best game hacking app, as it allows you to modify the games, From purchasing the game for free to creak any version of the game to bring you unlimited resources, for helping you out to clear any hard or annoying level of the game.  The best part is that you need not root your mobile to use this app.
Highlights
Allows you to get app for free
Hack and crack any version of your favorite game
Works on nonrooted devices
Easy to add new units.
This is another premium quality game hacking app that provides you the chance to modify the game variables by hacking the game. This app is useful each and every time when you found any stage of the game hard to clear. Using this app you can increase the number of coins, gems, amos etc. This app will only work on rooted Android devices, you can check smartwoop to know how you can root your device.
Highlights
Android rooting is required
You can cheat any level of the game
Give you all the premium features of the game
Gives you a chance to take all the paid games for free.
This game hacker app is the most popular among all. Because this app gives the player some extra features than the other game hacking apps. The cheat engine enables the player with more power than the opponent. This app is developed by Dark Byte. This app also brings you the facility to make your modifications in a way you want.
Highlights
This app is very robust
Tutorials are available
Allows the player to make his/her own modifications
But all games are not available for this app.
This app is the best app for you guy as per my perspective. Because this app has everything that you want in your game hacker app. It seems like the developers know all your needs They have everything to provide you. Thus this app becomes the favorite hacking app for many people.
Highlights
Provides you more power
Searching for rival is automated
A vast list of games that can be played
The developers come with updated version very shortly
Works on both rooted and unrooted devices.
Our verdict
In this article, I have provided the list of the best game hacker app for android. Now it is your turn to check them out and select the best suited for you. You may find dozens of the game hacking app on the market but the above mentioned are the best among them.
So, I hope you guys liked the article, now and enjoy your games with these hacking app.