MAZDA'S IDEA TO MAKE DRIVING FUN AGAIN COULD KEEP US SAFE
Someday, maybe soon—depending on where you live, where you go, and the size of your credit card—you won't have to worry about paying attention on the road. You'll have a robot to do that for you. Until then, sorry to say, you'll have to keep your brain, eyes, hands, and feet in line and on the job.
This is clearly a problem, because, according a recent study, approximately everybody looks at their phone when they should be looking at the road. We've seen all sorts of efforts to end distracted driving in recent years: cars that spy on their human occupants, anti-distraction apps, legislation, sliding into your DMs. Meanwhile, the problem keeps getting worse.
Mazda thinks it has found a better way: To end distracted driving, make driving more fun. In a newly filed patent, the Japanese automaker proposes a system that would detect inattention with a combination of cameras and analysis of inputs like how long it takes the driver to move their foot from the gas to the brake. And then it might offer tips to the driver—not just to pay attention, but ways to improve their skills, to hit that corner better, or accelerate more smoothly. It could use a cabin speaker to falsely amplify the engine noise, encouraging the driver to slow down. It might even offer directions to a more engaging road, one with the curves and scenery demand more attention than a touchscreen (if that's still possible).
This is just a patent (spotted by auto writer Bozi Tatarevic) and Mazda wouldn't reveal any plans to make it real, but the idea jibes well with the automaker's focus on the more carbon-based aspect of driving. "We still believe fully in the idea that the most powerful computer in the car is an attentive driver, and that the journey is as important as the destination," says Mazda rep Jeremy Barnes.
That may seem old-fashioned or even obtuse—maybe Mazda just fell behind on the computer stuff and doesn't think it's worth trying to catch up—but the logic of this proposed system lines up with more academic approaches to the topic.
"We're looking for alternative ways to keep the driver, regardless of what their role in the future may or may not be, engaged to a level that they need to be," says Bryan Reimer, a human factors expert at MIT who studies distracted driving. That role certainly will change as automated systems like Tesla Autopilot and Cadillac Super Cruise infiltrate more and more cars, but the need for human supervision won't be fully stamped out for a long time.
It's clear by now that a blanket "Do Not Text and Drive" admonishment has little effect, especially since the vast majority of the time, looking at your phone doesn't lead to a crash. But a system that can detect when your attention wavers—that knows when it's mostly OK to look away, and when it's really not—just might work. Especially if it can convince you—rather than scold you—to draw your eyes back to the road.
Mazda isn't the only company looking to deploy smarter robots while keeping humans at the wheel. Toyota, long wary of autonomous systems, is working on "guardian angel" tech that will only step in when you're about to step in it. Lamborghini thinks artificial intelligence could teach you to have more fun driving your supercar.
So yeah, some people can look forward to robots that take the wheel. Others can look forward to robots who make taking the wheel a lot more fun.
Elegant Anniversary Flowers at your Doorstep!
The term 'Anniversary' is a date during which an event had taken place or establishment of an institution during the previous year. Many countries across the globe observe national anniversaries, which represents the inception of an institution or a government. Birthday anniversary, wedding anniversary and Death anniversary are some of the common types of anniversaries, which are celebrated by people around the world.
Sending or receiving flowers makes you or your loved ones feel something very special. Expressing your love and affection in the form of delivering flowers is much more than sending greeting cards or text messages to your friends and relatives. Celebrating your birthday or wedding anniversary is not complete without the presence of anniversary flowers.  Anniversary Flowers plays a pivotal role during auspicious events owing to its significance and grace.
Nowadays, most of the people prefer attaching personalized text messages while presenting flowers to their loved ones. While some couples opt for traditional anniversary flowers during their wedding anniversary. During the course of this auspicious event, they utilize traditional flowers to adorn their house. Now let us discuss in detail some of the anniversary flowers and its importance.
During your first anniversary, the Carnations symbolize commitment, happiness, and comfort for the coming years.
Lily of the Valley is an epitome of love and affection. It is one of the preferred anniversary flowers to celebrate your second anniversary.
Sun Flowers could be one of your best pics in order to celebrate your third anniversary. It signifies a strong bond between you and your life-partner. Besides that, it symbolizes loyalty and faithfulness.
Hydrangea is a flower, which symbolizes gratitude and appreciation. It could be a perfect match to celebrate your fourth anniversary.
Daisies, which is sometimes referred to as 'Asteraceae' or 'Compositae' represents innocence and sympathy towards your soul mate.
Ordering Anniversary flowers online
Owing to time constraints, most of the people prefer browsing through reliable online florists' portals where they can choose from a wide variety of anniversary flowers and place their orders online. However, there are plenty of e-commerce portals where the customer can avail the 24/7 customer support. The discerning customers will be offered necessary guidance and support by a team of highly skilled professionals.
One of the major benefits of purchasing anniversary flowers online is that an individual can obtain the flowers at affordable rates rather than spend a huge amount at the nearby local store or retail shop. The customers have the option to select from a wide range of anniversary flowers.
The customers can avail attractive discounts on each purchase, which is offered by the respective e-commerce website, India Flower Mall. Mid-night delivery option is also available where you can surprise your loved ones immediately when the clock struck twelve.
Most of the e-commerce websites ensure that the anniversary flowers are delivered to the customers at attractive rates without burning a hole in their pocket.
7 Best Hacker Apps For Android 2018
Welcome! Gamers, playing games on Android is nowadays a very common trend. With these games a game hacking tool is is very necessary. In this article, I will share the list of the best game hacking apps for Android.
Game hacking apps are so important because these apps allow you to manipulate any game. These apps will help you to hack and crack any game to get unlimited game resources. Such as gems, coins, unlimited life, Amos etc. these apps are so cool that they help you to clear any level of the game when you are unable to clear it. It is very annoying sometimes when you struck at any level and can not clear it, These apps are very useful at that time. So, the best game hacking apps are listed below
Best Game Hacking Apps for Android 2018
This app allows you to clear any level of any game by providing you unlimited Amos, gems, coins, and lives. This is also used to purchase any apps from Google play store, without using a penny. It skips the payment gateway during the purchase of any premium app.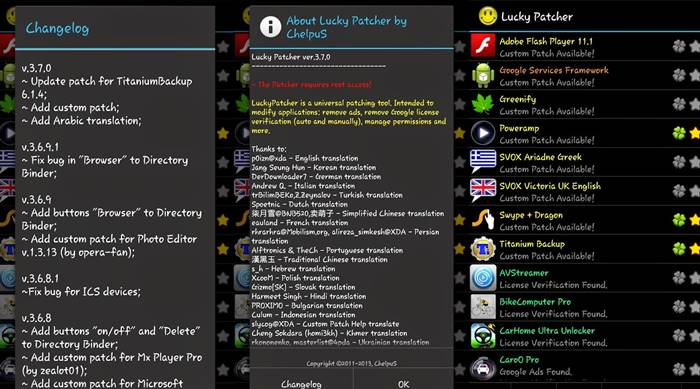 Highlights
You can get any premium app for free
Makes the app's ad free
Helps you to clear hard levels of any game
You can easily get all features of any game.
This game hacking app is the best game hacking app for Android platform. It allows you to manipulate the game settings and get unlimited resources. This app also helps to get premium apps for free. It removes ads from the app and removes bugs. It works only in rooted devices.
Highlights
It comes in multiple languages
Understands fazzy and accurate searches
Remove bugs
Filters the data
Prevents the Ads.
This app is another best app for hacking games, and brings you unlimited resources, also clears levels for you. It also bypasses the payment gateway during the purchase of any premium apps. Thus this app allows you to enjoy your games without any interruptions
.Highlights
Purchase free games for you
Allows you to manipulate game settings
Also works on non-rooted devices.
Useful for near about all devices.
Overcomes payment gateways.
This app is the best game hacking app, as it allows you to modify the games, From purchasing the game for free to creak any version of the game to bring you unlimited resources, for helping you out to clear any hard or annoying level of the game.  The best part is that you need not root your mobile to use this app.
Highlights
Allows you to get app for free
Hack and crack any version of your favorite game
Works on nonrooted devices
Easy to add new units.
This is another premium quality game hacking app that provides you the chance to modify the game variables by hacking the game. This app is useful each and every time when you found any stage of the game hard to clear. Using this app you can increase the number of coins, gems, amos etc. This app will only work on rooted Android devices, you can check smartwoop to know how you can root your device.
Highlights
Android rooting is required
You can cheat any level of the game
Give you all the premium features of the game
Gives you a chance to take all the paid games for free.
This game hacker app is the most popular among all. Because this app gives the player some extra features than the other game hacking apps. The cheat engine enables the player with more power than the opponent. This app is developed by Dark Byte. This app also brings you the facility to make your modifications in a way you want.
Highlights
This app is very robust
Tutorials are available
Allows the player to make his/her own modifications
But all games are not available for this app.
This app is the best app for you guy as per my perspective. Because this app has everything that you want in your game hacker app. It seems like the developers know all your needs They have everything to provide you. Thus this app becomes the favorite hacking app for many people.
Highlights
Provides you more power
Searching for rival is automated
A vast list of games that can be played
The developers come with updated version very shortly
Works on both rooted and unrooted devices.
Our verdict
In this article, I have provided the list of the best game hacker app for android. Now it is your turn to check them out and select the best suited for you. You may find dozens of the game hacking app on the market but the above mentioned are the best among them.
So, I hope you guys liked the article, now and enjoy your games with these hacking app.
The time you were waiting for, is here! The e-shop of 4bag travels around Europe!
Now you can make your orders, even if you are not in Greece, but in any of the European countries!
Because of the fact that 4bag takes care of its customers and wants to be close to them, and because we had orders from abroad, from now on we accept your orders for our new products from all over Europe!
We are aware of the fact that our beloved brand, the women's bags of course, is inseparable piece of their appearance, for the majority, and it makes perfectly sense about it.
The bags are something like an extension of woman's self! Which woman have you ever seen, going outside her house without holding a bag? Almost none!
Because it is that accessory that a dressing needs to be completed and arouses her style!
The women, we have in our nature to want to be beautiful and impressive! With the appropriate bag, we can be stunning every hour of the day, in any occasion.
Take a look from which European countries you could make an order
You can order in 4bag.gr from the following countries:
Belgium
Bulgaria
Italy
Austria
France
Germany
Luxemburg
Holland
Portugal
Slovenia
Hungary
Romania
Sweden
Finland
Lithuania
Latvia
Denmark
England
Spain
Czech republic
The 4bag bags in Europe: Delivery at the European countries
4bag.gr can feel your needs, so from now on you can make yours your favorite bags, at all the European countries. The shipping rates in Europe is 16€ and we delivery your unique brand by courier.
Your greek handmade bags, which are made from recycled leather, will be delivered to you in about seven to ten days, from the day that you have ordered.
In case the certain bag or the bags in offers you want, are no more available, we will contact with you immediately.
Our online store, always want to have you satisfied. In every corner of Europe you may be, we will serve you and deliver you, your chosen accessories at the front of your door.
The 4bag.gr has been designed to make your purchases, in the coziness of your house, with a single click, in all over Europe!