Air Pollution Exposed: Why You Might Be Breathing In Tire Waste
Most drivers know the importance of checking tires regularly to see how worn down they are ― if you don't, your car is an accident waiting to happen. But have you ever thought about where the worn-down stuff actually goes?
About 10-30 percent of the rubber from car tires is lost as they wear out, a European Commission review reports. The majority of that material ends up on, or at the side of, the road, but most of us don't realize that tiny tire wear particles small enough to be inhaled are also mixed into the air we breathe.
While a number of scientific studies have found tire dust has adverse health effects, the tire industry ― and studies it has commissioned ― suggests otherwise.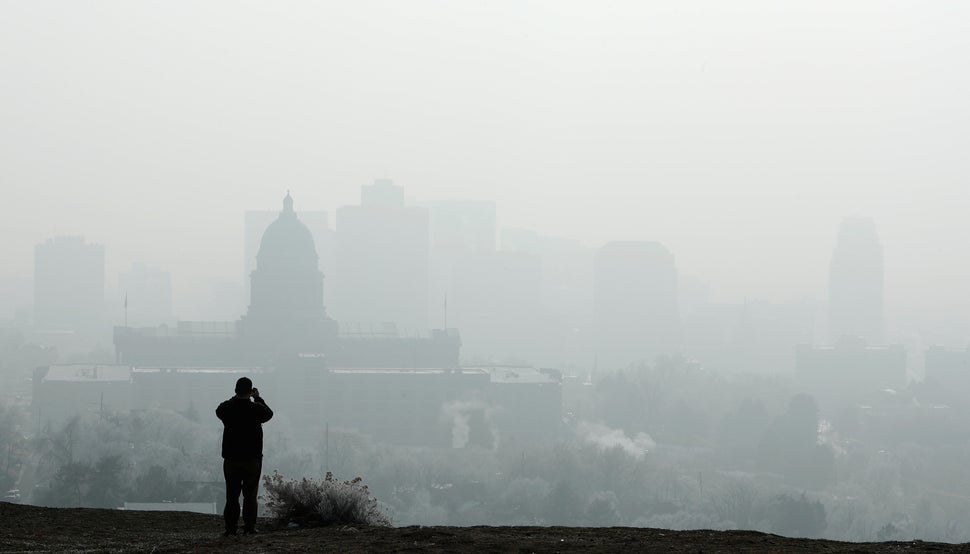 Although significant work has gone into researching the contribution of emissions from exhaust pipes to air pollution, emissions such as those produced by tire wear have been largely overlooked, professor Frank Kelly, chair in environmental health at King's College London, told HuffPost.
There is much that needs to be investigated, not only when it comes to the potential health effects but also around what actually goes into tires.
Since the recipes manufacturers use for their tires are generally kept under wraps, exactly what these tire wear particles contain is "a bit of a black box," said Kelly, who provides policy support on air pollution to the World Health Organization.
The findings of a study co-authored by the academic in 2013 suggest that reducing exposure to tire dust would likely lead to improvements in health. But more research is needed to better understand the health effects of tire wear particles, Kelly said, especially as non-tailpipe emissions ― from brake pads and road surfaces as well as tires ― become increasingly important while exhaust emissions are brought under control.
The tire industry, however, has pushed back on suggestions that tire wear particles have health effects. The Tire Industry Project ― an industry body chaired by the three biggest tire manufacturers, Michelin, Bridgestone and Goodyear ― says it is working to develop a better understanding of the possible health and environmental effects of tire and road wear particles (TRWP).
As part of this ongoing work, it has commissioned a series of peer-reviewed publications. "The key takeaway from TIP's research so far has been that the presence of TRWP presents no significant risk to humans and the environment," Philippe Fonta, the managing director of TIP, told HuffPost by email.
Cyrille Roget, global head of scientific and innovations communications at Michelin Group, told HuffPost: "All the studies that we have been looking at indicate that those particles in fact do not present any danger."
Despite repeated requests, Michelin did not provide HuffPost with these studies. Michelin did say it is developing a tire with a biodegradable tread made from material such as hay or beets.
Concerns over tire particle pollution also raise questions about frequently cited ideas for tackling vehicle-related pollution, such as electric cars.
Electric vehicles (EVs) are being touted as one of the most promising solutions to the air pollution crisis, especially in cities. But while they can significantly reduce tailpipe emissions, they won't tackle the effects of non-tailpipe emissions from the likes of tire waste.
Jonathan Grigg, professor of pediatric respiratory and environmental medicine at Queen Mary University London, told HuffPost that cities should go further than just promoting EVs and genuinely rethink urban transport to move away from private car use.
"Yes, we can achieve a lot with EVs, but we shouldn't lose sight of the fact that we need to be able to move around our cities in different ways than just individual cars," said Grigg, whose research focuses on air pollution and health.
There's a long way to go, however, not least of all in America. "In the current anti-regulatory political climate of the U.S., government officials are attempting to downplay the health impacts of poor air quality," Natalie Nava, project leader at the environmental group Greenpeace USA, told HuffPost. "But don't be fooled ― the air we breathe is important. If the government and companies fail to take action to improve our air, we will be dealing with a global health catastrophe."
Fruitful Office – secrets of business success
Fruitful Office was founded in 2006. This was of course just before a major economic downturn, and a period which saw a very high rate of business failure. However, 12 years on, the company is not only still here, but is flourishing, making 5,000 deliveries every week to offices in the UK, Ireland, Germany, Holland and Belgium.
So, what are the secrets of the company's success?
Company founders Vasco de Castro and Daniel Ernst left secure and potentially lucrative careers in investment banking and an accountancy respectively to set up Fruitful Office. One of their principal motivations was their frustration at the poor quality of fruit being delivered to their own offices. They also noted that there was a potential gap in the market, in that at the time there was no UK company that concentrated purely on supplying fruit to offices.
Daniel initially took a six-month career break from his job at PwC, but Fruitful Office became so successful that he never returned. His company still supplies the Big Four accountancy firm with regular deliveries of fruit.
Fruitful Office (www.fruitfuloffice.co.uk) takes a meticulous approach to quality control. The company hand-selects the very best fruit, all at the "breaking point of ripeness". All of the fruit is quality checked before it is placed in a basket. Whilst in transit, the fruit is handled with meticulous care to protect it from bruising and other damage. By buying from local wholesale markets, the company can be more selective about the fruit they obtain, and deliveries can get to the customers' offices much faster.
In the early days, the company founders were able to carry out these quality inspections personally. As the company grew, it became impossible for Vasco and Daniel to inspect every single item, so it became vitally important that they recruited people they could trust, and to whom these responsibilities could be delegated.
Providing a high-quality service should mean that business volumes grow simply through word-of-mouth. In its early days, Fruitful Office took the bold step of providing free produce to 25 companies, but many more orders soon followed as word got around about just how good their service was.
Business development director Vasco continually stresses the importance of 'employee engagement'. He highlights that this is not necessarily the same as employee satisfaction, and that to be truly 'engaged', an employee must feel an emotional attachment to their place of work.
Vasco believes that the secrets of employee engagement are:
Recruiting the right staff. Even if a company is growing rapidly and needs to take on a lot of staff in a short space of time, it is vitally important to ensure that new recruits not only have the right skills and experience, but also share the management's passion and vision. He comments that the people who are recruited early on in a company's life often end up shaping the company culture.
Empowering the team. Fruitful Office believes that people work best when they are encouraged to be entrepreneurial, and to make their own suggestions and to put them into action. Employees also need to see how their own efforts affect the company as a whole.
Giving employees ownership. Vasco advocates trusting his employees and giving them more responsibility. Staff motivation can be greatly improved when they are given ownership of a project or task.
Other tips Vasco has for effective people management include:
Taking the time to listen to employees. When an employee needs to speak to a manager, the manager must give the employee their full undivided attention.
Acknowledging achievements. Even if there is no monetary reward on offer, when an employee does a good job, the management should acknowledge this and let the person know their efforts have been appreciated.
Being human. Work should be a fun place, where colleagues can on occasions have a laugh. Managers should also take an interest in the personal lives of their staff.
Fruitful Office believes that staff wellbeing is of vital importance. All staff are offered extensive opportunities for development and training, and it probably goes without saying that the company makes sure all of its staff get their 'five a day' of fruit and vegetables!
How Are Web Insurance Aggregators Transforming the insurance sector?
Tips For Looking after Your Organic Mattress.
You have gotten an excellent all-natural cushion. Guard your economic investment by taking superb treatment of it with these all-natural mattress treatment pointers.
Superb framework for your all-natural mattress:.
Set on your personal around provide your cushion a long life by positioning it on an excellent framework. If you have obtained an all-natural mattress made from natural items like all-natural cotton, wool, latex rubber, or hemp, you'll need to allow it breath, and a solid system framework will never ever do. A man-made box spring framework is also unfavorable for your cushion as it will not allow sufficient air task. Equally as irritating is positioning your all-natural mattress right on the floor covering.
There are many alternatives for supplying adequate air movement to your all-natural cushion. Slatted system structures or all-natural box spring frameworks are both terrific choices for allowing your cushion to breathe. If neither of these choices is viable, consider puncturing 1″ openings right into the solid system of your bed structure to allow air to relocate more freely.
Cover your all-natural cushion with all-natural bedding:.
Equally as necessary for your mattress is the bedding you determine to cover it with, and here all-natural bedding is the only method to go. Starting by selecting a natural wool or cotton cushion pad or guard. This will allow your cushion to breathe while protecting it from places and discoloration. Select all-natural bedding built from all-natural cotton, bamboo, wool, hemp, etc to settle your all-natural rest system.
If you desire to get the most from your all-natural mattress, remain free from things like magnetic sheets, man-made foam cushion toppers and barrier covers, and synthetic mattress covers. Each of these will choke the air task and prevent your cushion from breathing generally.
Ensure to clean your all-natural bedding consistently. Take this possibility to enable your cushion to breathe a great deal greater than common. Leave both the sheets and mattress topper off (airing in the sunshine preferably) of the cushion for many hours to enable it to transmit out. Some additionally encourage transferring your mattress right into the sunshine for a full air-out experience.  Check out www.sleepjunkie.org/whats-the-best-mattress-for-a-bad-back/ to know more about the mattress.
Transforming your all-natural mattress:.
Whether you need to transform your all-natural cushion will depend significantly on what kind you have obtained. Right here's a rapid method to recognize whether you must transform your cushion or not:.
The normal month-to-month mattress is switching: Innerspring mattress and futons should be transformed and/or activated on a routine month-to-month basis to make certain the springs are placed on evenly with time. Some vendors will suggest a lot less continuous switching and rotating – merely see exactly how your cushion uses and transform a whole lot extra routinely if you see unequal plunging or imprints.