It's 2017: Why Are We Still Wearing Corsets?

Sifting through celebrity photos for work a few months ago, I came across an image that stopped me in my tracks: In it, Kim Kardashian had paired sweatpants and a padded jacket with a Givenchy corset — boning and all. That one idea — a corset in 2017 — triggered a Baader-Meinhof scenario; for the rest of that week I saw them everywhere, from my browser to my backyard, at a streetwear launch party in my hometown of Cape Town, South Africa. They were dressed up, styled down, and worn over everything from men's banker shirts to sweater dresses, all while being touted as the next evolution of underwear as outerwear.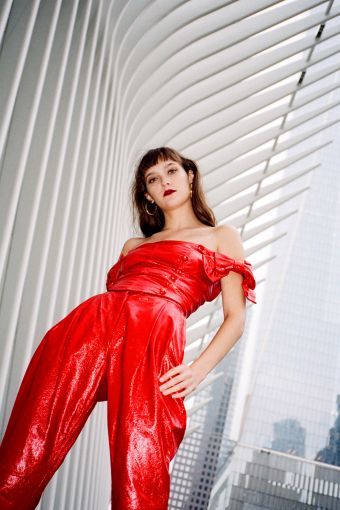 Suddenly, corsets were back in magazines too: On Emma Watson's Elle UK cover, on Maria Borges for Grazia Australia, on Natalia Vodianova for Porter, and on Madonna forVogue Italia. They showed up on celebrities like Rihanna — on-tour via Adam Selman, on the runway via Fenty x Puma — Kylie Jenner, and Gigi Hadid. Of all the throwback trends that could take up space in one's closets these days, I was surprised the corset — once a symbol of women's oppression — is the one my generation of empowered, active women would choose to unearth. We've replaced our push-ups with bralettes and our stilettos with sneakers, and yet, the corset has returned.
Its comeback began on the spring 2015 runways: A satin bodice at Jean Paul Gaultier and a gilded sacred heart bustier at Dolce & Gabbana were unsurprising, but my eyebrows shot up at the sight of the "French bodies" at Givenchy, reportedly inspired by traditional folk clothes from northern Italy. Then came an explosion in the fall 2016 collections: Alexander McQueen showed decadently embroidered gowns held up by a skeleton corset of sheer fabric and boning, while now ubiquitous "real-girl" canvas, leather, and denim versions at popped up at Prada, Isabel Marant, and Loewe. The options kept on coming from Balenciaga, Louis Vuitton, and Balmaintoo. Even this season at New York Fashion Week, designers from Tibi and Prabal Gurung to Helmut Lang and Alexander Wang all showed variations of the contraption.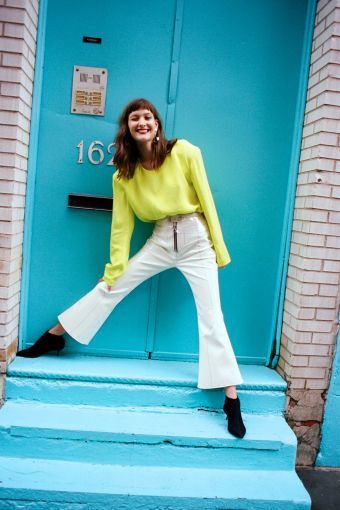 But the alarm in my head continued to ring — not just because corsets are back in a big way, but because I, surprisingly, love the way they look, especially in the fresh and often weird way they're styled, wrapping and shaping our waists in a way I never thought we could. While I found the prospect of wiggling into this latest wardrobe game-changer exciting, I also felt uncomfortable. These centuries-old instruments of everyday torture were used to mold women into a fantasy silhouette that was rarely achieved without pain or genuine damage to their health. We retired them. We banished them. We relegated them to fashion history. Now here they are in all their contemporary glory. And I want to buy one, or a few… But can a feminist wear a corset without being a hypocrite?
Can a feminist wear a corset without being a hypocrite?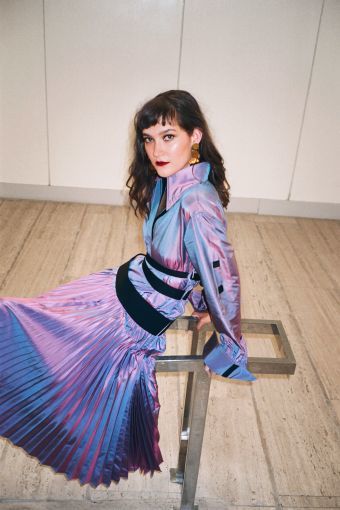 We've living in a time of intersectional feminism, body positivity, and genderless, smart, and adaptive fashion. We're (gradually) gaining ground for women's rights around the world, and we've mounted an aggressive attack on the gender wage gap. An archaic body-modification device with a controversial history seems a little out of place in our progressive wardrobes. But here I am, trying to decide if I should get one in leather or denim or both.
Of course, the contemporary corset I want is definitely not the corset of the 16th century. For form, we've gone with modern plastic and polyester instead of steel and whalebone, and barring the waist-trainer-faithful, wearing one today is primarily an exercise in accessorizing, not modification. Modern options don't bear much of a resemblance to their ancestors either, with soft bralette and belt versions being favored over full-torso designs. Instead of a constrictive undergarment, these are cool and beautiful pieces in materials like light cotton voile and hand-molded leather. But all things considered, these are still corsets, designed to exaggerate the female form — and I still feel a little shook.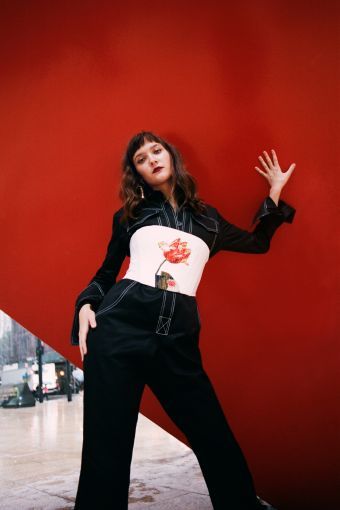 Fashion's cyclical nature means there isn't just the possibility of a comeback — there's the inevitability of one. But the corset always felt like an exception to that rule. When fashion experienced a major silhouette reform in the early 20th century (starting from the pioneering corset-free designers like Paul Poiret and Gabrielle Chanel), women didn't just push corsets to the backs of their closets — they condemned them. After all, they had seen and experienced everything from the industrial revolution to the sexual revolution of the jazz age to the battle for the women's vote. Meeting an unrealistic standard simply for the pleasure of the male gaze wasn't a high enough aspiration for the people they had become; they could be so much more — and they wanted to be.
But the return of the corset represents yet another shift in our state of mind: Is it, again, about stature and empowerment? We're now wearing them over our clothes, a choice that says almost as much as the choice to bring them back in the first place: If we're going to wear a corset, it's going to be on our terms, loose and layered and as unconventionally sutured as possible.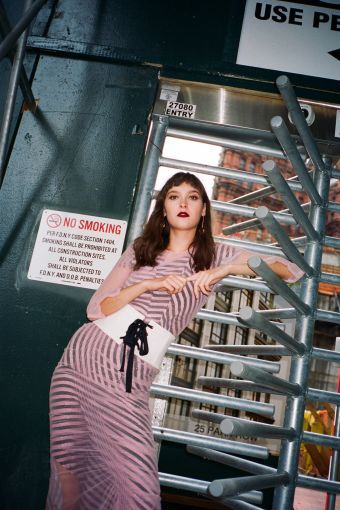 We've always used fashion to express opinions, align with a cause, or put our personalities on display. In that way, the ability to choose what we wear every day has power, so it makes sense to put that power to use, be it through a feminist Dior T-shirt, a Hillary Clinton-style pant suit, or, in this case, by reclaiming the corset and subverting its oppressive roots. Of course, part of what makes that possible is that today's version of the corset isn't just about being perceived as sexy and alluring — the 2017 version is built for modern life, for weekday subway rides, brunch marathons, and probably your Instagram account, too.
It's in the intersection between the corset and its past and present cultural context that brings it full circle. In a world where our choices mattered less, where our voices were stifled, and our roles imposed on us, any opportunity to rebel was significant. Today, despite gender bias and its fallout, women have more space and freedom than ever before to shape our lives as we see fit — not just our waists. That doesn't make the trend any less disconcerting if you'd written them off entirely like I had. But, we can embrace the fact that living in 2017 means that even though rejecting the corset was a big deal, reintroducing it doesn't necessarily have to be.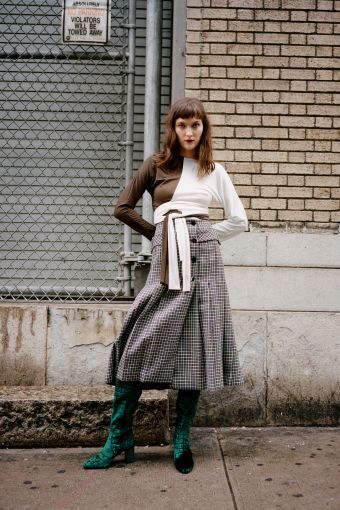 We get to choose it for ourselves now, and in doing so, we get to choose what it means. For me, that means adding another layer to my outfit. I'm thinking my new striped pant suit would look great with one, so I'm going to get over my reservations (and silence the voice in my head telling me I don't have the body for it) and buy one. Not Kim's Givenchy corset — I'm not best friends with Riccardo Tisci just yet — but something a little like it.
Mattress Purchasing Listing For First time Customers
Of course there are greater than a great deals mattress marketing stores proclaiming they have the absolute best mattress and there is no should examine what they claim momentarily. It includes a Two Decade solution guarantee, the perfect spring box, multi-layered, flexible and some also included a totally free cushion or lying block. What do you do when every mattress out there is the "best"? You choose the one that is best for you.
Cushions are established for various demands. Every ideal mattress is made to fit various people. The trick is to find the cushion that is ideal for you. Following are a few of the checks that Mattress Queen team has made after some primary research research and party examinations from purchasers, rest experts and mattress sales representatives.
– Mattress purchasing Examine me: It might be your first time purchasing a mattress. You could use the experience the very first time you acquired a car and truck, or a simple pen.
This is as fundamental as getting a brand-new pen. Point you do before getting a pen is you try it by creating many words on some scratch pad; you call for to do the exact same with the cushion you think looks comfy. Try residing various settings on the mattress before you get it. And do not really feel ashamed to try it out specifically resting on it the means you normally rest. Repeat the same with various cushions till you find your "best" queen sized mattress.
Much like autos, it's very recommended that you take any kind of cushion for an "examination drive" before you get it. No, that does not suggest you need to invest the evening in the mattress shop, but do not wait to invest fifteen mins loosening up on a mattress you think you might want to take residence.
– Mattress purchasing Inspect II: Stronger is far better. NOT regularly.
Stronger mattresses are generally the most preferred cushions, but that does not recommend they're far better at staying clear of discomfort in the back. A cushion that's too soft could similarly set off back or back problems. It is not recommended to get a mattress based merely on that particular it is also strong or too soft.  Check out www.sleepjunkie.org/compare-labor-day-mattress-sales-sears-macys-walmart/ to know more about the mattress.
– The mattress is getting Inspect III: Greater coil matters are far better. Are they?
When you speak with a mattress sales agent, they'll likely educate you that a higher coil matter will bring about better rest and a more durable mattress. Some cushions give more coils but use thinner cord, and others with a thicker cable and much fewer coils. That does not recommend you have to throw your hands up and rest on the floor covering. Merely do not invest greater than you indicated to if you could not literally really feel a difference.
Clothing Tips Every Woman Needs to Follow
There are certain clothing tips that can spare you a lot of frustration and headaches, so you will need to know what they are. These tips can also make it easier to find beautiful articles of clothing that will be able to look even more stylish. The more time you take to read through these tips, the easier it will be to put together some beautiful outfits that you can be proud of.
Out With the Old and In with the New

Take some time to go through your closet so you can determine which things can stay and which should go. Everyone needs to clear out their closet once in a while, and doing so will help make room for beautiful new pieces. If you have recently cleaned out your closet and want to try a new look, you might want to Buy Bohemian Style Clothing. These clothes have a vintage look that is very hot and stylish right now.
Stretch Your Shoes Out Properly
Make sure that you stretch out your shoes in such a way as to not cause you any pain. Despite what you may think, this is very possible. Simply take two freezer bags, fill then up with water and slide them into your shoes for a few hours. You should be able to notice a significant difference once you take the bags out. If you are in need of new shoes or clothes to go with new ones, you will find the best bohemian style clothing sold here.
Make Sure Your Jackets Fit
When you are going out to the store to buy a new jacket, it is important that you get one that fits perfectly, because otherwise your entire outfit is going to look messy. Take the time to try on each jacket you are interested in so that you can get the right one. If you are looking for stylish and inexpensive clothes that are true to size online, check out this bohemian clothing boutique. You will definitely be glad you took the time to look through some of these options.
Learn How to Implement Jeans into Your Wardrobe
Too many women just don't know how to properly implement jeans into their wardrobe, and as a result their outfits end up looking odd and random. It is important that you choose the smaller size if you ever have any hesitation. The last thing you want to do is to buy baggy jeans that are going to look horrible on you. There are many different types of jeans, so you will need to take your time when trying to choose the right pairs to buy. Take the time to try some of the pants on before you take them home.
The more you know about shopping for clothes, the better off you will be. If you want to improve your overall look and self-confidence, it is crucial that you take the time to get this information.
Dunia Batma and Pierres Mano To Collaborate
Dunia Batma, the Arab superstar who has been making international headlines with her success, gave a special shout out to Pierres Mano recently. The star popped into Pierres Mano's famous shop in Casablanca, in order to converse with the famed Othman Sidqui, a Moroccan jewelry ambassador known for exquisite, unparalleled taste. And true to form, Othman Sidqui gave Dunia Batma a special gift during his visit: a pair of real emerald earrings and a diamond. This gift wasn't just a way for Sidqui to show his appreciation for Dunia Batma: it was a symbolic gift, intended to represent the finalized collaboration between the two names; a collaboration which is sure to make headlines of its own. The collaboration will formally begin in September 2018, during Dunia Batman's next tour in the United States. Pierres Mano will be the official jewelry sponsor for this tour–so fans should be ready to see some truly beautiful earrings, necklaces, bracelets and more as part of her tour set.