It's 2017: Why Are We Still Wearing Corsets?

Sifting through celebrity photos for work a few months ago, I came across an image that stopped me in my tracks: In it, Kim Kardashian had paired sweatpants and a padded jacket with a Givenchy corset — boning and all. That one idea — a corset in 2017 — triggered a Baader-Meinhof scenario; for the rest of that week I saw them everywhere, from my browser to my backyard, at a streetwear launch party in my hometown of Cape Town, South Africa. They were dressed up, styled down, and worn over everything from men's banker shirts to sweater dresses, all while being touted as the next evolution of underwear as outerwear.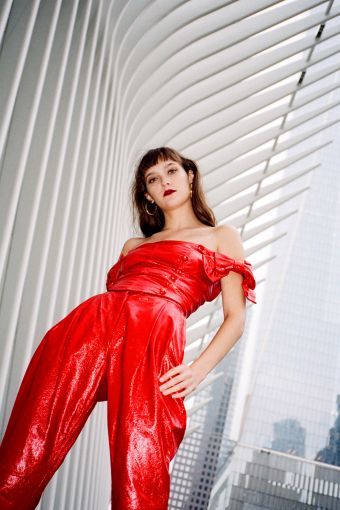 Suddenly, corsets were back in magazines too: On Emma Watson's Elle UK cover, on Maria Borges for Grazia Australia, on Natalia Vodianova for Porter, and on Madonna forVogue Italia. They showed up on celebrities like Rihanna — on-tour via Adam Selman, on the runway via Fenty x Puma — Kylie Jenner, and Gigi Hadid. Of all the throwback trends that could take up space in one's closets these days, I was surprised the corset — once a symbol of women's oppression — is the one my generation of empowered, active women would choose to unearth. We've replaced our push-ups with bralettes and our stilettos with sneakers, and yet, the corset has returned.
Its comeback began on the spring 2015 runways: A satin bodice at Jean Paul Gaultier and a gilded sacred heart bustier at Dolce & Gabbana were unsurprising, but my eyebrows shot up at the sight of the "French bodies" at Givenchy, reportedly inspired by traditional folk clothes from northern Italy. Then came an explosion in the fall 2016 collections: Alexander McQueen showed decadently embroidered gowns held up by a skeleton corset of sheer fabric and boning, while now ubiquitous "real-girl" canvas, leather, and denim versions at popped up at Prada, Isabel Marant, and Loewe. The options kept on coming from Balenciaga, Louis Vuitton, and Balmaintoo. Even this season at New York Fashion Week, designers from Tibi and Prabal Gurung to Helmut Lang and Alexander Wang all showed variations of the contraption.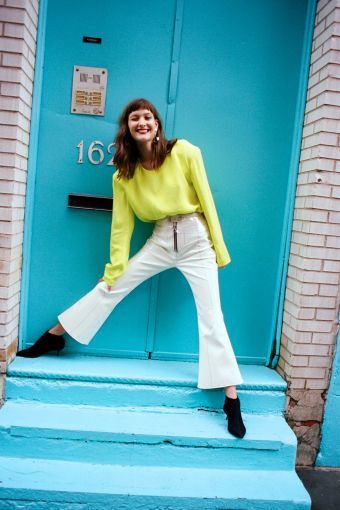 But the alarm in my head continued to ring — not just because corsets are back in a big way, but because I, surprisingly, love the way they look, especially in the fresh and often weird way they're styled, wrapping and shaping our waists in a way I never thought we could. While I found the prospect of wiggling into this latest wardrobe game-changer exciting, I also felt uncomfortable. These centuries-old instruments of everyday torture were used to mold women into a fantasy silhouette that was rarely achieved without pain or genuine damage to their health. We retired them. We banished them. We relegated them to fashion history. Now here they are in all their contemporary glory. And I want to buy one, or a few… But can a feminist wear a corset without being a hypocrite?
Can a feminist wear a corset without being a hypocrite?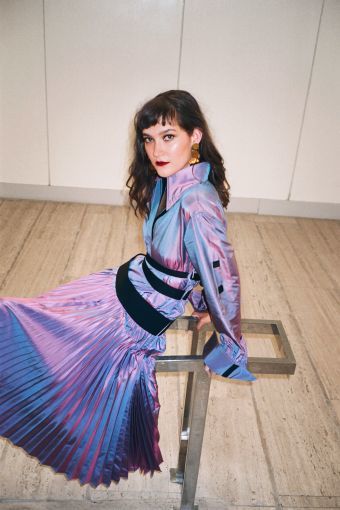 We've living in a time of intersectional feminism, body positivity, and genderless, smart, and adaptive fashion. We're (gradually) gaining ground for women's rights around the world, and we've mounted an aggressive attack on the gender wage gap. An archaic body-modification device with a controversial history seems a little out of place in our progressive wardrobes. But here I am, trying to decide if I should get one in leather or denim or both.
Of course, the contemporary corset I want is definitely not the corset of the 16th century. For form, we've gone with modern plastic and polyester instead of steel and whalebone, and barring the waist-trainer-faithful, wearing one today is primarily an exercise in accessorizing, not modification. Modern options don't bear much of a resemblance to their ancestors either, with soft bralette and belt versions being favored over full-torso designs. Instead of a constrictive undergarment, these are cool and beautiful pieces in materials like light cotton voile and hand-molded leather. But all things considered, these are still corsets, designed to exaggerate the female form — and I still feel a little shook.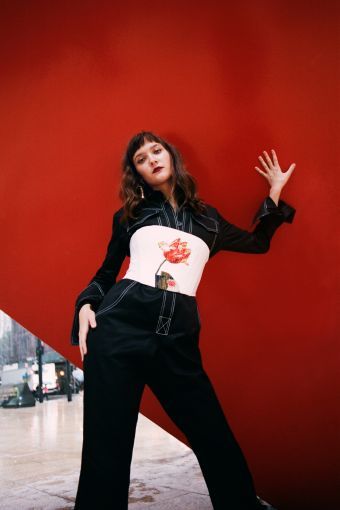 Fashion's cyclical nature means there isn't just the possibility of a comeback — there's the inevitability of one. But the corset always felt like an exception to that rule. When fashion experienced a major silhouette reform in the early 20th century (starting from the pioneering corset-free designers like Paul Poiret and Gabrielle Chanel), women didn't just push corsets to the backs of their closets — they condemned them. After all, they had seen and experienced everything from the industrial revolution to the sexual revolution of the jazz age to the battle for the women's vote. Meeting an unrealistic standard simply for the pleasure of the male gaze wasn't a high enough aspiration for the people they had become; they could be so much more — and they wanted to be.
But the return of the corset represents yet another shift in our state of mind: Is it, again, about stature and empowerment? We're now wearing them over our clothes, a choice that says almost as much as the choice to bring them back in the first place: If we're going to wear a corset, it's going to be on our terms, loose and layered and as unconventionally sutured as possible.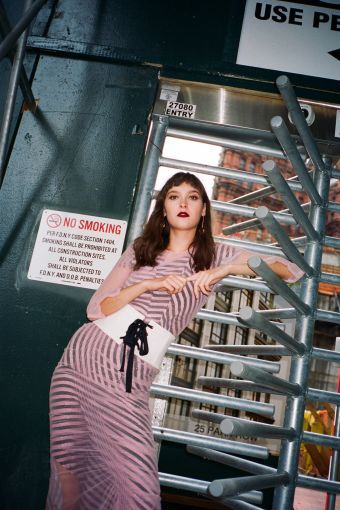 We've always used fashion to express opinions, align with a cause, or put our personalities on display. In that way, the ability to choose what we wear every day has power, so it makes sense to put that power to use, be it through a feminist Dior T-shirt, a Hillary Clinton-style pant suit, or, in this case, by reclaiming the corset and subverting its oppressive roots. Of course, part of what makes that possible is that today's version of the corset isn't just about being perceived as sexy and alluring — the 2017 version is built for modern life, for weekday subway rides, brunch marathons, and probably your Instagram account, too.
It's in the intersection between the corset and its past and present cultural context that brings it full circle. In a world where our choices mattered less, where our voices were stifled, and our roles imposed on us, any opportunity to rebel was significant. Today, despite gender bias and its fallout, women have more space and freedom than ever before to shape our lives as we see fit — not just our waists. That doesn't make the trend any less disconcerting if you'd written them off entirely like I had. But, we can embrace the fact that living in 2017 means that even though rejecting the corset was a big deal, reintroducing it doesn't necessarily have to be.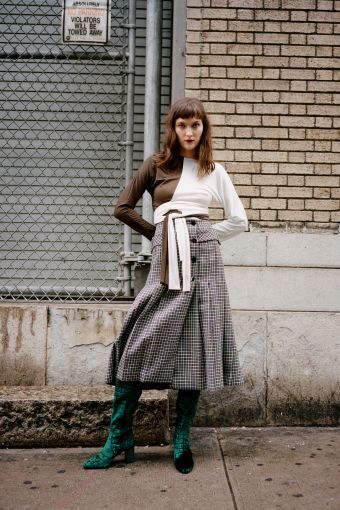 We get to choose it for ourselves now, and in doing so, we get to choose what it means. For me, that means adding another layer to my outfit. I'm thinking my new striped pant suit would look great with one, so I'm going to get over my reservations (and silence the voice in my head telling me I don't have the body for it) and buy one. Not Kim's Givenchy corset — I'm not best friends with Riccardo Tisci just yet — but something a little like it.
Hind NoursineThe STAR of Cosmetic Industry in Dubai
Noursin Beauty Extensions are synthetic, natural-looking eyelashes that can be applied one-by-one to each individual natural lash.
Mainly developed to mimic natural lashes, the design of Noursin Beauty features a thin tip with a thicker base to resemble a natural lash. This lavishand natural look of Noursin Beauty Eyelash Extensions is achieved by an artful and meticulous use of synthetic lashesthat are applied to your natural lash one by one.
During your Noursin Beauty Extension application, you will restfullylie down with your eyes closed. Noursin Beauty application is not only painless but also wonderfully refreshing and relaxing. Clients usually fall asleep then wake up to thicker, longer, darker and more voluminous lashes.Furthermore, these extensions are adhered to your natural lash via our proprietary and safe line of Noursin Beauty Eyelashes Adhesives.
From delicate individuals that slightly open up your eyes, to sets that provide full-fledged anime eyes, these lashes come in wide ranges of sizes and shapes. Additionally, there's a part of fake eyelashes that is the absolute best; the super satisfying feeling of peeling them off.
Hind Noursine who has a degree in economics, has proven her excellence once again as she is about to rock UAE with the launch of her amazing line of Noursin Beauty. Having dreamed of introducing her beautifying product line, the Emirati fashionista is ready to turn the world of beauty and health on its head.
Introducing her beauty centers in Al Ain, UAE, Hind has created a unique personality for herself in the cosmetic industry as she is graciously referred to as an elegant, gentle, strong, rebellious, beautiful, ambitious, dreamy, and realistic feminine mystery. As a veteran conductor, Hind manages a team consisting 45 employees.
Through meticulous work and keeping her vision alive – Hind's dream is unfolding for Beauty Life.
As being a renowned beauty expert, Hind is regularly invited by Arab television for interviews. She is very passionate when it comes to sharing all her knowledge and expertise without any restriction, and Arab television admires her for it. Hindis also determined to establish a new universal beauty center in various international capitals in the image of first Emiratis institutes. Hind believes that every woman is remarkably created, that's why she hopes to bring the best to women by providing them unique benefits.
Hind concluded, "Seeing my dream finally come true is a real pleasure. This will give me the opportunity to use my talent to affect both the present as well as thefuture generation positively."
Sofia Ella Symonds @ AMFAR GALA
Sofia Ella Symonds joined international Celebrities and AIDS advocates who attended the 20th annual AmFAR gala in New York City. Since 1998, The amfAR Gala New York has served as the unofficial kick-off to New York Fashion Week and honored individuals who have made outstanding contributions to the fight against HIV/AIDS. Sofia Ella Symonds is dressed b Dolce & Gabbana Jewelry by Jacob & co
Choosing the Right Michael Kors Handbag
Handbags for women are one of the most important fashion accessories for ladies. Handbags without a doubt are a complete necessity for any girl who goes to college, outings, office, mall, etc. It becomes tough to carry belongings without a bag. We have magnified the importance of handbags in our life that they have become an addiction!
During the earlier times, when handbags gained popularity among women as a fashion accessory, then it wasn't a fashion statement but a necessity to carry stuff. However, it didn't last for long, the ladies started to get obsessed with handbags to match every outfit they carried. A ladies bag is the most popular fashion accessory worn by women and is, extremely noticeable.
Here are some different kinds of handbags for women-
The Shoulder Strap Bag- is the most common style carried by many women. This style comes with one or two straps as demanded by the stylist. These bags are hanged by the wearer on their shoulder. The shoulder bag comes in various designs, styles and sizes.
The Hand Bag- these bags are meant to be carried rather than being hanged on the shoulder. These bags go well with both semi-formal and formals. It isn't ladies favorite as it occupies your one hand, however for parties and other social events, it's a style statement! Must try Michael Kors Bags!
The Hobo Bag- is a typical half moon shaped with a medium length strap. These bags go well with the outfit that describes the bohemian culture. They are mostly used by the college goers as the bag is made up of soft material and light in weight. It's spacious too.
The clutch- they are the best when you want to carry limited stuff to a party or an event. The clutch bag isn't spacious, but is attractive. Strongly jeweled and embellished, this style should be complemented with a traditional outfit or an evening gown. They are clutched in your hands and give you a look that is accentuated.
The bag collection features handbags in varied styles from totes and satchels to clutches and more. All available in a range of finishes from highly detailed heritage print, bright bold colours from the Jet Set collection to chic everyday bags. Step out in style with MK footwear, this season showcases trainers with heart embellishments, sandals perfect for the summer and plenty more to suit every occasion.