The Beast from the East brings wonderful wildlife to the Watches team!
Well what a week we've had and for some it's set to continue! Most of us might of thought: It's the end of February, we've made our way through the two slowest and darkest months of the year- surely spring is just around the corner? We were wrong. In fact we were set for a double whammy of weird and wacky weather bought in by the Beast from the East and Storm Emma and were left completely stunned when temperatures of -12 and heavy snowfall were forecast.
Most of us were forced to leave work early and retreat to the warm, safe haven of home. These total white out conditions did wreak havoc for many of us across the country and our wildlife certainly took a battering too. But it's times like these that we all learn to help each other out, lend an extra hand and ultimately slow down! It's an opportunity for many of us to just stop, forget about our emails, jobs, chores and meetings and take the time to enjoy doing 'nothing'. Ah, the joys of pottering around the house and garden, eating at least 5 meals a day because, you know, desperate times right!
This extreme weather was a real worry for our wildlife, especially when it came to food and water availability. Many of you however really came up trumps and put out a plethora of food and defrosted the water you provided for the birds. The rewards for doing so came flocking in, with a huge amount of redwing and fieldfare recorded feeding in your gardens. We also had lapwing, woodcock, jack snipe and even a water rail making themselves comfortable in your back yards!
These starlings were spotted in their hundreds, flocking in the middle of a road in Norfolk.
For us that work on the Watches, things were especially exciting too!
Hi, I'm Lily and I work on the digital team for the Watches. Last Thursday, I must admit, I didn't realise quite how bad the snow conditions were as I peered out the office window. The clock struck 3:45 and I thought it was about time to abandon ship and begin my commute home. Lucky for me, I left just in time to grab the first train out of Bristol to a station near (ish) to where I live.
Even though I was about 4 miles from home, I thought a lift would still be possible even if it was blowing a hooley outside. I was wrong- my only hope of a lift was currently snowed in, so I knew I had to make the long trek home through the countryside on my own (thankfully I'd worn two pairs of socks that day!).
Though it was rather chilly, it was one of the most beautiful walks I'd ever done. Everything had come to a stand still and each road, field, garden and woodland was covered by a thick blanket of fresh, powdery snow- I even had snowflakes, every one of them different, landing on my coat as I plodded along! The silence was comforting, like Mother Nature had forced us to stand still and embrace the beauty of the changing landscape and wildlife around us. The only sounds that whipped through the heavy snow were that of hungry birds, longing for a scrap of food and the shrieks and laughs of children, bombing down the hills on their toboggans. It was one of those times, quite rare to encounter nowadays I think, when every person you walk past smiles and says 'hello'.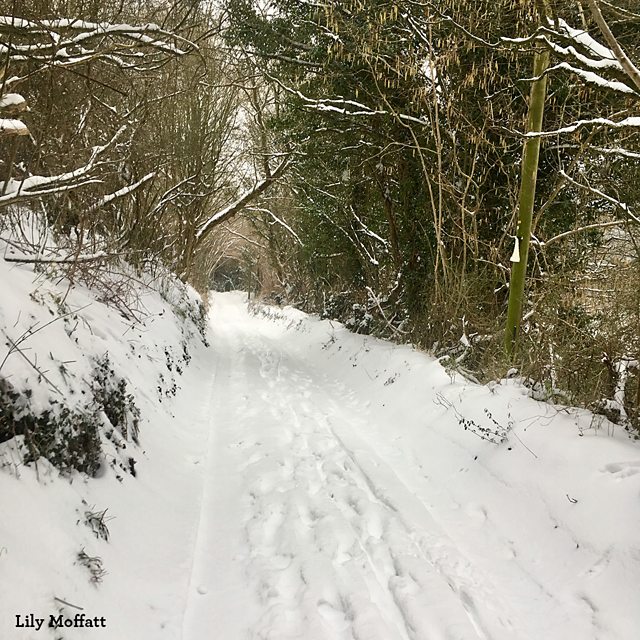 My walk home took me through the woods and immediately my eyes gravitated to the woodland floor, where I saw dozens of animal tracks; deer, squirrel, rabbit and birds. It was a reminder that nature really is everywhere and though sometimes we cannot see our beautiful wildlife, it may be just around the corner- the snow tracks certainly proved it! I could hear mistle thrush and blackbird around an old oak tree that was hugged by a mass of ivy- the berries were proving very popular for these hungry birds!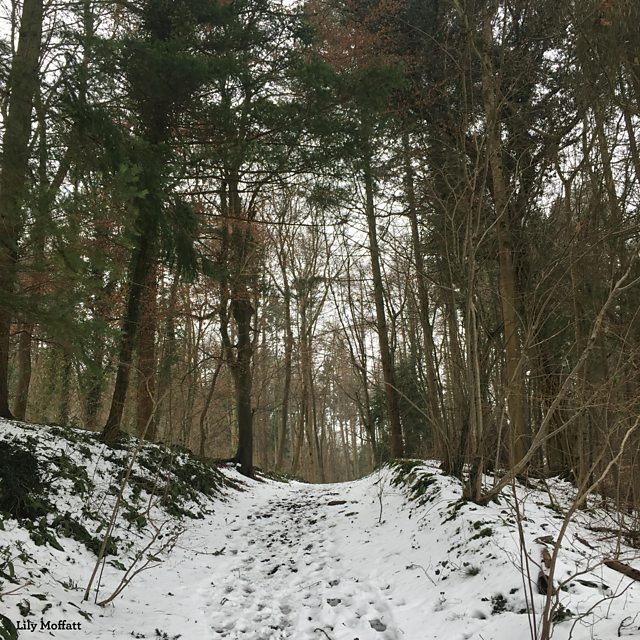 Through the woods I walked and the more the snow fell, the more the woodland seemed to open up. The white blanket was as if someone had hoovered all the leaf litter and undergrowth up- I could see right through this well known patch of woodland, depressions in the ground were obviously a new badger sett that I hadn't before come across. On I walked, still my trusty boots were holding up as my feet were still bone dry, but I must admit, my hands were a little chilly! I passed along the road and what flew overhead left me standing in awe- it was a golden plover! Though normally seen in flocks- this one was on its own, probably scrounging for some bird food that someone had left out in their garden.
I was on the last leg of my wintery walk home, where I had reached the field where the River Frome runs through- it's one of my favourite walking spots. A band of trees that run along the river line were dotted with hungry cormorants and a pair of goosanders that I normally see this time of year were floating along the river too. The wildlife certainly wasn't disappointing me!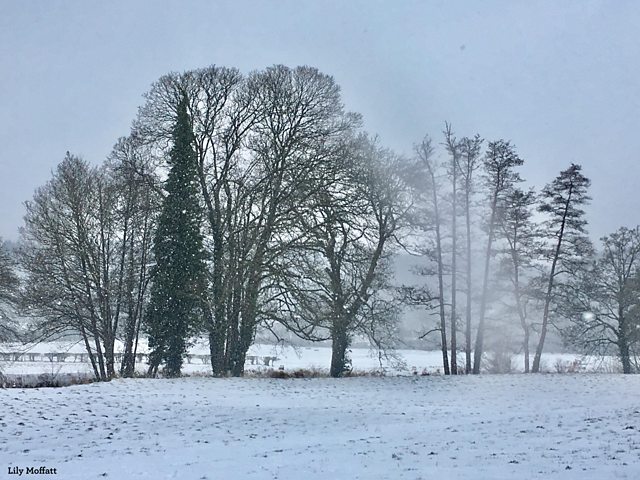 Out of the field, over the stile and up the drive. Home. I checked my bird feeders immediately and they were running seriously low, even though they were all brimming with peanuts, sunflower hearts and my special home-made fat balls just 6 hours earlier! I topped them up and defrosted the frozen water-bath and popped a few apples out too. To my amazement, two fieldfare and a redwing found the banquet I'd provided for my birds within an hour of topping up the feeders. What a surprise- I'd never even seen these winter thrushes, let alone had them on my garden feeders!
Snow may have caused havoc for many, but for me, it brought the most perfect impromptu wildlife adventure.
For others that work on the Watches team, these were a few things that they enjoyed most about the unusually cold white-out weather!
Series and Digital producers Chris and Laura Howard recorded a huge variety of birds in their garden, including redwing and fieldfare- they even flushed a jack snipe too!
Producer Nikki Waldron popped 5 bird boxes up the week before the big freeze, so hoped that they provided a little warmth and protection from the outside elements. Though she didn't see many birds in her garden whilst the Beast from the East was in town, the blanket of silence was especially noticeable and of course her puppy Biscuit loved his first encounter with snow!
Billy Clarke who is a researcher on the team headed home to Oxford, where he had his best ever barn owl experience! Billy visited an area where he had previously seen a barn owl and at dusk ventured up the path in the snow. Suddenly, out the corner of his eye he spotted a white movement in the distance, immediately he crouched down in anticipation. Amazingly this mass blob of white made its way down the path towards him – it was his barn owl! This majestic bird landed and perched on a branch less that 2 metres away from him. It sat for about 50 seconds, until it flew off into the distance.
Dom Davies, who also works as a researcher on the show stocked his garden full of food: apples and winter seed mix- he was hoping for a redwing visit. To his surprise… nothing. Not one bird came to visit this mass banquet of food he'd left out adoringly for the birds, not even a greedy wood pigeon! Feeling a little disheartened, it wasn't until the dead of night that he peered out of his video. A fresh blanket of snow had covered the food he'd earlier left down for the birds, but this didn't shun a hungry urban fox that was digging down into the snow to find the frozen treats. Jackpot!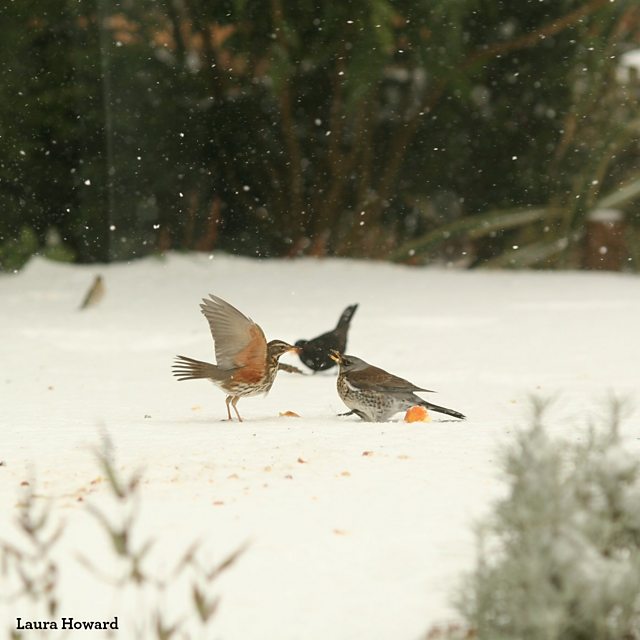 Some of the production team share their snowy experiences
Sophie Taylor lives in the heart of Bristol and especially enjoyed the snowy tracks that were left behind by at least one of the known local urban foxes in the area.
Fran Maxwell braved the cold and noticed a huge number of robins around (her favourite bird). She also spotted a glimpse of spring poking through the snow with the lilac-purple and orange of the crocus.
John Cox loved seeing a variety of birds at his feeders. Fieldfare and redwing were the newbies to his garden, where they were joined by his regulars; long-tailed tit, blue tit, great tit, coal tit, blackbird, wood pigeon and mistle thrush.
Significance of Pool maintenance and cleaning
This article is designed to provide general advice for pool maintenance process. It doesn't block or substitute the expert counsel of neighborhood pool upkeep suppliers nor neither their accomplished learning of the functional systems essential for singular pools and the specific prerequisites of the pool condition conditions.
As opposed to the conventional conviction that high chlorine levels create chlorine scent, truth be told, the inverse is the in all likelihood cause. Low chlorine levels have a higher centralization of scent creating 'chloramines' and furthermore increment the danger of eye and skin disturbance to pool clients. On the off chance that chlorine smell is apparent, check chlorine level and add chlorine to accomplish the suggested adjust. On the off chance that smell keeps on continuing, counsel your neighborhood pool upkeep proficient. "Chlorine Shock" treatment might be the required arrangement.
Warmed pools
Warmed pools require uncommon thought for disinfection systems. They typically require extra chlorine support and more normal pool water science testing and modification than a non-warmed pool. The essential explanation behind support cautiousness of a warmed pool is a direct result of the more quick decrease of the chlorine's viability as a hostile to bacterial operator in 'hot' water. Evasion of utilization of balanced out chlorine items in warmed pools is likewise viewed as best practice. Such utilize additionally debilitates the chlorine's capacity to manage substance treatment of microorganisms. Counsel your nearby pool upkeep proficient for administration exhortation and customized support suggestions particular to your warmed pool development and its hardware establishment framework.
Pool water cleansing
Restrictive frameworks offering elective strategies for pool water cleansing may regularly be alluded to under the bland term of 'sans chlorine' or 'concoction free' pool water administration items and hardware. The all the more promptly perceived elective exclusive framework are 'Ozone' and 'Ironizers'. Know that some option disinfecting frameworks may or will require substitution of the pool-channel medium to pulverized glass or comparable iron free medium for similarity with some 'compound free' exclusive gadgets. Counsel your neighborhood pool support proficient for exhortation and to guarantee that the framework prescribed will work in conjunction with the current pool inside complete and not upset tasteful appearance.
Comfort
Support consistency of the pool's water adjust is standard practice to keep up the 'wellbeing' of the pool water, safe use for swimmer comfort, water lucidity and tasteful appearance and avoid superfluous erosion harm to the pool's administration framework, extras and inside.
Ideal 'chlorine' cleansing similarly depends on the suggested pH level range for appropriate operational execution, paying little mind to the chlorine compose or chlorination process utilized. Any pH level float above Standards operational parameters of 7.0 to 7.8 will lessen the purifying viability of the chlorine.
Pool cleaning machines
Where programmed pool cleaning machines are utilized guarantee appropriate task and work and especially clock length as per the apparatus manufacturer's determinations and directions. Floor brush and vacuum the pool inside in any event at two-week interims in accordance with the prescribed task of the apparatus maker to block 'develop' of natural issue upon the pool inside surface and bacterial development that can influence pool water cleanliness, swimmer well being and the tasteful appearance of the pool inside. Pool science levels for private pools subject to recurrence of utilization and atmosphere conditions ought to be at any rate checked and balanced week after week to safeguard water cleanliness. You can also visit – United Pools to know more about the entire process.
Pointers on Ways to Purchase a Pillow.
There is a strong connection between ways to get a bed cushion and an injured back. It would be necessary to state that your padding type determines whether your back pain will lower or improve. Neck and back pain is the most fragile human problems as an outcome of the large range of versatility it affects.
It is divided into 3 main categories: tiny, extreme, and consistent, relying upon the toughness and duration of the pain. Rest is the prescription for an injuring back. And this is where the query of the very best methods to get a pillow is readily available in.
The cessation of routine jobs is a difficult task if you are an operating person. While the period of discomfort in the back, you need to bid goodbye to large exertion which normally, can recommend time much from task and/or the gym. To stay clear of any type of downtime in your life you need to keep your back in an exceptionally healthy and balanced type to make certain that it will not interrupt you in all.
Concerning rest: The choice of an appropriate amerisleep pillow is the initial factor which you need to settle if you genuinely prefer a hideaway from tiring neck and back pain. Presently the questions establish: exactly how you could get a bed cushion in conformity with the trouble of your back. Undoubtedly, you need to take help of your professional doctor here nonetheless and this you similarly need to do little residence collaborate with the type of paddings.
Many of the normal bed cushion kinds are blow up bed, spring pillow, and adaptable bed cushion, and so forth. Many of the aspects are offered here in order to help you in finding the most efficient padding for your back:
Typically, medical professionals suggest a firm padding for the sufferers of neck and back pain nonetheless the existing research study has recommended that the very best type of padding counts on the sort of your neck and back pain. If you actually feel comfortable resting on a firm padding, get the more powerful whilst if you feel that device- firm or soft pillow uses additional complete relief, get it as opposed to the firm one.
Purchase a bed cushion that provides your body a complete help by keeping your hip and shoulders relaxed. Testimonial just how you could get a padding with your back specialist, as they may have included ideas. Check out https://www.amerisleep.com/memory-foam-buying-guide to improve your resting habits for good.
Select the pillow with excellent padding and excellent coil placing because this identifies a benefit level and the latter will give you an appropriate level helpful.
The best ways to Get the Right MattressFor Your Bed room.
Allow us to encounter it. The most crucial point that matters to lots of people is rest. Without a great evening's rest, you will feel sluggish and uneasy. That's why it is very important to discover and purchase the appropriate mattress for your bed room.
A lot of mattresses are able to last you at the very least an excellent 10 years. It's a huge choice to make, and it is one you that you ought to attempt to get right on the very first effort.
Right here are some standards on show you how you can pick the ideal cushion.
Suggestion # 1 – Exactly how comfy is the mattress?
Convenience is the most vital attribute of https://www.amerisleep.com/mattress-reviews. A comfy mattress need not be the most costly, andthe most costly mattress might not always be the most comfy. Convenience degree differs from person. If you are somebody that chooses a difficult springmattress, then you will find convenience in a spring or latex cushion. On the hand, if you are somebody that chooses a plusher andmore softer feeling, then you could intend to choose a denser coil matter cushion.
Pointer 2 # – What does it cost? support does the cushion gives?
Support is commonly incorrect for convenience. It is not. An excellent supporting cushion will have the ability to offer stress on the different body joints for a comfy evening's rest. If there wants support from the mattress, you will find your body hurting. This could trigger back pain troubles over time.
Pointer 3 # – Exactly how resilient is the cushion?
Most individuals link sturdiness with service guarantee. A mattress with 25 years of guarantee does not always ensure that the mattress could manage you the convenience and simplicity for those number of years. Exactly what it guarantees is items problems security, and not loss of convenience andspring arising from deterioration. Make certain you do the research study to discover out the problems price of the mattressbefore you purchase one.
Suggestion 4 – Exactly what dimension of mattress do you require?
This suggestion has something to do with convenience degree. Some individuals incorrectly purchased and queen dimension mattressand located it difficult to weave throughout the evening (when copulating a companion). A king dimension bed will be the extra excellent selection if your room could manage it. Be certain to pick the ideal cushion dimension and not be sorry for afterwards.