The Beast from the East brings wonderful wildlife to the Watches team!
Well what a week we've had and for some it's set to continue! Most of us might of thought: It's the end of February, we've made our way through the two slowest and darkest months of the year- surely spring is just around the corner? We were wrong. In fact we were set for a double whammy of weird and wacky weather bought in by the Beast from the East and Storm Emma and were left completely stunned when temperatures of -12 and heavy snowfall were forecast.
Most of us were forced to leave work early and retreat to the warm, safe haven of home. These total white out conditions did wreak havoc for many of us across the country and our wildlife certainly took a battering too. But it's times like these that we all learn to help each other out, lend an extra hand and ultimately slow down! It's an opportunity for many of us to just stop, forget about our emails, jobs, chores and meetings and take the time to enjoy doing 'nothing'. Ah, the joys of pottering around the house and garden, eating at least 5 meals a day because, you know, desperate times right!
This extreme weather was a real worry for our wildlife, especially when it came to food and water availability. Many of you however really came up trumps and put out a plethora of food and defrosted the water you provided for the birds. The rewards for doing so came flocking in, with a huge amount of redwing and fieldfare recorded feeding in your gardens. We also had lapwing, woodcock, jack snipe and even a water rail making themselves comfortable in your back yards!
These starlings were spotted in their hundreds, flocking in the middle of a road in Norfolk.
For us that work on the Watches, things were especially exciting too!
Hi, I'm Lily and I work on the digital team for the Watches. Last Thursday, I must admit, I didn't realise quite how bad the snow conditions were as I peered out the office window. The clock struck 3:45 and I thought it was about time to abandon ship and begin my commute home. Lucky for me, I left just in time to grab the first train out of Bristol to a station near (ish) to where I live.
Even though I was about 4 miles from home, I thought a lift would still be possible even if it was blowing a hooley outside. I was wrong- my only hope of a lift was currently snowed in, so I knew I had to make the long trek home through the countryside on my own (thankfully I'd worn two pairs of socks that day!).
Though it was rather chilly, it was one of the most beautiful walks I'd ever done. Everything had come to a stand still and each road, field, garden and woodland was covered by a thick blanket of fresh, powdery snow- I even had snowflakes, every one of them different, landing on my coat as I plodded along! The silence was comforting, like Mother Nature had forced us to stand still and embrace the beauty of the changing landscape and wildlife around us. The only sounds that whipped through the heavy snow were that of hungry birds, longing for a scrap of food and the shrieks and laughs of children, bombing down the hills on their toboggans. It was one of those times, quite rare to encounter nowadays I think, when every person you walk past smiles and says 'hello'.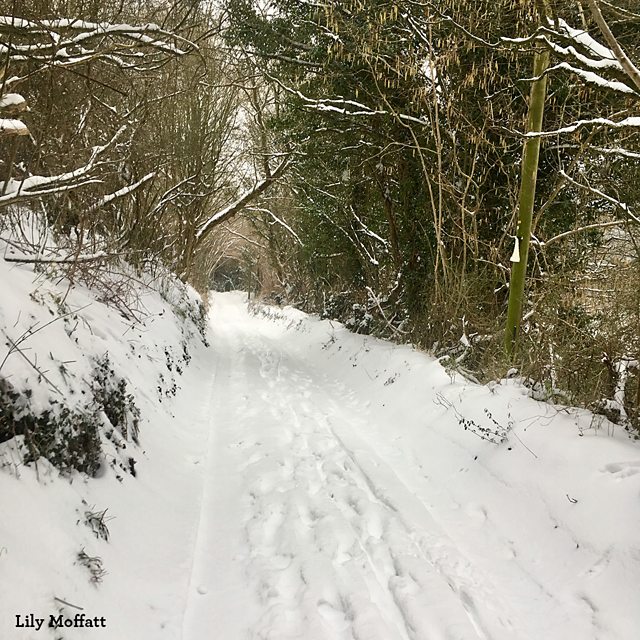 My walk home took me through the woods and immediately my eyes gravitated to the woodland floor, where I saw dozens of animal tracks; deer, squirrel, rabbit and birds. It was a reminder that nature really is everywhere and though sometimes we cannot see our beautiful wildlife, it may be just around the corner- the snow tracks certainly proved it! I could hear mistle thrush and blackbird around an old oak tree that was hugged by a mass of ivy- the berries were proving very popular for these hungry birds!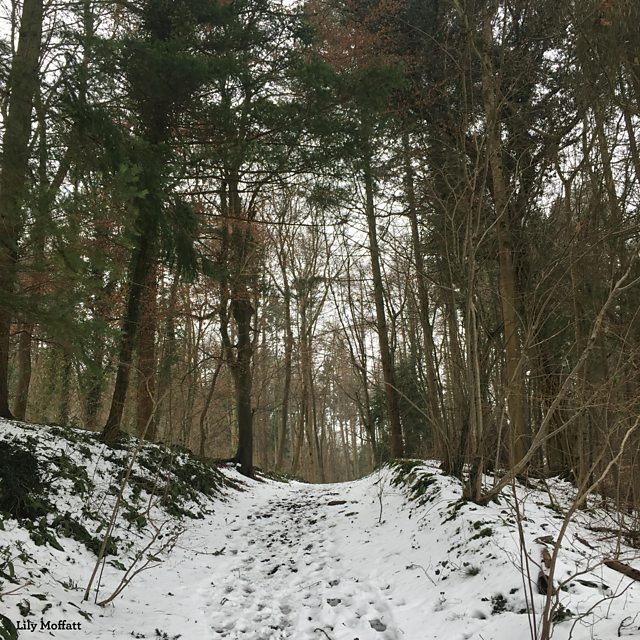 Through the woods I walked and the more the snow fell, the more the woodland seemed to open up. The white blanket was as if someone had hoovered all the leaf litter and undergrowth up- I could see right through this well known patch of woodland, depressions in the ground were obviously a new badger sett that I hadn't before come across. On I walked, still my trusty boots were holding up as my feet were still bone dry, but I must admit, my hands were a little chilly! I passed along the road and what flew overhead left me standing in awe- it was a golden plover! Though normally seen in flocks- this one was on its own, probably scrounging for some bird food that someone had left out in their garden.
I was on the last leg of my wintery walk home, where I had reached the field where the River Frome runs through- it's one of my favourite walking spots. A band of trees that run along the river line were dotted with hungry cormorants and a pair of goosanders that I normally see this time of year were floating along the river too. The wildlife certainly wasn't disappointing me!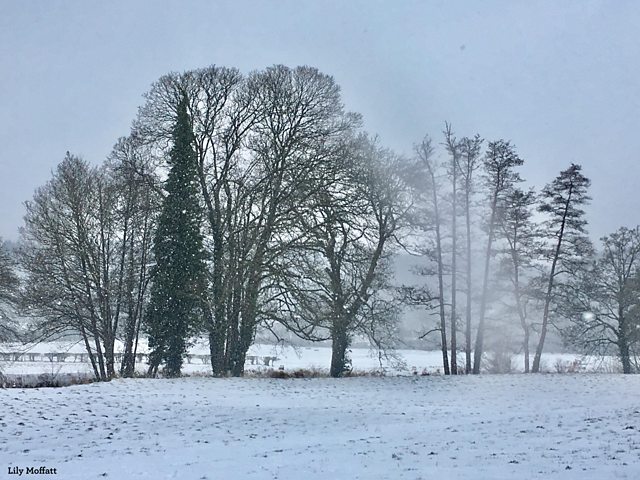 Out of the field, over the stile and up the drive. Home. I checked my bird feeders immediately and they were running seriously low, even though they were all brimming with peanuts, sunflower hearts and my special home-made fat balls just 6 hours earlier! I topped them up and defrosted the frozen water-bath and popped a few apples out too. To my amazement, two fieldfare and a redwing found the banquet I'd provided for my birds within an hour of topping up the feeders. What a surprise- I'd never even seen these winter thrushes, let alone had them on my garden feeders!
Snow may have caused havoc for many, but for me, it brought the most perfect impromptu wildlife adventure.
For others that work on the Watches team, these were a few things that they enjoyed most about the unusually cold white-out weather!
Series and Digital producers Chris and Laura Howard recorded a huge variety of birds in their garden, including redwing and fieldfare- they even flushed a jack snipe too!
Producer Nikki Waldron popped 5 bird boxes up the week before the big freeze, so hoped that they provided a little warmth and protection from the outside elements. Though she didn't see many birds in her garden whilst the Beast from the East was in town, the blanket of silence was especially noticeable and of course her puppy Biscuit loved his first encounter with snow!
Billy Clarke who is a researcher on the team headed home to Oxford, where he had his best ever barn owl experience! Billy visited an area where he had previously seen a barn owl and at dusk ventured up the path in the snow. Suddenly, out the corner of his eye he spotted a white movement in the distance, immediately he crouched down in anticipation. Amazingly this mass blob of white made its way down the path towards him – it was his barn owl! This majestic bird landed and perched on a branch less that 2 metres away from him. It sat for about 50 seconds, until it flew off into the distance.
Dom Davies, who also works as a researcher on the show stocked his garden full of food: apples and winter seed mix- he was hoping for a redwing visit. To his surprise… nothing. Not one bird came to visit this mass banquet of food he'd left out adoringly for the birds, not even a greedy wood pigeon! Feeling a little disheartened, it wasn't until the dead of night that he peered out of his video. A fresh blanket of snow had covered the food he'd earlier left down for the birds, but this didn't shun a hungry urban fox that was digging down into the snow to find the frozen treats. Jackpot!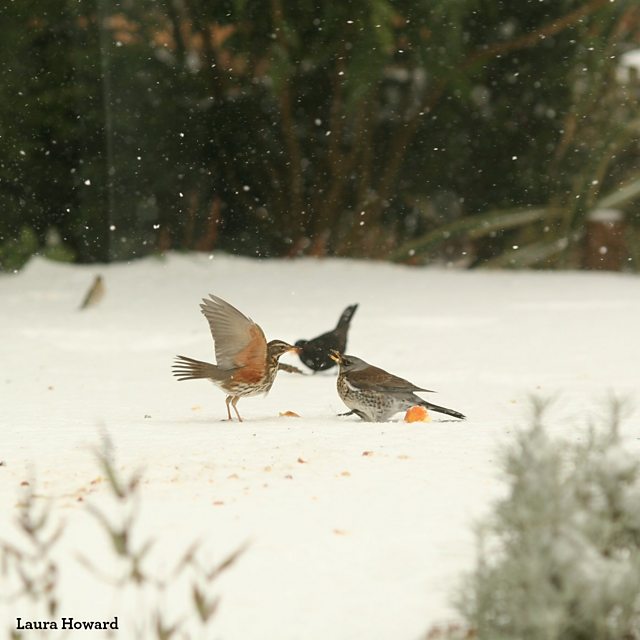 Some of the production team share their snowy experiences
Sophie Taylor lives in the heart of Bristol and especially enjoyed the snowy tracks that were left behind by at least one of the known local urban foxes in the area.
Fran Maxwell braved the cold and noticed a huge number of robins around (her favourite bird). She also spotted a glimpse of spring poking through the snow with the lilac-purple and orange of the crocus.
John Cox loved seeing a variety of birds at his feeders. Fieldfare and redwing were the newbies to his garden, where they were joined by his regulars; long-tailed tit, blue tit, great tit, coal tit, blackbird, wood pigeon and mistle thrush.
Know Plastic Furniture Advantages And Benefits
Plastic furniture finds its presence in almost every household or office. Having a huge range of variety and designs, it may fit in nearly every type of decor. You should consider the pros and cons of it, if you are looking for purchasing one.
They are made of PVC rarely breaks because it is tested for high pressure and weight. It doesn't get affected by environmental changes like cold and sunlight. So, you can keep crp products furniture in an air conditioned room plus your lawn. Unlike wood or metal furniture, these do not get impacted by mold, termites or rust. Plastic made furniture is ideal for moisture prone areas just like a place near pool. Adirondack chairs are about as versatile products as you can find, they come in numerous different sizes and shapes and you may choose from practically any colour you want. The sheer amount of choice you've with this furnishings are actually rather overwhelming and that i defy one to attend odds to locate a model they do not like. With such a sizable selection it's simply impossible to not find something which will fit your tastes and requirements.
Advantages of These Furniture:
When compared to wood or metal furniture, plastic you need less maintenance. For instance, you do not need to color or varnish your plastic furniture periodically like word or metal furniture. Cleaning and washing the plastic pieces is also easier than cleaning the wood or metal ones. Moreover, some plastic furniture items can be easily kept in less space. It's possible to easily stack plastic chairs one over the other, thereby saving space.
At this point, we can introduce into our discussion plastic furnitures. Anyone who went searching for any kind of furniture may have come across these. For each major kind of furniture, you tend to have plastic pieces in contention for that market – so that you end up with selections of plastic chairs, plastic tables, plastic beds (especially the cribs), and plastic 'representatives' for virtually any sort of furniture. These tend to be one of the most popular types of furniture too. The people who are attracted to options are attracted by certain things. Those would come with their typically cheap pricing, their often great visual appeal (thanks to their great malleability), as well as their typically great durability; bereft as they are of joints which are usually the points of weakness on most other furniture pieces.
Whenever we get to the task of categorizing plastic furnitures, we encounter no challenge at first. Since the plastic furnitures are made from chemical formulations, they must be synthetic furnishings. What we should know for truth is that to be able to obtain the materials with which these plastic furniture merchandise is made from, certain chemicals (referred to as polymers) are mixed in certain amounts and for certain amounts of time, using the end result to be the hardy material that's used in the building of the plastic furnitures.
Thinking about the cost factor too, plastic chairs along with other furnishings are less expensive than wood, metal or glass furniture.
Plastic could be recycled and molded into different shapes and fashions, without causing any harm to environmental surroundings. No trees are decline in the making of plastic materials. So, the ecological balance doesn't get disturbed too.
CR plastic product – A Comfortable and Trendy Option
Plastic foldable tables have innumerable benefits and they are also a very comfortable and classy option for your house. Numerous information mill now production mild and classy plastic tables that you could carry effortlessly from one part of your house to another. If you're arranging a party or occasion in this area after that also you can go ahead and take the assistance of the actual CR plastic product. They are big enough to hold numerous dishes and decorative products. The actual furniture is simply made from whack mold plastic and they're very durable. The retractable metal thighs of the table will make sure that the desk is collapsed in a smooth placement. This makes it feasible for you to easily carry it.
In the following CR plastic product, I would give you information about the advantages and a few great tips that can help you to buy the actual foldable tables.
Advantages of acquiring the plastic foldable furniture
One advantage of the table is that is extremely light and sturdy. This makes it super easy for you to carry it around in one place to an additional. They may be put into your yard as well as outdoor patio area so that you can enjoy a relaxing night together with your friends and relatives.
The material protects them from excessive rain and sunshine also.
The desk is excellent for kids also. They are able to carry it to their actively playing region without any difficulty.
They are also used for picnics along with other occasions. You can easily go ahead and take a table together inside your vehicle without adding an extra burden.
The actual plastic material furniture is extremely simple to clean and you can do it with no trouble.
Choosing the right foldable desk
There is various different furniture available for sale that is why it can be tough to select the right one.
For those who have a small loved one then it's recommended that you should buy only the medium sized desk that you can use for events. A large desk can be very hard for you to definitely carry along.
Select a product based on your financial allowance. Medium ranged furniture can be bought from the market at extremely affordable prices.
You have to ensure that you only purchase the folding from the very good company.
Should you organize occasions as well as a picnic on a regular basis after that purchasing a plastic material folding desk will be an excellent choice for a person?
Before you look CR plastic product you need to gather all of the feasible particulars concerning this kind of products. All you need to do would be to look for your prospective options. Pay just attention and choose the best folding desk as well as chairs product for your house.
Philips Norelco 1160x Review
Made to stick to the curves of the face, this wet and dry electric razor uses GyroFlex 2D's two-dimensional contouring technology to pivot inside a circular motion and tilt inwards. Its contour-following system adjusts easily to each curve, minimizing both pressure and irritation. It makes sense a detailed shave that's easy on the skin. This shaver offers a close, comfortable shave with complete coverage and precision. Philips Norelco 1160x Review features Dual Precision heads with slots to shave the standard hairs and holes to shave the shortest stubble. The patented Super Lift and Cut dual blade system lifts hairs to chop easily below skin level, as the low-friction SkinGlide shaving surface slides easily along the skin.
Like a final touch, make use of the precision-trimmer feature for the mustache and sideburns. This shaver enables you to shave in whatever way you would like. The AquaTec seal provides you with a choice of whether comfortable dry shave or perhaps a refreshing wet shave with shaving cream or gel. Whichever you select, Series 6000's slim, non-slip grip creates easy handling. With SensoTouch, you'll relish the benefit of cordless operation. 1 hour of charging provides as much as 50 minutes of shaving time, along with a 3-minute quick-charge option provides you with enough power for any single shave.
This Philips Norelco SensoTouch electric shaver features: The GyroFlex 2D contour-following system that adjusts easily towards the curves from the face, minimizing pressure and irritation. Dual Precision heads which are ultra thin with slots to shave lengthy hairs and holes to shave the shortest stubble. Aquatec wet and dry technology for any comfortable dry or refreshing wet shave with gel or foam. Patented Super Lift & Cut dual blade system that lifts hairs to chop easily close below skin level. Seamless foil handle with anti-slip grip. Two level battery display with travel lock indicator, battery low indicator, and battery high indicator. Three minute quick charge for any single shave and something hour for full charge, having a full charge you will get as much as 50 minutes of shaving time. Also featuring the SkinGlide system, an epidermis friendly precision trimmer, and straightforward rinse clean. Within the box: 1160x electric shaver charging stand soft pouch protective cap cleaning brush.
The 2-level battery display informs you once the battery is full and shows a minimal-battery warning when you're ready to recharge. SensoTouch is low maintenance having a Jet Clean system that cleans, lubricates, and expenses the shaver. Furthermore, SensoTouch includes a hair collection chamber that can help keep the sink tidy. A great travel companion, the SensoTouch includes a travel lock, protective cap, and storage pouch for safe portability. SensoTouch also offers an international current function that instantly adjusts from 100 volts to 240 volts AC, which makes it well suited for worldwide journeys.