10 BRANDS DOING INSTAGRAM MARKETING RIGHT
More and more businesses are starting to realise the advantage of being active on Instagram. It's no longer just a platform for people to post selfies. Instead, it's a great way for brands to be more fun, relaxed and communicate with their audience.
However, it's not always easy to get Instagram right. You need to know your audience and what type of photographs or videos they want to see. Post content that's too boring, and people won't want to follow you.
Fortunately, for those who are struggling with Instagram, you only need to look at the brands who are doing Instagram marketing right.
1. National Geographic
No longer just a print magazine, National Geographic has completely embraced new technology and taken advantage of Instagram. It boasts an impressive 70 million followers. The brand posts several photos and videos a day – all in the high quality you expect from National Geographic. The captions always mention where you can go to see more from the photographer, so followers will never be unsatisfied. The bio even includes a link to National Geographic's photography page. If you're wanting to see some amazing wildlife photography, look no further than National Geographic.
2. Air BnB
Airbnb sometimes has a bad reputation – people trashing the place they stay at, or guests showing up to an unsightly apartment. It's Instagram page will make you forget that and leave you feeling inspired. It showcases some of the most stunning and interesting locations around the world. Each photograph includes a link to the photographer's account. Scrolling through their photographs just makes me want to book accommodation now.
3. GoPro
Considering GoPro sells what they dub the "world's most versatile camera" you'd expect them to have an awesome Instagram account. And they sure deliver! GoPro's Instagram is an impressive collection of photographs shot by ordinary people. The photographers are tagged in the post, with the caption also mentioning how the photograph was taken and what camera they used. Now you know how you can get a photo that looks that good, what's stopping you from grabbing a GoPro and testing it out yourself?
4. Lorna Jane
If you're looking for a fitness company who is using Instagram right, it's Australia's Lorna Jane. The company not only posts photos of Lorna herself, but posts their products, inspirational quotes, and photos submitted by the community. It's no wonder the account has 767,000 followers. Lorna Jane even has its own hashtags – #MoveNourishBelieve and #ActiveLiving. People are encouraged to use the hashtags in their own photographs, as well as tag the Instagram page. You really get the vibe of exactly what the company sells, as well as the clientele they are targeting.
5. #FollowMeTo

Those photos you've seen of a woman leading a man by the hand to a new travel destination? That originated from the #FollowMeTo project, created by Murad and Nataly. The account doesn't only post photos of people being led by their arm. They also post photographs from people's travels all around the world. The easy concept of the photograph, and the fact they have their own branded hashtag, makes it easy for people to take their own photograph and post it on their accounts.
6. Grand Central Terminal
Grand Central Terminal has made train stations interesting. It's bio encourages people to submit their own photographs using the hashtag #SharingGCT. The account posts a combination of their own videos and photographs, as well as photographs submitted through the hashtag. It not only features great architecture photographs, but includes photos of products you can buy within the station. Anyone else feel like booking tickets to New York City now?
7. Staples
Staples is here to make stationery interesting again. Not only do they manage to take good photographs and videos of stationery, they are really good at engaging their audience. The captions of the photos and videos often ask a question, such as "who's ready to get organised in 2017?" The photos are often holiday themed – think Hannukah, New Years', and even "Clean Off Your Desk Day." Their branded #MakeMoreHappen hashtag encourages people to take their own stationery photos.
8. Punch Drink

If you're a fan of Punch, this account is for you. The Instagram account features stylish photographs of different Punch drinks. What makes them stand out is the fact they include the recipes in the caption of the photograph, and often tags the photographer too. Their bio includes a link to a page where you can find more articles and recipes. After seeing a photograph of how nice the drinks look, it's good to know how to make them as well.
9. Adobe  
Adobe features photographs that are exclusively by its community. It has its own hashtag, which changes depending on the theme of the month. February's theme was #Adobe_SeeingRed, which encourages users to submit red themed photographs. This is a great space to get inspired, while also showcasing your own work. Only posting the community's photos is a great way to increase engagement.
10. NASA

Those who love space – make sure you're following NASA's Instagram account. Not only will you find amazing, high-quality photographs and videos of space, they also have lengthy descriptions which can be quite interesting and educational. They will often tag the International Space Station or other astronauts, giving you the chance to follow them to have even more photographs of space in your Instagram feed.
Feel like we left any out? Know another awesome brand doing Instagram marketing right? Let us know in the comments.  
No reviews found for the selected templates.
NATIVE ANDROID APPLICATION DEVELOPMENT SERVICE PROVIDERS IN USA
What is meant by a native Android Application?
A native application is an application program that has been developed for use on a
specific platform or gadget.
Since native applications are developed for a particular stage, they can interface with and
exploit working highlights and other programming that is ordinarily introduced for that
stage. They are written in a particular language and coded accordingly for example,
Objective C for iOS or Java for Android. Since a native application is worked for a specific
gadget and it's working framework, it can utilise gadget particular equipment and
programming, implying that local applications can exploit the most recent innovation
accessible on cell phones, for example, a worldwide situating framework (GPS) and
camera. Native applications display quick execution and a high level of dependability.
Few Native Android Application Development Providers in U.S.A:
1) Mind Inventory:
Mind Inventory is a Native Application Development company located in New Jersey, USA with
their headquarters in Ahmedabad, India. They develop applications for iPhone and Android
platforms and also provide web solutions. They rank as one of the top companies in Native
android application development. With an experience of almost 7+ years in this expertise,
MindInventory has completed various projects successfully some of which include solar
marketplace app, crew love, Wishlist, Yudd, Lettered and many more.
2) iMobdev:
iMOBDEV is a premier organisation providing native android mobile application development.
They develop applications on both Android and iOS platforms and provide app development
for other technologies like VR app development, iOT , etc., as well.Their office is located in
New Jersey, USA while their headquarters operate from Ahmedabad, India. iMBODEV has a
team comprising of experienced and certified developers and the company has garnered an
experience of almost 8+ years within which they have delivered about 500+ applications till
date. Some of their work includes Saever – An On-demand Services App, NetFish – Free
Fishing Guide App, MarinaNow-Boat Booking, Flare – A Travel Mobile App and many others.
3) AppSquadz Technologies:
AppSquadz Technologies is a fast growing mobile and web application company providing a
large span of services pertaining to mobile and web application development in USA. It is a
unit of proficient application engineers, designers and marketeers working to grow in the
current market and venture across the globe to make an enduring effect in applications and
innovations. With an industry experience of about 10+ years in versatile application
development for mobiles and web with innovative progression, the organisation has conveyed
more than 450+ applications satisfying distinctive concerns of customers from Augmented
Reality to Logistics and various other day to day domains.
4) Mobisoft:
Mobisoft is a product improvement and counselling services organisation. They collaborate
with new companies and organisations of all sizes to manufacture, enhance and scale items
crosswise over platforms utilising a coordinated arrangement of problematic advances:
portable, web, cloud, investigation and IoT. They also work to empower startups and small
enterprises. With an experience of about 8+ years and a team of 200+ designers, mobisoft
passes all tests of quality upliftment. They have been appraised at various platforms and have
served clients like Glamrs, Triphobo, Canvera and many more.
5) Hidden Brains:
Hidden Brains is a main Android application development organisation with a reputation of
effectively creating many superior Android applications on ideal OS from Android ICS, Android
KitKat, Android Lollipop, Android Marshmallow to Android Oreo. Hidden Brains has a group
of gifted Android UX/UI originators, engineers and versatile strategists who give amazing
Android application improvement administrations. Their group tends to quickly adapt to
changing business and innovation needs by building custom Android applications customised
to meet vital business targets utilising instruments and dialects particularly for Android
platform. They make use of Android studio, C, C++ HTML, CSS, Google Material, Java and
Android's Kotlin for coding their application. They are a core native android development
company with their office in Pleasanton, USA.
6) Openxcell:
Established in 2008, Openxcell Techno labs is providing native android applications to the
most sought after companies across the globe, with its fantastic programming items. They are
a group of almost 200 professionals with certifications in application development situated in
India and United States of America. The necessities of customers in application advancement
for iPhones, iPads, Android, Blackberry and Web are provided for by Open X cell by the best
group of designers, creative content developers, programming engineers and specialised
experts who are resolved towards development of it's applications.
7) Mobiloitte:
Mobiloitte is 10 years old organisation which is totally centred around development and online
arrangements on for all intents and purposes all spaces. Throughout the years they have
gathered a tremendous pool of very talented assets, empowered by front line apparatuses and
innovations. Supported by a best in class foundation and sharpened procedures they aim to
convey the best android mobile applications which are adaptable, performing, responsive and
secure. Mobiloitte is headquartered in New Delhi, India with customer closeness focuses in
Boston as well. Their past projects include applications like goodyear, livepure, swoop and
zuper.
8) E-Zest:
e-Zest is a worldwide IT administrations organisation having expertise in application
development for ventures and item improvement for ISVs. It has profound skill and significant
involvement in the cutting edge innovations. Their offices are located in Detroit and California.
e-Zest creates native applications for iOS, Android and Windows stages. Their designers have
idealized the specialty of building the most excellent and versatile applications after working
with them for years. They comprehend the minutest details of every platform and completely
use their functionalities while creating applications.
9) Appnovation:
Their Android application development group is one of the mains in North America. They have
created highlight rich Android applications which are being utilised as a part of fields like
business, innovation, medicinal services and media just to give some examples. They make
versatile applications that are independent, customer server, web benefit driven and database
driven. Appnovation has a team of around 250 experienced individuals and are situated in
cities of Boston, Atlanta and other parts of USA. Appnovation's Android application engineers
have solid ability in creating local Android applications utilising C++ and Javascript.
10) BrainMobi:
BrainMobi is a native android application development organisation offering versatile android applications with instinctive outlines. Their experienced android application designers perform profound research and apply coordinated techniques by actualising best practices in android application improvement. They create applications that assist customers in expanding their business income to meet customer prerequisites and desires. The organisation also creates
local android applications for expansive undertakings, government associations and huge
corporates. Their team of gifted android application designers have inside out learning and
solid aptitude in Android Software Development Kit (ASDK) APIs, Android Native Development
Kit (ANDK), and android emulator.
Top 10 Secret SEO Tools Increase Website Ranking
In this Urdu / Hindi tutorial, I am going to show you top 10 best free SEO (Search Engine Optimization) tools which you can use to increase your website ranking and beat your competitors easily.
w3techs.com/sites
This website helps you to find the right CMS and all language that used to create a website, just visit it and type any site URL that you wanna know about and get the all important details about CMS and web languages.
whatwpthemeisthat.com
WhatWPThemeisThat helps you to find the right theme that used a website, for example, you want to know about a web www.anything.com that which theme uses this web, so you can get the theme name and all details.
gtmetrix.com
One of my favorite tool for checking website speed, it's a 100% free tool, just type any site URL and get the site speed test and also this site tells how to increase the website speed that you have posted.
developers.google.com/speed/pagespeed/insights
This is a Google official tool and it works same like Gtmetrix website; it tells us website speed, website opening score on a computer and mobile phone, you can check from here that your site is mobile friendly or not.
kwfinder.com
It's the best tool for keyword research, it's a premium tool, but we can use for the limited time for free.
This tool provides all important data, and monthly searches result about any keyword and tell us how much difficult your keyword is.
You can also get many ideas when you type your first keyword so that this tool will show other related keywords automatically.
wordcounttools.com
This tool counts our article or text words and character; you can use this for SEO purpose, like if you want to write 500 words article so you can use this tool for counting your words.
lsigraph.com
LSI stand for Latent Semantic Indexing, It means you have to find your main keyword related long words, LSI keywords are great for ranking and Google loves it.
Using LSIGraph.com, you can find many long tail LSI keywords for your article and make the seo optimized article.
seomofo.com/snippet-optimizer.html
If you want to live preview of your written article title and description thaw how it will show in Google search result so you can use this fantastic free online tool to get the live preview and edit your title and description according to Google policy by using this website.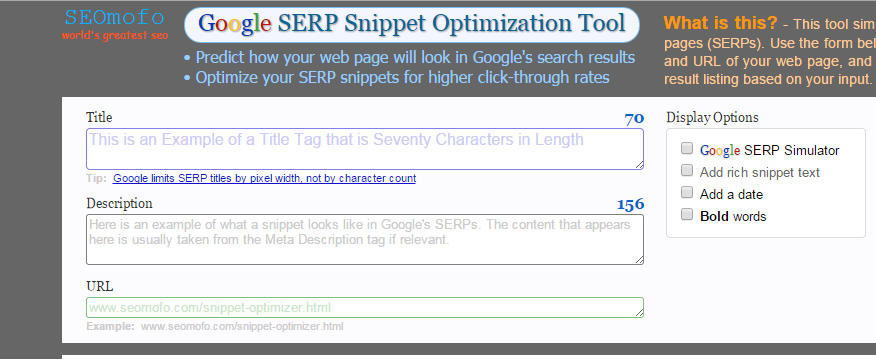 similarweb.com
This site helps us to give the right report about any website's total traffic, traffic source, and many other important things.
It's the best tool for people who want to buy a new blog or want to check their competitor's website.
moz.com/researchtools/ose/
It's a Moz.com free tool for analysing the website and page authority and give us all inbound backlinks report for free.