Pope Francis Uses Christmas Message To Call For Two-State Solution
VATICAN CITY, Dec 25 (Reuters) – Pope Francis used his Christmas message on Monday to call for a negotiated two-state solution to end the Israeli-Palestinian conflict, after U.S. President Donald Trump stoked regional tensions with his recognition of Jerusalem as Israel's capital.
Francis spoke of the Middle East conflict and other world flashpoints in his "Urbi et Orbi" (to the city and the world) address, four days after more than 120 countries backed a U.N. resolution urging the United States to reverse its decision on Jerusalem.
"Let us pray that the will to resume dialog may prevail between the parties and that a negotiated solution can finally be reached, one that would allow the peaceful coexistence of two states within mutually agreed and internationally recognized borders," he said, referring to the Israelis and Palestinians.
"We see Jesus in the children of the Middle East who continue to suffer because of growing tensions between Israelis and Palestinians," he said in his address, delivered from the balcony of St. Peter's Basilica to tens of thousands of people.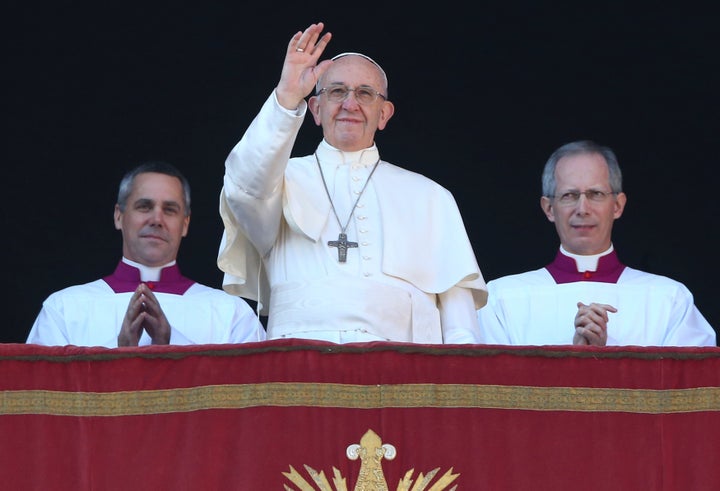 It was the second time that the pope has spoken out publicly about Jerusalem since Trump's decision on Dec. 6. On that day, Francis called for the city's "status quo" to be respected, lest new tensions in the Middle East further inflame world conflicts.
Palestinians want East Jerusalem as the capital of their future independent state, whereas Israel has declared the whole city to be its "united and eternal" capital.
Francis, leader of the world's 1.2 billion Roman Catholics, urged people to see the defenseless baby Jesus in the children who suffer the most from war, migration and natural calamities caused by man today.
"Today, as the winds of war are blowing in our world … Christmas invites us to focus on the sign of the child and to recognize him in the faces of little children, especially those for whom, like Jesus, 'there is no place in the inn,'" he said.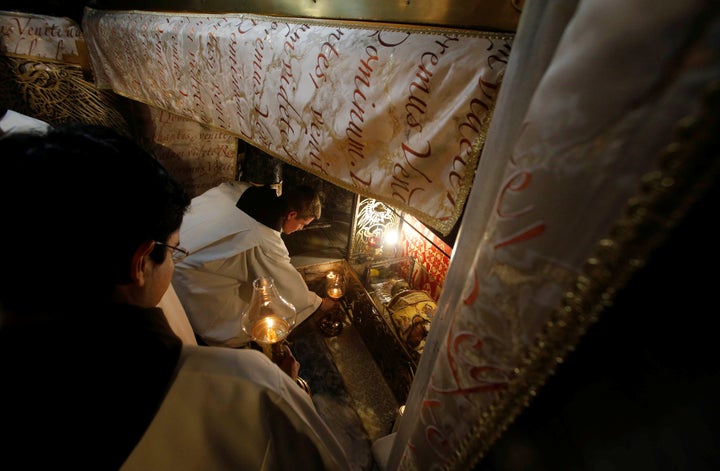 OPEN HEARTS FOR REFUGEES
Francis, celebrating the fifth Christmas of his pontificate, said he had seen Jesus in the children he met during his recent trip to Myanmar and Bangladesh, and he called for adequate protection of the dignity of minority groups in that region.
More than 600,000 Muslim Rohingya people have fled mainly Buddhist Myanmar to Bangladesh in recent months. The pope had to tread a delicate diplomatic line during his visit, avoiding the word "Rohingya" while in Myanmar, which does not recognize them as a minority group, though he used the term when in Bangladesh.
"Jesus knows well the pain of not being welcomed and how hard it is not to have a place to lay one's head. May our hearts not be closed as they were in the homes of Bethlehem," he said.
He also urged the world to see Jesus in the innocent children suffering from wars in Syria and Iraq and also in Yemen, complaining that its people had been "largely forgotten, with serious humanitarian implications for its people, who suffer from hunger and the spread of diseases."
He also listed conflicts affecting children in South Sudan, Somalia, Burundi, Democratic Republic of Congo, Central African Republic, Ukraine and Venezuela.
At his Christmas Eve Mass in St. Peter's Basilica on Sunday, Francis strongly defended immigrants, comparing them to Mary and Joseph finding no place to stay in Bethlehem and saying faith demands that foreigners be welcomed.
Leading German Far-Right Figure Ditches Party, Converts To Islam
Brazilian Court Upholds Lula's Corruption Conviction
PORTO ALEGRE, Brazil, Jan 24 (Reuters) – A Brazilian appeals court upheld the corruption conviction of former President Luiz Inacio Lula da Silva on Wednesday, a major blow to the plans of the country's most influential politician to run for the presidency again this year.
The first two of three judges voted to uphold Lula's convictions on taking bribes and money laundering and agreed with the prosecutors' request to lengthen the prison sentence of Brazil's first working-class leader, who remains free pending future appeals.
Lula, 72, could now be ineligible to stand for election under Brazil's "Ficha Limpa" or "Clean Record" law, which bans political candidates whose convictions are upheld by an appelate court. However, an electoral court must make the final ruling on a candidacy, and would only do so once a candidate had registered.
Lula can appeal Wednesday's decision to higher courts to delay a final decision, possibly avoiding jail and stringing the process out long enough to register his candidacy by the Aug. 15 deadline.
Lula is one of scores of powerful politicians and businessmen caught up in sweeping corruption probes that have wracked the Brazilian establishment since 2014.
His exclusion from the election would radically alter the political landscape ahead of a campaign in which Lula is the early favorite, with 36 percent of voter preferences according to pollster Datafolha. That is double the percentage of his nearest rival, the far-right congressman and former army captain Jair Bolsonaro, who has been energized by anti-Lula sentiment.
Brazil's benchmark Bovespa stock index has risen 8 percent so far this year, propped up by expectations Lula will be barred from the election, clearing the way for a more market-friendly candidate who would stick to Brazil's austerity agenda.
The Bovespa hit an all-time high on Wednesday as the first of three judges on the court began reading his decision, dismissing a series of arguments presented by Lula's lawyers.
Brazil's currency, the real, firmed 1.6 percent against the U.S. dollar, leading gains in Latin America.
Lula faces six other indictments in corruption cases ranging from receiving bribes from engineering firm Odebrecht to obstructing justice and trafficking his influence to obtain government decisions favoring the auto industry. He is among over 100 people convicted in the "Car Wash" investigation, the most sprawling of Brazil's numerous probes, focused on graft involving oil firm Petroleo Brasileiro and other state-run companies.
Speaking at a union rally on the outskirts of Sao Paulo on Wednesday, Lula told the crowd, "I committed no crime."
"The only fair decision today would be a 3-0 ruling that I was wrongly convicted and sentenced," Lula said
BEACHSIDE APARTMENT
Lula was convicted of corruption and money laundering last year for accepting a beachside apartment from an engineering firm vying for contracts with the state oil company known as Petrobras.
Prosecutors said the apartment and its refurbishing was a bribe worth 3.7 million reais ($1.1 million). Lula maintains he never owned the penthouse apartment, criticizing prosecutors for relying on the plea bargain testimony of one witness, businessman Leo Pinheiro.
"His word is not enough to incriminate Lula," Lula's lawyer Cristiano Zanin told the appeals court.
(Writing and additional reporting by Anthony Boadle in Brasilia; Additional reporting by Bruno Federowski in Brasilia and Pablo Garcia in Sao Bernardo do Campo; Editing by Lisa Shumaker and Andrew Hay)
Trump Threatens To Pull Aid To Palestinians If They Don't Pursue Peace
DAVOS, Switzerland (Reuters) – U.S. President Donald Trump threatened on Thursday to withhold aid to the Palestinians if they did not pursue peace with Israel, saying they had snubbed the United States by not meeting Vice President Mike Pence during a recent visit.
Trump, speaking after a meeting with Israeli Prime Minister Benjamin Netanyahu at the World Economic Forum, said he wanted peace. However, his remarks could further frustrate the aim of reviving long-stalled Israeli-Palestinian talks.
Palestinians shunned Pence's visit to the region this month after Trump recognized Jerusalem as Israel's capital and vowed to begin moving the U.S. embassy to the city, whose status is at the heart of the Israeli-Palestinian conflict.
Trump's endorsement in December of Israel's claim to Jerusalem as its capital drew universal condemnation from Arab leaders and criticism around the world. It also broke with decades of U.S. policy that the city's status must be decided in negotiations between Israel and the Palestinians.
"When they disrespected us a week ago by not allowing our great vice president to see them, and we give them hundreds of millions of dollars in aid and support, tremendous numbers, numbers that nobody understands ― that money is on the table and that money is not going to them unless they sit down and negotiate peace," Trump said.
The United States said this month it would withhold $65 million of $125 million it had planned to send to the U.N. agency that helps Palestinian refugees. The UNRWA agency is funded almost entirely by voluntary contributions from U.N. states and the United states is the largest contributor.
A spokesman for Palestinian President Mahmoud Abbas said the United States had taken itself "off the table" as a peace mediator since it recognized Jerusalem as Israel's capital.
"Palestinian rights are not up to any bargain and Jerusalem is not for sale. The United States can't have any role unless it retreats its decision to recognize Jerusalem as Israel's capital," spokesman Nabil Abu Rdainah told Reuters by phone from Jordan.
Abbas has called Trump's Jerusalem declaration a "slap in the face" and has rejected Washington as an honest broker in any future talks with Israel. Abbas left for an overseas visit before Pence arrived.
Abbas has said he would only accept a broad, internationally backed panel to broker any peace talks with Israel. The U.S. Ambassador to the U.N., Nikki Haley also criticized Abbas.
Israel's government regards Jerusalem as the eternal and indivisible capital of the country, although that is not recognized internationally. Palestinians see East Jerusalem as the capital of a future Palestinian state.
Speaking in Davos, Israeli Prime Minister Benjamin Netanyahu said only the United States could broker a peace deal.
"I think there's no substitute for the United States. As the honest broker, as a facilitator, there's no other international body that would do it," Netanyahu said.
Trump said Palestinians had to come to the negotiating table.
"Because I can tell you that Israel does want to make peace and they're going to have to want to make peace too or we're going to have nothing to do with them any longer," Trump said.
Trump said his administration had a peace proposal in the works that was a "great proposal forPalestinians" which covers "a lot of the things that were over the years discussed or agreed on", without providing specifics.
Trump said his declaration on Jerusalem took it off the negotiating table "and Israel will pay for that", adding "they'll do something that will be a very good thing" without elaborating.
Earlier at the World Economic Forum, Jordanian King Abdullah said Jerusalem had to be part of a comprehensive solution.
He said Trump's decision had created a backlash, frustrating Palestinians who felt there was no honest broker.
But he added: "I'd like to reserve judgment because we're still waiting for the Americans to come out with their plan."
King Abdullah's Hashemite dynasty is the custodian of the Muslim holy sites in Jerusalem, making Jordan particularly sensitive to any changes of status there.
The last talks collapsed in 2014, partly due to Israel's opposition to an attempted unity pact between Palestinian factions Fatah and Hamas, and because of Israeli settlement building on occupied land that Palestinians seek for a state, among other factors.
Palestinians want the West Bank for a future state, along with East Jerusalem and the Gaza Strip. Most countries consider as illegal the Israeli settlements built in the territory which Israel captured in the 1967 Middle East war.
Israel denies its settlements are illegal and says their future should be determined in peace talks.
The United States has said it would support a two-state solution if the Israelis and Palestiniansagreed to it.
(Additional reporting by Ali Sawafta in RAMALLAH, Ari Rabinovitch in JERUSALEM, Michelle Nichols at the UNITED NATIONS and Noah Barkin and Dmitry Zhdannikov in DAVOS; Writing by Yara Bayoumy; Editing by Mark Bendeich)