Bernie Sanders Clarifies Comments About Middle-Class Tax Cuts In GOP Bill
Sen. Bernie Sanders (I-Vt.) dismissed attempts to construe one of his recent comments as praise for the Republican tax legislation, declaring in a statement on Wednesday that the GOP law is "one of the worst pieces of legislation in the modern history of our country."
In an interview with CNN's "State of the Union" on Sunday, Sanders conceded that the tax cuts for middle-class families in the GOP tax bill were positive, before slamming the bill for specifying that they would expire in eight years.
"Next year, 91 percent of middle-income Americans will receive a tax cut. Isn't that a good thing?" host Jake Tapper asked Sanders.
"Yeah, it is a very good thing," Sanders responded. "And that's why we should've made the tax cuts for the middle class permanent."
Some Republicans delighted in the idea that they had caught Sanders owning up to the bill's perks.
In an email blast to reporters, Republican National Committee spokesman Michael Ahrens dubbed the Vermont progressive "Sanders Claus."
"Bernie has long supported massive tax increases on everyone – including the middle class – but this Christmas, even this Grinch's heart has grown," Ahrens wrote in a note that linked to Sanders' CNN interview. "When Bernie comes back to town, he should pledge to vote with Republicans in ten years to make the tax cuts permanent for the middle class."
But Sanders maintained on Wednesday that the legislation's modest middle-class benefits do not outweigh its problems. He lamented how much it privileges ultra-rich Americans "at a time of massive income and wealth inequality."
To keep the law within mandatory budget guidelines, Republicans stipulated that the provisions for individuals, including lower tax rates, will expire in 2025, even as they made the legislation's massive corporate tax breaks permanent. As a result, by 2027, more than 82 percent of the law's benefits will go to the top 1 percent of earners in the country.
Sanders also fears that congressional Republicans will cite the $1.4 trillion the law is expected to add to the national debt as an excuse to pursue cuts to Social Security, Medicare, Medicaid and other social programs. House Speaker Paul Ryan (R-Wis.) has said that slashing these programs is next on his agenda.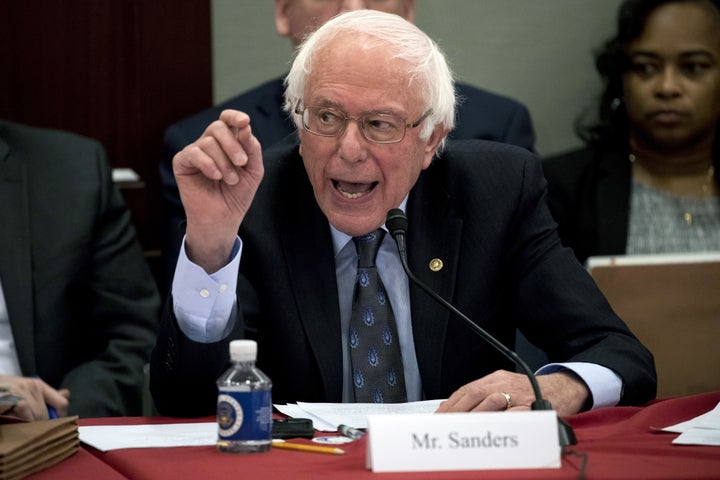 Rather than do away with the tax law entirely, Sanders supports repealing the tax breaks for the wealthy and corporations to make the bill's middle-class tax breaks permanent and expand upon them.
"Let's pass tax reform that permanently benefits all middle-income and working-class families without giving tax breaks to the top 1 percent," he said. "Instead of providing huge tax breaks to the rich and large corporations that explode the deficit, which this bill does, millionaires, billionaires and large, profitable corporations must begin paying their fair share of taxes."
Sanders has ambitious domestic spending priorities, including a national, single-payer health care system that he and other boosters have dubbed "Medicare for all." Sanders declared flatly at a Democratic presidential candidate forum in January 2016 that to fund these priorities, "We will raise taxes, yes we will."
He introduced new legislation in September laying out his vision for a universal public insurance plan that goes beyond even the benefits Medicare currently provides to seniors and people with disabilities. The bill, which attracted the support of over one-third of the Senate Democratic Caucus, offers many potential revenue options for funding the new program. One of the ideas is a 4 percent income-based premium on all households ― in other words, a middle-class tax increase.
However, Sanders insists that the single-payer program would still provide a significant boost in net income for middle-class Americans because of the money it would save them in premiums and other out-of-pocket costs. A family of four earning $50,000 would save $4,000 a year, according to estimates by Sanders' staff.
There is real evidence to suggest that centralizing insurers' buying power in the hands of the federal government would provide the leverage needed to negotiate lower costs. Countries with health care systems that resemble the one Sanders envisions have per-capita health care costs that are a fraction of those of the United States.
"Both Medicare for all and middle-class centered tax reform are about putting more money in the pockets of working families," Josh Miller-Lewis, a Sanders spokesman, told HuffPost in an email.
Porn Actress Confirmed Trump Affair In Unpublished 2011 Interview
Former adult film actress Stephanie Clifford confirmed her reported affair with President Donald Trump in a previously unpublished 2011 interview with In Touch, the magazine revealed Wednesday.
The newly disclosed comments by Clifford, whose stage name is Stormy Daniels, lend credence to last week's Wall Street Journal report that a Trump lawyer arranged a $130,000 payment to her in October 2016 ― right before the presidential election ― to keep quiet about the relationship. Trump's legal team and Clifford have denied both the affair and the payment.
But in 2011, In Touch says, Clifford told the tabloid that she had sex with Trump in his Lake Tahoe hotel suite in the summer of 2006, the year after Trump had married his third wife, Melania Trump, and just months after she gave birth to their son, Barron Trump.
The magazine chose to publish the interview this week in light of the Journal report and Trump's rise in significance, magazine spokeswoman Kelsi Ignomirello told HuffPost.
"Donald Trump is clearly a more relevant public figure now than he was in 2011," she said.
Clifford told In Touch she met Trump at the American Century celebrity golf tournament in July 2006. Wicked Pictures, the adult film company Clifford worked for, was a sponsor of the tournament's gift lounge, where Trump allegedly approached her. He asked for her phone number and invited her to dinner in his hotel room, according to the 2011 interview.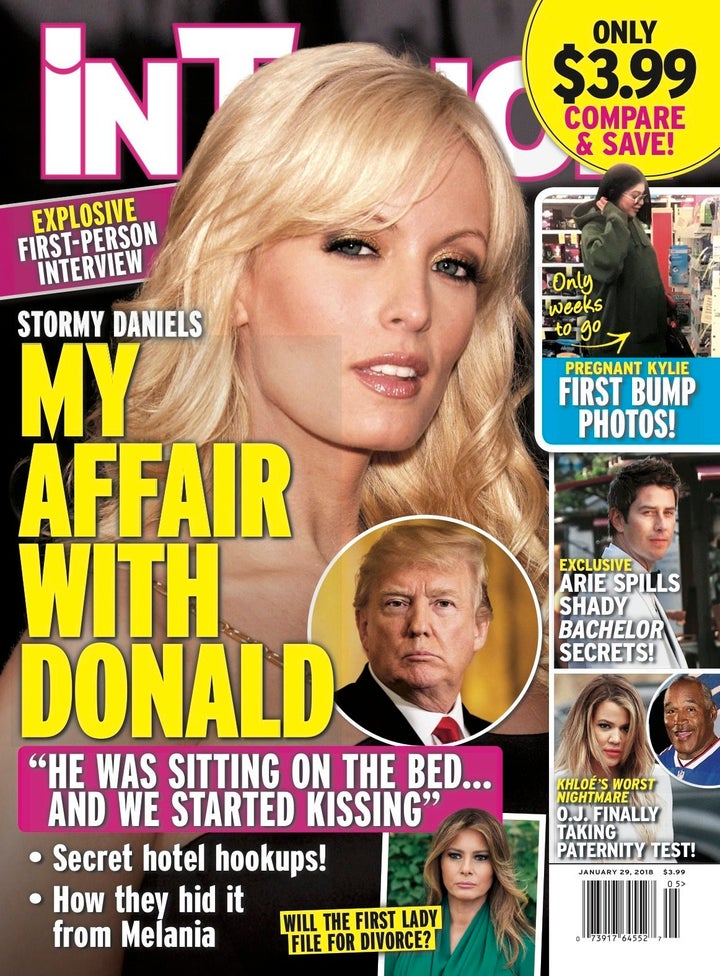 "Oh, don't worry about [Melania]," Trump allegedly told Clifford when she asked about his marriage during dinner. The pair had sex after finishing their meal.
"I remember thinking, 'I hope he doesn't think I'm a hooker.' Not that I have anything against hookers. I just personally have never done it," Clifford told In Touch.
She described the sex as "textbook generic," according to the magazine, and added, "I actually don't even know why I did it, but I do remember while we were having sex, I was like, 'Please, don't try to pay me.'"
A friend who corroborated Clifford's story at the time to In Touch in 2011, fellow porn star Randy Spears, recalled Clifford describing the encounter as "pretty boring."
This isn't the only tryst Trump allegedly pursued at the 2006 golf tournament.  Just weeks before Trump's 2016 presidential victory, adult film actress and director Jessica Drake came forward with allegations that at the event, Trump grabbed her, kissed her and offered her $10,000 for sex.
Drake is one of more than 20 women who have accused Trump of sexual harassment and abuse over several decades. He has repeatedly denied all of the allegations.
Clifford told In Touch that at the end of her evening with Trump, he promised to cast her as a contestant on his NBC reality show "The Apprentice."
"He goes, 'People would think you're just this idiot with blond hair and big boobs. You would be perfect for it because you're such a smart businesswoman,'" she recalled that Trump said.
He told me once that I was someone to be reckoned with, beautiful and smart just like his daughter.

Stephanie Clifford, as quoted in a 2011 interview
He used the promise of casting her as a reason to keep in touch for the next year, according to the interview, and called her from a blocked number "about every 10 days" or whenever he "saw or read about me somewhere." Her ex-husband, Michael Mosny, corroborated her claims that she and Trump frequently spoke.
At one point in their relationship, In Touch quotes her as saying, Trump even compared her to his daughter (presumably Ivanka, since the president's other daughter, Tiffany, was a child at the time).
"He told me once that I was someone to be reckoned with, beautiful and smart just like his daughter," Clifford allegedly said.
Trump appeared to try to initiate sex with her again in July 2007 when she visited his bungalow at the Beverly Hills Hotel, Clifford said. Her rebukes marked the beginning of the end for their relationship, she recalled.
"He just kept brushing my hair off my shoulder and kissing my neck," she alleged. "And he was like, 'So, can you stay?' And I was like, 'No, I gotta go.' I left, and he kept calling me less and less over the coming months."
Neither the White House nor Clifford have yet to comment on the In Touch interview.
Citing Court Order, Trump Administration Resumes Accepting DACA Renewal Applications
U.S. Citizenship and Immigration Services said in a statement on its website that DACA will be "operated on the terms in place before it was rescinded on Sept. 5, 2017." That was the date on which Trump announced his decision to terminate the Obama-era program that shielded some 700,000 young undocumented immigrants from deportation.
"Due to a federal court order, USCIS has resumed accepting requests to renew a grant of deferred action under DACA," the agency said.
Renewal applications will, however, only be accepted from people who previously received DACA and whose deferred action had expired on or after Sept. 5, 2016.
Former DACA recipients whose grant expired before that date cannot request a renewal, but they can file a new request, the agency said. No new applicants will be accepted.
Marielena Hincapié, executive director of the National Immigration Law Center, warned on Saturday that the window for renewal applications may be "short." She urged those eligible for renewal to prepare their applications promptly.
The USCIS announcement comes on the heels of U.S. District Judge William Alsup's issuance on Tuesday of a nationwide injunction blocking the Trump administration's effort to rescind the program.
Alsup ruled that the federal government must "maintain [DACA] on a nationwide basis" while legal challenges to ending the program proceed in court.
"Plaintiffs have clearly demonstrated that they are likely to suffer serious irreparable harm absent an injunction," Alsup wrote in an opinion explaining the injunction. "Before DACA, Individual Plaintiffs, brought to America as children, faced a tough set of life and career choices turning on the comparative probabilities of being deported versus remaining here. DACA gave them a more tolerable set of choices, including joining the mainstream workforce."
Help for vets: Trump deploys more firepower against suicides
Members of the armed forces put their lives on the line for the nation, so it's only appropriate that the federal government does all it can to protect them from post-service psychiatric problems. President Donald Trump sent that message Tuesday with an executive order enhancing mental health services for recently discharged veterans. Suicide rates among former service members remain high, especially among those fresh out of uniform, and all reasonable efforts to stanch the epidemic are worth making.
Mr. Trump's order makes a wide range of mental health services available to all veterans as they transition back to civilian society. Until now, a full complement of services was available only to about 40 percent of those recently discharged, most of them from the combat ranks. But any service member returning to civilian life can encounter problems with employment, relationships or changes in routine that increase the odds of suicide. The best approach is to make services available to all.
Importantly, the president's order not only authorizes services for all veterans during their transition periods but directs Cabinet-level agencies to ensure those services are plentiful and available. For example, Mr. Trump directed the Department of Veterans Affairs to expand its use of telemedicine, which has the potential to connect veterans with care no matter where they live, and its use of technology that allows former service members to schedule appointments online.
Veterans also may schedule appointments in the private sector if the VA system cannot serve them quickly enough — an important allowance given the VA's past failures to provide prompt treatment. One important resource may be the nonprofit Give an Hour, which arranges for mental health professionals to donate services to veterans and members of their families.
Mr. Trump's order builds on other efforts, some predating his administration, to stem the mental health crisis among veterans.
In 2016, the government released a three-year study showing the benefits of a certain kind of talk therapy in helping veterans manage post-traumatic stress disorder. Also in 2016, it issued a report documenting the scope of the suicide problem. The report, updated last year, found that the suicide rate for veterans was considerably higher than that of the average population; that in 2014, an average of 20 veterans took their lives each day; and that suicide was most common among veterans 29 and younger and lowest among those 60 and older. The report provided state-by-state data, showing that Pennsylvania's rate mirrored the nation's but was considerably above that for the Northeast.
As the government moves to implement Mr. Trump's order, officials should remember that making services available is not always sufficient. Many of those who took their lives already were receiving VA care of one kind or another, and the Substance Abuse and Mental Health Services Administration has estimated that only half of veterans needing mental health care seek treatment. The government must continue riding herd on recently discharged veterans, promoting mental health care among those who might be reluctant to seek it and constantly assessing the quality of care provided to those who did ask for help.