Marijuana Industry Not Freaking Out Over Threat Of Federal Crackdown
WASHINGTON ― The marijuana industry and its advocates collectively held their breath this week following the release of new Justice Department guidance that gave federal prosecutors the go-ahead to aggressively pursue state-legal marijuana operations. But just a day after the decision, many experts are cautiously optimistic that their initial fears of a crackdown were overblown.
In an announcement Thursday, Attorney General Jeff Sessions officially reversed a set of Obama-era memos that had advised federal prosecutors in legal weed states to de-prioritize marijuana cases. Although the new guidance gives significant authority to U.S. attorneys in the eight states that have already legalized marijuana, the practical effect of the decision will ultimately depend on how they exercise it ― if they do at all.
"The rescission of the [memos] doesn't affect the industry at all. What affects the industry is when DEA agents start kicking down doors and U.S. attorneys begin prosecuting people," said marijuana expert John Hudak, a senior fellow at the Brookings Institution, a nonprofit public policy think tank.
And there's little reason to believe federal authorities will take Sessions up on the invitation to reignite the war on state-legal marijuana, said Patrick Moen, a former Drug Enforcement Administration official who now serves as general counsel for Privateer Holdings, a private equity firm that invests in marijuana companies.
"I still keep in touch with a lot of my former colleagues, and they are almost universally uninterested in maintaining cannabis prohibition," Moen said. "The majority of U.S. attorneys feel similarly."
Senior Justice Department officials who briefed reporters on the policy change on Thursday faced a barrage of questions about the Sessions memo. They struggled to articulate the message they intended to send to the marijuana industry, with one simply stating the obvious fact that "marijuana continues to be against federal law."
In states where marijuana use is legal, the Sessions memo left people scrambling to ascertain the views of their local U.S. attorney, the top federal prosecutor in each of the nation's 94 federal districts. The attorneys who spoke out gave little indication that the new guidance would change the status quo, which industry officials took as a positive sign. In many cases, federal prosecutors signaled that they would proceed as they had under Obama-era policy by focusing on issues of marijuana distribution to children, the diversion of marijuana to other states, violence and use of firearms, and using state-authorized marijuana operations as a cover for illegal trafficking.
Take a statement issued by Adam Braverman, the U.S. attorney for the Southern District of California. He wrote that the Sessions memo "returns trust and local control to federal prosecutors" and allows DOJ to enforce the laws enacted by Congress, and Braverman noted that marijuana "cultivation, distribution, and possession" has long been against federal law. But his statement also acknowledged cold reality: His office can't take on everything and would "continue to utilize long-established prosecutorial priorities to carry out our mission to combat violent crime, disrupt and dismantle transnational criminal organizations, and stem the rising tide of the drug crisis." (U.S. attorneys for California's other two districts have not yet weighed in.)
In Oregon, U.S. Attorney Billy J. Williams said his office would continue to place an emphasis on "stemming the overproduction of marijuana and the diversion of marijuana out of state, dismantling criminal organizations and thwarting violent crime in our communities."
In Colorado ― the first state to implement legalized recreational marijuana ― U.S. Attorney Bob Troyer said his office would keep "focusing in particular on identifying and prosecuting those who create the greatest safety threats to our communities around the state."
The rescission of the [memos] doesn't affect the industry at all. What affects the industry is when DEA agents start kicking down doors and U.S. attorneys begin prosecuting people.John Hudak, senior fellow at the Brookings Institution
U.S. Attorney Annette L. Hayes of the Western District of Washington noted her office had already been prioritizing cases involving "organized crime, violent and gun threats, and financial crimes related to marijuana," and said it would continue to focus resources on "those who pose the greatest safety risk to the people and communities we serve." (Joseph Harrington, her colleague in the state's Eastern District who is in the office on an interim basis, referred questions to Justice Department headquarters.)
Halsey B. Frank, U.S. attorney for Maine, said he would consult with his staff before determining how the Sessions memo might affect charging decisions. He also stated his intent to "follow long-established principles to prosecute federal crime, including to combat the current drug crisis."
Perhaps the most opaque statement came from U.S. Attorney Andrew Lelling in Massachusetts, who told The Boston Globe that "marijuana is in fact a dangerous drug" and that his office "will continue to investigate and prosecute bulk cultivation and trafficking cases, and those who use the federal banking system illegally."
In Nevada, which voted to legalize cannabis in 2016, interim U.S. Attorney Dayle Eliesonhas yet to comment. Sessions appointed Elieson on Wednesday, the day before releasing his memo.
U.S. attorneys are typically Senate-confirmed presidential nominees and often have political aspirations. It's by no means a firewall, but marijuana industry officials may take small comfort in the notion that U.S. attorneys by and large might be unwilling to be seen as circumventing the will of voters in their home states, especially now that the cannabis industry is past the startup phase.
"Even if they were to wade into some kind of enforcement action, that's a decision that's fraught with political peril," Moen said. "The field offices and the federal prosecutors are local in nature, they live and work in these communities, they are the ones that have to deal with blowback from the local governor's office, the state attorney general, and they frankly rely on their state and local partners for cooperation as a force multiplier so they can get their jobs done."
It could also prove difficult for a U.S. attorney to obtain a conviction. (Though simply charging and prosecuting individuals who complied with state marijuana laws could send a damaging message, even if cases aren't successful.)
"If the feds begin to go in and arrest business owners, they're going to go on trial somewhere in that state, and if you have a state like Colorado where something like 60 percent of Coloradans support marijuana reform, it's probably going to be hard to find 12 jurors without at least one of them thinking the feds are overstepping their bounds," Hudak said.
Although many saw the Sessions memo as largely symbolic, it did mark a clear shift away from the recent trend toward normalizing the marijuana industry. That change was enough to trigger some concern in the cannabis market.
"We're talking with our investors and making clear that as of today nothing has changed. People had questions yesterday about what this meant, but today they're moving ahead," said Kevin Conroy, the former deputy attorney general of Massachusetts who now works at a local law firm where he represents prospective marijuana businesses and investors.
We're talking with our investors and making clear that as of today nothing has changed. People had questions yesterday about what this meant, but today they're moving ahead.Kevin Conroy, a lawyer who represents prospective marijuana businesses and investors
"It has always been against federal law to dispense marijuana, so anybody who is in this industry by nature is somewhat of a risk taker," added Conroy. "There has always been uncertainty in this industry. Yesterday's announcement brought further uncertainty, but how much further uncertainty we just don't know yet."
But larger financial institutions may be easier to spook. At least a few banks that had been considering getting involved in the marijuana industry appeared unwilling to wait around and see if the announcement would actually lead to concrete action.
"I've had two large national financial institutions put their efforts to lend capital to California marijuana business on hold," said Scott Martinez, who served as Denver's city attorney during the launch of Colorado's recreational marijuana program before joining a local law firm, where he now advises businesses on regulatory issues regarding the cannabis industry.
Whether or not a crackdown is coming, the new guidance does make it harder for the financial industry to justify the risk of getting involved in the marijuana business, Martinez said. And that uncertainty alone makes it harder for up-and-coming marijuana companies to get access to the financial resources they need to get off the ground.
"For those folks who are already in the marijuana business, it's going to be business as usual, because they've already made the calculation about the risk they want to undertake as a business proposition," Martinez said. "What yesterday's announcement really affects in a major way is the new entrants into the marijuana industry, and it affects business partners who may be involved in legal marijuana in the states."
Porn Actress Confirmed Trump Affair In Unpublished 2011 Interview
Former adult film actress Stephanie Clifford confirmed her reported affair with President Donald Trump in a previously unpublished 2011 interview with In Touch, the magazine revealed Wednesday.
The newly disclosed comments by Clifford, whose stage name is Stormy Daniels, lend credence to last week's Wall Street Journal report that a Trump lawyer arranged a $130,000 payment to her in October 2016 ― right before the presidential election ― to keep quiet about the relationship. Trump's legal team and Clifford have denied both the affair and the payment.
But in 2011, In Touch says, Clifford told the tabloid that she had sex with Trump in his Lake Tahoe hotel suite in the summer of 2006, the year after Trump had married his third wife, Melania Trump, and just months after she gave birth to their son, Barron Trump.
The magazine chose to publish the interview this week in light of the Journal report and Trump's rise in significance, magazine spokeswoman Kelsi Ignomirello told HuffPost.
"Donald Trump is clearly a more relevant public figure now than he was in 2011," she said.
Clifford told In Touch she met Trump at the American Century celebrity golf tournament in July 2006. Wicked Pictures, the adult film company Clifford worked for, was a sponsor of the tournament's gift lounge, where Trump allegedly approached her. He asked for her phone number and invited her to dinner in his hotel room, according to the 2011 interview.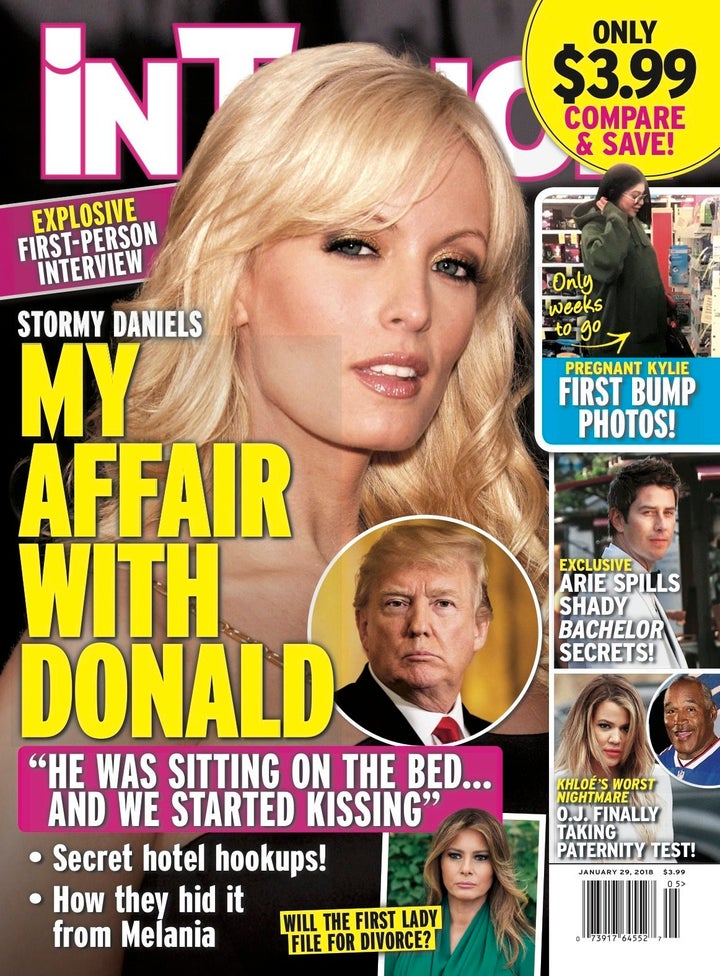 "Oh, don't worry about [Melania]," Trump allegedly told Clifford when she asked about his marriage during dinner. The pair had sex after finishing their meal.
"I remember thinking, 'I hope he doesn't think I'm a hooker.' Not that I have anything against hookers. I just personally have never done it," Clifford told In Touch.
She described the sex as "textbook generic," according to the magazine, and added, "I actually don't even know why I did it, but I do remember while we were having sex, I was like, 'Please, don't try to pay me.'"
A friend who corroborated Clifford's story at the time to In Touch in 2011, fellow porn star Randy Spears, recalled Clifford describing the encounter as "pretty boring."
This isn't the only tryst Trump allegedly pursued at the 2006 golf tournament.  Just weeks before Trump's 2016 presidential victory, adult film actress and director Jessica Drake came forward with allegations that at the event, Trump grabbed her, kissed her and offered her $10,000 for sex.
Drake is one of more than 20 women who have accused Trump of sexual harassment and abuse over several decades. He has repeatedly denied all of the allegations.
Clifford told In Touch that at the end of her evening with Trump, he promised to cast her as a contestant on his NBC reality show "The Apprentice."
"He goes, 'People would think you're just this idiot with blond hair and big boobs. You would be perfect for it because you're such a smart businesswoman,'" she recalled that Trump said.
He told me once that I was someone to be reckoned with, beautiful and smart just like his daughter.

Stephanie Clifford, as quoted in a 2011 interview
He used the promise of casting her as a reason to keep in touch for the next year, according to the interview, and called her from a blocked number "about every 10 days" or whenever he "saw or read about me somewhere." Her ex-husband, Michael Mosny, corroborated her claims that she and Trump frequently spoke.
At one point in their relationship, In Touch quotes her as saying, Trump even compared her to his daughter (presumably Ivanka, since the president's other daughter, Tiffany, was a child at the time).
"He told me once that I was someone to be reckoned with, beautiful and smart just like his daughter," Clifford allegedly said.
Trump appeared to try to initiate sex with her again in July 2007 when she visited his bungalow at the Beverly Hills Hotel, Clifford said. Her rebukes marked the beginning of the end for their relationship, she recalled.
"He just kept brushing my hair off my shoulder and kissing my neck," she alleged. "And he was like, 'So, can you stay?' And I was like, 'No, I gotta go.' I left, and he kept calling me less and less over the coming months."
Neither the White House nor Clifford have yet to comment on the In Touch interview.
Citing Court Order, Trump Administration Resumes Accepting DACA Renewal Applications
U.S. Citizenship and Immigration Services said in a statement on its website that DACA will be "operated on the terms in place before it was rescinded on Sept. 5, 2017." That was the date on which Trump announced his decision to terminate the Obama-era program that shielded some 700,000 young undocumented immigrants from deportation.
"Due to a federal court order, USCIS has resumed accepting requests to renew a grant of deferred action under DACA," the agency said.
Renewal applications will, however, only be accepted from people who previously received DACA and whose deferred action had expired on or after Sept. 5, 2016.
Former DACA recipients whose grant expired before that date cannot request a renewal, but they can file a new request, the agency said. No new applicants will be accepted.
Marielena Hincapié, executive director of the National Immigration Law Center, warned on Saturday that the window for renewal applications may be "short." She urged those eligible for renewal to prepare their applications promptly.
The USCIS announcement comes on the heels of U.S. District Judge William Alsup's issuance on Tuesday of a nationwide injunction blocking the Trump administration's effort to rescind the program.
Alsup ruled that the federal government must "maintain [DACA] on a nationwide basis" while legal challenges to ending the program proceed in court.
"Plaintiffs have clearly demonstrated that they are likely to suffer serious irreparable harm absent an injunction," Alsup wrote in an opinion explaining the injunction. "Before DACA, Individual Plaintiffs, brought to America as children, faced a tough set of life and career choices turning on the comparative probabilities of being deported versus remaining here. DACA gave them a more tolerable set of choices, including joining the mainstream workforce."
Help for vets: Trump deploys more firepower against suicides
Members of the armed forces put their lives on the line for the nation, so it's only appropriate that the federal government does all it can to protect them from post-service psychiatric problems. President Donald Trump sent that message Tuesday with an executive order enhancing mental health services for recently discharged veterans. Suicide rates among former service members remain high, especially among those fresh out of uniform, and all reasonable efforts to stanch the epidemic are worth making.
Mr. Trump's order makes a wide range of mental health services available to all veterans as they transition back to civilian society. Until now, a full complement of services was available only to about 40 percent of those recently discharged, most of them from the combat ranks. But any service member returning to civilian life can encounter problems with employment, relationships or changes in routine that increase the odds of suicide. The best approach is to make services available to all.
Importantly, the president's order not only authorizes services for all veterans during their transition periods but directs Cabinet-level agencies to ensure those services are plentiful and available. For example, Mr. Trump directed the Department of Veterans Affairs to expand its use of telemedicine, which has the potential to connect veterans with care no matter where they live, and its use of technology that allows former service members to schedule appointments online.
Veterans also may schedule appointments in the private sector if the VA system cannot serve them quickly enough — an important allowance given the VA's past failures to provide prompt treatment. One important resource may be the nonprofit Give an Hour, which arranges for mental health professionals to donate services to veterans and members of their families.
Mr. Trump's order builds on other efforts, some predating his administration, to stem the mental health crisis among veterans.
In 2016, the government released a three-year study showing the benefits of a certain kind of talk therapy in helping veterans manage post-traumatic stress disorder. Also in 2016, it issued a report documenting the scope of the suicide problem. The report, updated last year, found that the suicide rate for veterans was considerably higher than that of the average population; that in 2014, an average of 20 veterans took their lives each day; and that suicide was most common among veterans 29 and younger and lowest among those 60 and older. The report provided state-by-state data, showing that Pennsylvania's rate mirrored the nation's but was considerably above that for the Northeast.
As the government moves to implement Mr. Trump's order, officials should remember that making services available is not always sufficient. Many of those who took their lives already were receiving VA care of one kind or another, and the Substance Abuse and Mental Health Services Administration has estimated that only half of veterans needing mental health care seek treatment. The government must continue riding herd on recently discharged veterans, promoting mental health care among those who might be reluctant to seek it and constantly assessing the quality of care provided to those who did ask for help.