Porn Actress Confirmed Trump Affair In Unpublished 2011 Interview
Former adult film actress Stephanie Clifford confirmed her reported affair with President Donald Trump in a previously unpublished 2011 interview with In Touch, the magazine revealed Wednesday.
The newly disclosed comments by Clifford, whose stage name is Stormy Daniels, lend credence to last week's Wall Street Journal report that a Trump lawyer arranged a $130,000 payment to her in October 2016 ― right before the presidential election ― to keep quiet about the relationship. Trump's legal team and Clifford have denied both the affair and the payment.
But in 2011, In Touch says, Clifford told the tabloid that she had sex with Trump in his Lake Tahoe hotel suite in the summer of 2006, the year after Trump had married his third wife, Melania Trump, and just months after she gave birth to their son, Barron Trump.
The magazine chose to publish the interview this week in light of the Journal report and Trump's rise in significance, magazine spokeswoman Kelsi Ignomirello told HuffPost.
"Donald Trump is clearly a more relevant public figure now than he was in 2011," she said.
Clifford told In Touch she met Trump at the American Century celebrity golf tournament in July 2006. Wicked Pictures, the adult film company Clifford worked for, was a sponsor of the tournament's gift lounge, where Trump allegedly approached her. He asked for her phone number and invited her to dinner in his hotel room, according to the 2011 interview.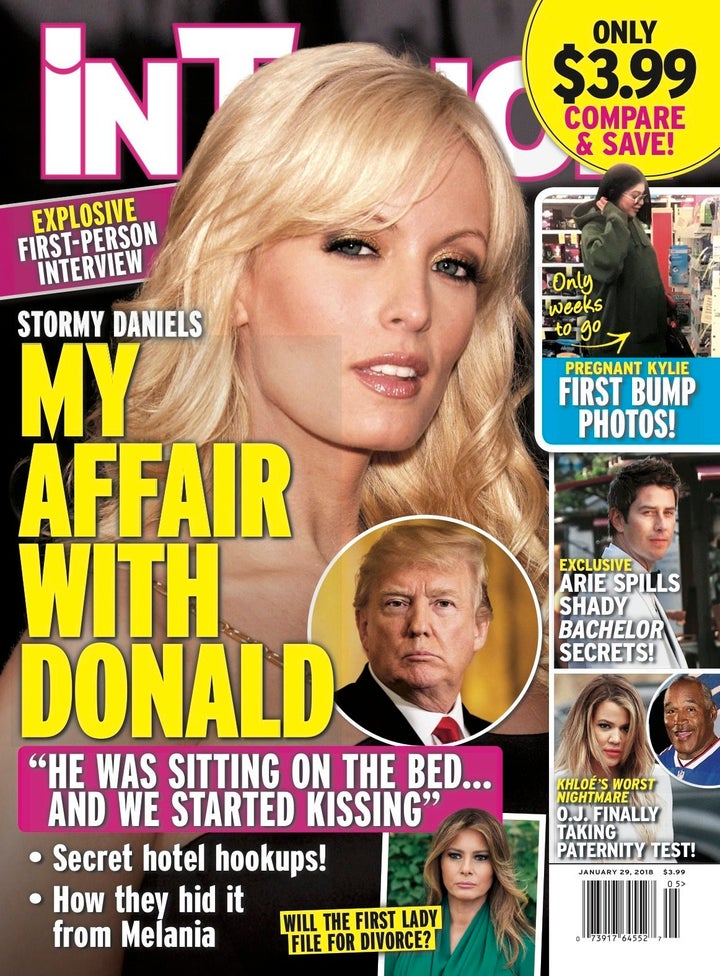 "Oh, don't worry about [Melania]," Trump allegedly told Clifford when she asked about his marriage during dinner. The pair had sex after finishing their meal.
"I remember thinking, 'I hope he doesn't think I'm a hooker.' Not that I have anything against hookers. I just personally have never done it," Clifford told In Touch.
She described the sex as "textbook generic," according to the magazine, and added, "I actually don't even know why I did it, but I do remember while we were having sex, I was like, 'Please, don't try to pay me.'"
A friend who corroborated Clifford's story at the time to In Touch in 2011, fellow porn star Randy Spears, recalled Clifford describing the encounter as "pretty boring."
This isn't the only tryst Trump allegedly pursued at the 2006 golf tournament.  Just weeks before Trump's 2016 presidential victory, adult film actress and director Jessica Drake came forward with allegations that at the event, Trump grabbed her, kissed her and offered her $10,000 for sex.
Drake is one of more than 20 women who have accused Trump of sexual harassment and abuse over several decades. He has repeatedly denied all of the allegations.
Clifford told In Touch that at the end of her evening with Trump, he promised to cast her as a contestant on his NBC reality show "The Apprentice."
"He goes, 'People would think you're just this idiot with blond hair and big boobs. You would be perfect for it because you're such a smart businesswoman,'" she recalled that Trump said.
He told me once that I was someone to be reckoned with, beautiful and smart just like his daughter.

Stephanie Clifford, as quoted in a 2011 interview
He used the promise of casting her as a reason to keep in touch for the next year, according to the interview, and called her from a blocked number "about every 10 days" or whenever he "saw or read about me somewhere." Her ex-husband, Michael Mosny, corroborated her claims that she and Trump frequently spoke.
At one point in their relationship, In Touch quotes her as saying, Trump even compared her to his daughter (presumably Ivanka, since the president's other daughter, Tiffany, was a child at the time).
"He told me once that I was someone to be reckoned with, beautiful and smart just like his daughter," Clifford allegedly said.
Trump appeared to try to initiate sex with her again in July 2007 when she visited his bungalow at the Beverly Hills Hotel, Clifford said. Her rebukes marked the beginning of the end for their relationship, she recalled.
"He just kept brushing my hair off my shoulder and kissing my neck," she alleged. "And he was like, 'So, can you stay?' And I was like, 'No, I gotta go.' I left, and he kept calling me less and less over the coming months."
Neither the White House nor Clifford have yet to comment on the In Touch interview.
Role of Insulin in Treating Diabetes
Insulin is a very important hormone present in our body which helps in the digestion of food and prevents us from diabetes or high sugar disease.
What is the Role of Insulin?
This hormone is secreted by the pancreas at times when we eat food which contains carbohydrates. After the secretion, it helps in the metabolism by converting extra sugar of the body into different by-products. Some of the common by-products are lipids and proteins. In this way, it maintains the level of sugar in the body and prevents us from a disease called Diabetes Mellitus.
Now I am going to mention, what happens if the insulin is present in excess or vice versa. As we all know, balance is important everywhere for the proper functioning. Let's discuss this in detail.
Insulin Excess
If due to any disorder excess of insulin is produced by the body the level of sugar in the body decreases. As this converts lots of sugar into by-products which could cause a deficiency of it and many metabolic and nervous disorders.
Lack of Insulin
Lack of insulin could also be harmful to the body. If there isn't enough insulin in the body the sugar level is not controlled, and it could be converted into glucose from its by-products. This increases the level of glucose in the blood which could cause Diabetes if it remains for a long time.
Closing…
Proper Insulin function is very important for the survival of us. With increased age the risk of diabetes is increased, that is why we must take some precautions to avoid it.
Following are some of the preventive measures which everyone must follow:
Avoid Smoking
Avoid Excess of Alcohol
Do Regular Exercise
Keep a balance in Diet
Eat Health Food
If you follow these tips, the insulin will work properly and your risk of being Diabetics reduces.
World Cancer Day 2018 (4th February). "We can. I can." Supported by Ronald Tintin, Super Professeur, Marie-Joëlle Magne and Ronning Against Cancer
Ronald Tintin, Super Professeur, Marie-Joëlle Magne and Ronning Against Cancer, World Cancer Day 2018 (Sunday 4 February) : "We Can I can" take action against the world's most deadly disease (8.2 million people die from cancer worldwide every year)
Paris, France, Sunday 4 February 2018 – Press Release
Ronald Tintin, Super Professeur, Marie-Joëlle Magne and the project Ronning Against Cancer will participate at the World Cancer Day 2018 on Sunday, February 4 with the theme "We Can I can" through an online campaign on their website (http://www.ronningagainstcancer.xyz / social media 'Twitter
:           https://twitter.com/R_AgainstCancer – Facebook : https://www.facebook.com/RonningAgainstCancer/). "We Can I can" take action against the world's most deadly disease (8.2 million people die from cancer worldwide every year).
Cancer is the uncontrolled growth and spread of cells. It can affect almost any part of the body. The growths often invade surrounding tissue and can metastasize to distant sites.
Many cancers can be prevented by avoiding exposure to common risk factors, such as tobacco smoke. In addition, a significant proportion of cancers can be cured, by surgery, radiotherapy or chemotherapy, especially if they are detected early.
What is World Cancer Day ?
World Cancer Day takes place every year on 4 February and is the single initiative under which the world can unite to raise the profile of cancer in a positive and inspiring way.
Coordinated by the Union for International Cancer Control (UICC), World Cancer Day is this year taking place under the tagline 'We can. I can.' and explores how everyone – as a collective or as individuals – can do their part to reduce the global burden of cancer. Just as cancer affects everyone in different ways, everyone has the power to take action to reduce the impact that cancer has. World Cancer Day is a chance to reflect on what you can do, make a pledge and take action.
Why World Cancer Day is important ?
Currently, 8.2 million people die from cancer worldwide every year, out of which, 4 million people die prematurely (aged 30 to 69 years).
World Cancer Day is the ideal opportunity to spread the word and raise the profile of cancer in people's minds and in the world's media .
Join us (Team Ronald Tintin, Ronning Against Cancer, Super Professeur) to show that together 'We can. I can.' make a difference in the fight against cancer on 4 February, World Cancer Day.
http://www.ronningagainstcancer.xyz/60.html
About "Ronning Against Cancer"
Ronald Tintin, Marie-Joëlle Magne and Ronning Against Cancer, World Cancer Day 2018 (4 February) : "We Can I can" take action against the world's most deadly disease (8.2 million people die from cancer worldwide every year)
The project "Ronning Against Cancer" was created by Ronald Tintin. It is a Charity Organization – nonprofit organization dedicated to supporting people with breast cancer and other cancers, to support cancer charities and raise funds for research, to promote Education, to support support efforts to end violence against women and girls worldwide. They provide information, support and campaign about breast cancer. "Never give up and be stronger against Breast Cancer," says Ronald, who's also the founder of Super Professeur (www.SuperProfesseur.com ).
" Together, we can get rid of cancer; we are not alone. Together, we are stronger."
For more information on how to get involved, please visit: www.ronningagainstcancer.xyz
Media Contacts :
Ronald Tintin, Ronning Against Cancer, Super Professeur
Email: contact@ronningagainstcancer.xyz / contact@superprofesseur.com
Website: www.ronningagainstcancer.xyz / www.superprofesseur.com / www.ronaldtintin.com
Washington State Changes Driver's License Requirements To Foil ICE
The Washington State Department of Licensing has issued an emergency rule to change driver's license requirements to help protect undocumented immigrants from a crackdown by federal authorities. Drivers no longer have to identify their place of birth.
State residents who apply for a standard driver's license, instruction permit or I.D. won't have to list a birthplace now, according to the order, which went into effect Friday.
The move is the latest in a West Coast war with U.S. Immigration and Customs Enforcement officials who are targeting the region.
Last month, California Attorney General Xavier Bercerra warned businesses that they could face up to a $10,000 fine in the sanctuary state if they provide federal officials access to a workplace or employee records without a subpoena. The warning followed a news report that ICE was preparing a major sweep in Northern California aimed at deporting about 1,500 immigrants.
The DOL announced then that it would also use an emergency rule to end its practice of collecting "information that isn't mandated and could be misused," in particular the birthplace requirement. The order was filed Jan. 19 and became effective Friday. The DOL will seek a permanent rule change.
A department deputy director resigned after the Times revealed the DOL had not been following the governor's executive order. The director of the DOL apologized in a statement, saying, "We are sorry that our work did not align with our state's values."
Washington is one of a minority of states that allow undocumented immigrants to get a driver's license.
Inslee signed an executive order last year declaring that state and local authorities would not help federal officials deport immigrants in the state.
In early January, Washington State Attorney General Robert Ferguson sued the Motel 6 chain, claiming it violated the state's Consumer Protection Act after the Phoenix New Times reported that six hotels had turned over guest information to ICE agents.