Porn Actress Confirmed Trump Affair In Unpublished 2011 Interview
Former adult film actress Stephanie Clifford confirmed her reported affair with President Donald Trump in a previously unpublished 2011 interview with In Touch, the magazine revealed Wednesday.
The newly disclosed comments by Clifford, whose stage name is Stormy Daniels, lend credence to last week's Wall Street Journal report that a Trump lawyer arranged a $130,000 payment to her in October 2016 ― right before the presidential election ― to keep quiet about the relationship. Trump's legal team and Clifford have denied both the affair and the payment.
But in 2011, In Touch says, Clifford told the tabloid that she had sex with Trump in his Lake Tahoe hotel suite in the summer of 2006, the year after Trump had married his third wife, Melania Trump, and just months after she gave birth to their son, Barron Trump.
The magazine chose to publish the interview this week in light of the Journal report and Trump's rise in significance, magazine spokeswoman Kelsi Ignomirello told HuffPost.
"Donald Trump is clearly a more relevant public figure now than he was in 2011," she said.
Clifford told In Touch she met Trump at the American Century celebrity golf tournament in July 2006. Wicked Pictures, the adult film company Clifford worked for, was a sponsor of the tournament's gift lounge, where Trump allegedly approached her. He asked for her phone number and invited her to dinner in his hotel room, according to the 2011 interview.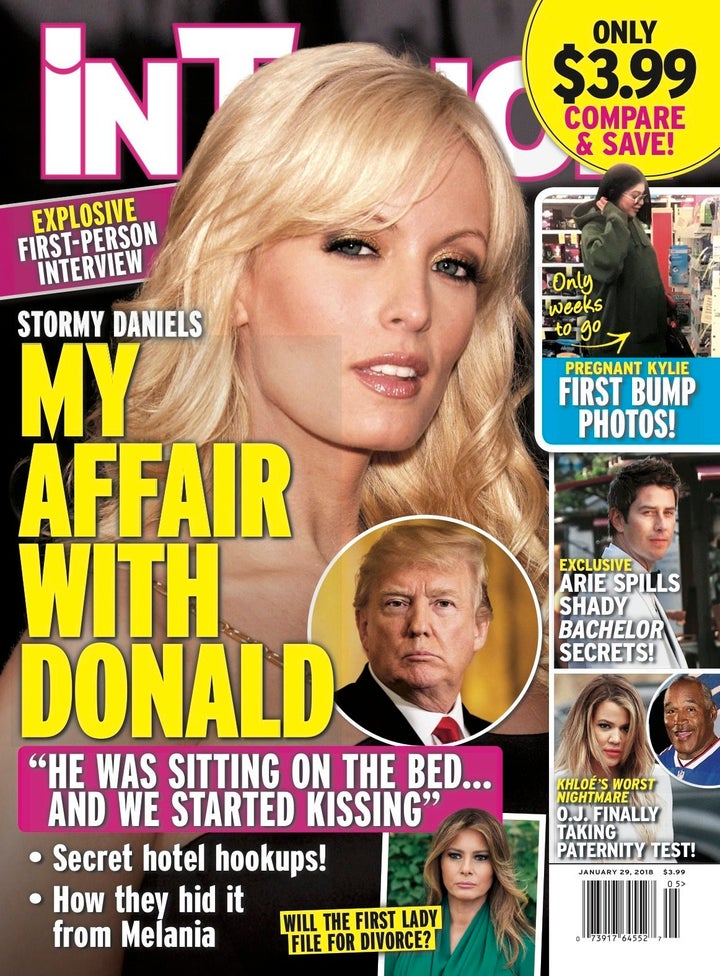 "Oh, don't worry about [Melania]," Trump allegedly told Clifford when she asked about his marriage during dinner. The pair had sex after finishing their meal.
"I remember thinking, 'I hope he doesn't think I'm a hooker.' Not that I have anything against hookers. I just personally have never done it," Clifford told In Touch.
She described the sex as "textbook generic," according to the magazine, and added, "I actually don't even know why I did it, but I do remember while we were having sex, I was like, 'Please, don't try to pay me.'"
A friend who corroborated Clifford's story at the time to In Touch in 2011, fellow porn star Randy Spears, recalled Clifford describing the encounter as "pretty boring."
This isn't the only tryst Trump allegedly pursued at the 2006 golf tournament.  Just weeks before Trump's 2016 presidential victory, adult film actress and director Jessica Drake came forward with allegations that at the event, Trump grabbed her, kissed her and offered her $10,000 for sex.
Drake is one of more than 20 women who have accused Trump of sexual harassment and abuse over several decades. He has repeatedly denied all of the allegations.
Clifford told In Touch that at the end of her evening with Trump, he promised to cast her as a contestant on his NBC reality show "The Apprentice."
"He goes, 'People would think you're just this idiot with blond hair and big boobs. You would be perfect for it because you're such a smart businesswoman,'" she recalled that Trump said.
He told me once that I was someone to be reckoned with, beautiful and smart just like his daughter.

Stephanie Clifford, as quoted in a 2011 interview
He used the promise of casting her as a reason to keep in touch for the next year, according to the interview, and called her from a blocked number "about every 10 days" or whenever he "saw or read about me somewhere." Her ex-husband, Michael Mosny, corroborated her claims that she and Trump frequently spoke.
At one point in their relationship, In Touch quotes her as saying, Trump even compared her to his daughter (presumably Ivanka, since the president's other daughter, Tiffany, was a child at the time).
"He told me once that I was someone to be reckoned with, beautiful and smart just like his daughter," Clifford allegedly said.
Trump appeared to try to initiate sex with her again in July 2007 when she visited his bungalow at the Beverly Hills Hotel, Clifford said. Her rebukes marked the beginning of the end for their relationship, she recalled.
"He just kept brushing my hair off my shoulder and kissing my neck," she alleged. "And he was like, 'So, can you stay?' And I was like, 'No, I gotta go.' I left, and he kept calling me less and less over the coming months."
Neither the White House nor Clifford have yet to comment on the In Touch interview.
House call doctor Brisbane- Play music while you are working! It's actually productive!
People who are seeking out for the right opportunity and reason about playing their heart melting tunes on the repeat mode, then this write up would leave you stunned! A lot of us have the habit of listening, and singing our heart out aloud to some of the most embarrassing, but interesting music within our private times. And actually, according to science, this practice is more than perfect!
House call doctor Brisbane always promotes listening music while working. A lot of studies and researches have stated the fact that, if we listen to the music that we love, our work productivity eventually increases, especially in your workplaces. As per Neuroscientist Daniel Levitin for business insider, listening to the tunes which you enjoy relaxes your body and puts you in a better mood.
He also added that the brain releases neurotransmitter dopamine which brings in the feeling of warmth and pleasure. At times, you might feel like getting hit by the neurotransmitter serotonin that elevates our mood and also makes things easier to be focussed on.
In a 2005 study conducted by Doctor Teresa Lesiuk, examined upon "the effect of listening to music on work performance, she eventually figured out that the employees' mood improvised after they listened to their favourite songs and also, that they felt more energised and also alert which eventually boosted out their performance scale. The study states that the synchrony with music helps in speeding up the work tasks and it further paces out your whole day work. When the music was switched off, people took more time upon the tasks which they were intended to do.
As House call doctor Brisbane also supports, music, we should now stop pretending and showing that we just listen to the latest tracks like that of Triple J, but there is no wrong In playing Swift's 1989 album for the hundredth time! Few more reasons which make music our life drugs are presented below!
Makes boring stuff creative!
Repeating the things is never fun! Looking on your system screen for hours, turns it down to a mundane task, and could lead to procrastination, but music is the savoir though! Eventually, each of us, tune in to our favourite playlist while working out or exercising, music helps similarly while working. Dr Levitin also adds that while doing repetitive or boring tasks, you can get bored and thus, music provides you a way to pay more attention.
Escaping, but not creating, distractions
A lot of people feel that music is distraction, but outing on your headphones, eventually saves you from a lot of background noise, which is the actually distraction. But try avoiding singing aloud as this might create problem for your work mates. Same research states that music without lyrics is perfect, but where is the fun then?
It's the key to your creativity!
Dr Levitin considers that listening to music unlocks the creativity which is the heads of their employees. They get into a state of mind where thoughts and ideas flow easily. He says that music is the best way to enter into a mind wandering world and it's the right place where all of the creativity is born.
For more information, suggestions and help, connect with House call doctor Brisbane!
Magnetic Therapy and Alternative Medicine To Cure Health Problems
Magnetic Therapy is the application of magnetic fields in order to target illness and abnormalities in the human body. It is own of the growing techniques to cure several health issues such as Hypertension, back pain, arthritis etc. In certain cases, Magnetic Therapy has also proved to be helpful for slimming down too – see short clip on youtube here:
Magnetic Therapy is the new wave of alternative medicine to cure several health issues. While there are a variety of modern medicine available to treat the same conditions, choosing magnetic therapy (ref: https://cabracelet.com/blog/magnetic-therapy-101/) allows you to reap the benefits at a much faster pace. Oral and Intravenous medicine have often proved to be less effective in comparison to magnetic therapy.
Subjecting certain parts of the body to magnetic fields is believed to help target any ailments in that region and help in recovery. Magnetic Therapy is also completely safe. A common myth is that magnetic therapy may have an effect on the blood flow because of the oxygen content in the blood protein, haemoglobin.
However, the magnets used in magnetic therapy are carefully created and are also several magnitudes lesser in power to cause any damage to the body. Besides, there is no radiation involved. Magnetic therapy is applied by bringing electromagnetic fields in contact with the human body. For example, magnetic jewellery, magnetic straps for the ankles, wrists etc., magnetic creams, magnetized blankets and magnetic supplements. These methods of application are commonly used by the patient.
Static magnetic fields play a vital role in cell regeneration which helps in relieving pain. In addition to that, magnetic therapy also promotes cell growth and regrowth as well as improve nerve function and blood circulation. All in all, magnetic therapy is the go-to alternative medicine for health and healing.
How To Lose Fat By Eating Fat
Fat as gotten a bad rep and this wonderful source of nutrients is totally innocent, so why are we still demonizing this tasty macro nutrient? Simply put, we run away from what we don't understand.
So, today you'll be schooled on my you can fatty foods, enjoy them and burn more fat!
Fat is not something you want to avoid. For starters, it's essential for normal growth and a functioning body.
Dietary fat also provides energy and helps the body absorb essential macro nutrients and vitamins, while processing specific nutrients. What's even better, it helps the body burn fat. I for instance get about a third of daily calories come from dietary fat and so do my fat loss clientele (or at least the one's who are listening to me and get the best results).
Hold up, don't grab cheesecake just yet. Think about this: fatty foods are not created equal.
The foods you choose can mean the difference between a lean body and one plagued with body fat and cellulite. While a diet of fatty foods like pizza, French fries, and cheeseburgers will lead to weight gain and destroy your goals of weigh loss. That doesn't mean you can enjoy them on occasion, but you definitely don't want them in abundance.
Instead of making a specific thing in the diet a sabotage, you need to look at total caloric content as well as the quality of food, what are we eating that is 'good' and helping our body's metabolism and muscle tissue to stay lean and healthy.
Fat Burns Fat
The body needs and uses three specific macronutrients for energy and health: Carbohydrates, protein, and fat. A gram of fat packs more than twice the calories of a gram of protein or carbohydrate. The fat acts as a carrier of sorts.
When you don't have any fat in your diet, it's like you don't have fuel to burn calories. The body requires fat to keep its metabolism functioning at it's peak.
Awesome news for the belly fat or cellulite prone, body-fat that is stored around the belly, thighs, or butt (also called subcutaneous fat)—can't be burned efficiently without "dietary" fat to help the process. Dietary fat helps break down existing fat by activating fat-burning pathways in and through the liver.
More Benefits
Fat Keeps You Full. So, You're Less Likely To Over Eat
Fat Makes You Happy. Let's Be Honest a Fat-Free Life is not a Happy One
Fat Builds Muscle & More Muscle Means Looking Awesome
Fat Makes Food Healthier For You, Because You Can Absorb the Nutrients
If you also go to the gym you can also take pre workouts with caffeine as caffeine is scientifically proven to burn calories which can help with losing weight. Alternatively a BCAA supplement with caffeine is even better, we recommend something like this Scivation BCAA Supplement.
So, what to eat exactly and get this fat burning started?*
Unsaturated Fatty Acids: Includes both monounsaturated fatty acids (MUFAs) and polyunsaturated fatty acids (PUFAs), they are critical for health.
MUFAs are found in olive oils, nuts, seeds, olives, and avocadoes, while PUFAs are found in fish, and seafood. Omega-3 and omega-6 fatty acids are two PUFAs that can only be obtained through diet and are called "essential fatty acids." Adjust your diet accordingly.
*Saturated Fatty Acids: Found primarily in foods from animal sources such as meat and dairy products.
Such as grass fed butter and full fat organic cheese, they are usually solid at room temperature. Some vegetable oils such as coconut, palm kernel, and palm oil also contain saturated fat. Eat smaller portions as part of a healthy diet – and always try to consume healthier sources. For example, grass fed beef is a much better option than, say, ranch dressing and onion rings.
*Trans Fatty Acids: Chemically processed vegetable oils, they are semisolid at room temperature and are used in some margarines, fried foods, and processed foods to enhance flavor, texture, and shelf life. Also called "partially hydrogenated" oils, they should be avoided like they are the devil…cause they suck and will literally add texture and lumps to your body in no time.
How much fat do you need?
Most of the fat you eat should be unsaturated, like MUFAs. "Just two to three tablespoons of olive oil or another healthy fat a day can drastically improve your health and body.