Chris Hardwick Returns To 'Talking Dead'; Staffers Resign
Chris Hardwick made his return to "Talking Dead" on Sunday, following the midseason premiere of "Fear the Walking Dead."
Yvette Nicole Brown was originally scheduled to replace Hardwick as host of the episode; however, AMC reinstated Hardwick after completing its investigation of sexual assault allegations.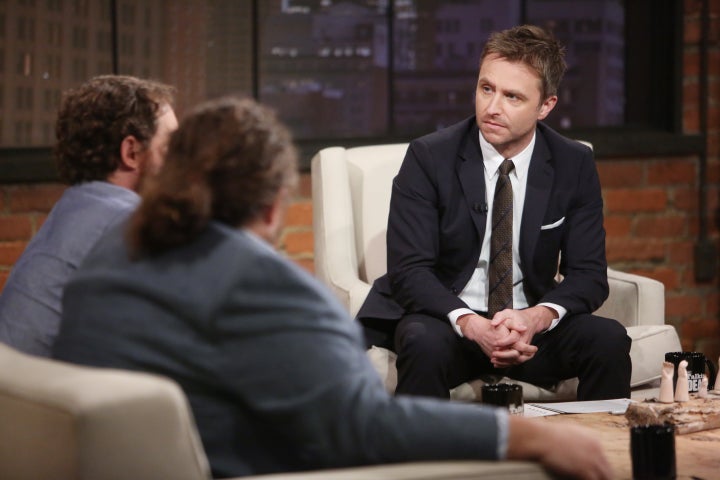 AMC's decision was met with some backlash.
During the week before Hardwick's return, fans on social media continued to show support for actress Chloe Dykstra, who described her experience with an emotionally and sexually abusive ex-boyfriend in a June post on Medium. Though Dykstra didn't name Hardwick in the piece, readers quickly assumed that it was referencing her three-year relationship with him. He denied these claims.
On Sunday, Hardwick addressed the audience:
I really just want to take a minute, and I want to say that I am so appreciative to be standing here right now. And I want to thank you, the "Walking Dead" community, for all of your support these last couple of months.

You know, this show is not just a job to me. This is a vital part of my life, you know. This has been a sanctuary, these last seven years we've been here. This has been with me through good times and bad times, and I have so much gratitude to you, the fans and the producers and the amazing casts of both of these shows, for allowing me to come here and be a part of this community every week.

This is what this is. This is a community, and we're along the precipice of a lot of changes on both "Walking Dead" shows in the coming weeks and months, and I am so looking forward to going on that journey with you, and I've said the following words a million times, countless times, and that I've never been more thankful than I am in this very moment, to say to you that I am Chris Hardwick, and this is "Talking Dead."
Hardwick went on to praise Brown, who was a guest on the pre-taped episode, for taking over his various hosting spots. The two shared a hug and the studio audience applauded. He did not directly address the investigation or staff departures.
MELODIOUS MUSICIAN IN MIAMI
Music is an enchanting combination of harmony, timbre, melody and rhythm. Music is a common aspect of every culture, can endeavour people's minds. It can bring fantasy to a boring life. It has a vast diversity depending upon the change of some elements. A little modification in the sonic qualities of timbre and texture or the change in pitch would contribute to a different type of music. Several instruments and vocal mastery is required to compose a piece of flawless music. Venezuela's traditional music includes salsa and merengue, which are more solely attached to its Caribbean residents. The most popular one is joropo, which arose from the rural area.
Several bands of singers contribute to styling catchy and lyrical strings. Venezuelan music artists are well-known for their enchanting rhythmic themes and melodious voices. Among genres like merengue, rock, salsa or reggaeton, the new folklore has created a link between traditional and modern preferences. Young generations are taking steps to rock on Venezuelan music platforms with their new fusions and vocal skills. They brought about some typical instruments like maracas and cuatro. Likely, Tomás Lauría is one of the youngest melodious artists in Venezuela.
Tomás Lauría was born on the 30th of March, 1997 in Caracas, Venezuela. He went to Florida International University for higher studies. He learnt music from Berklee College of Music. Tomás Lauría started his music journey by learning p jazz, piano and percussion with Gerry Weil, a renowned composer of that time. His voice is super soothing with melodious skills. Some political crisis lead him to leave his country and shift to Miami, U.S, where he joined Florida University.
Tomás Lauría has continued his passion for music in Miami, where he gained interest in some Latin music production. Now, he is considered one of the best music artists among the young generation. His vocal expertise in the era of music came peculiarly. He has performed in various concerts in different cities. Tomás Lauría wins every heart with his characteristic melodious voice, especially when incredibly merges with the guitar. Though he just started his career with a different urban genre.
Tomás Lauría's music is gaining tremendous hype day by day on Instagram and YouTube. He has around 995 listeners monthly on Spotify, 39 listeners on average from Miami. Catchy music and beats are something he never stopped doing since his teenage. He has become a popular musician in Miami.
Are you in a bad mood? Let's go and check out his Instagram for the latest stunning music and zone out yourself from a depressing mood.