Chris Hardwick Returns To 'Talking Dead'; Staffers Resign
Chris Hardwick made his return to "Talking Dead" on Sunday, following the midseason premiere of "Fear the Walking Dead."
Yvette Nicole Brown was originally scheduled to replace Hardwick as host of the episode; however, AMC reinstated Hardwick after completing its investigation of sexual assault allegations.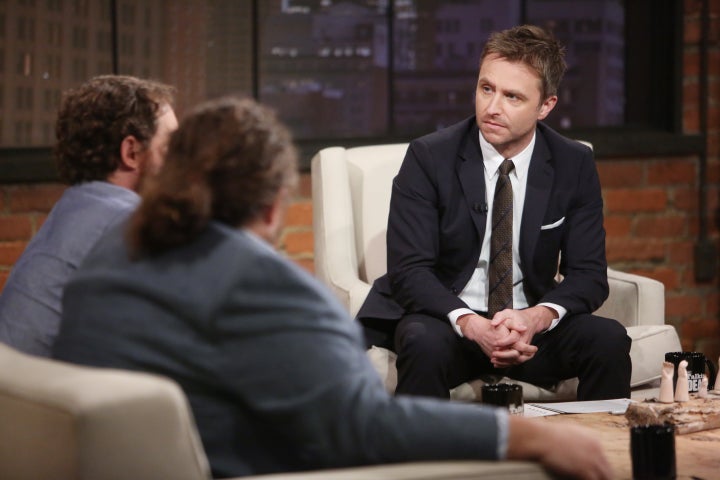 AMC's decision was met with some backlash.
During the week before Hardwick's return, fans on social media continued to show support for actress Chloe Dykstra, who described her experience with an emotionally and sexually abusive ex-boyfriend in a June post on Medium. Though Dykstra didn't name Hardwick in the piece, readers quickly assumed that it was referencing her three-year relationship with him. He denied these claims.
On Sunday, Hardwick addressed the audience:
I really just want to take a minute, and I want to say that I am so appreciative to be standing here right now. And I want to thank you, the "Walking Dead" community, for all of your support these last couple of months.

You know, this show is not just a job to me. This is a vital part of my life, you know. This has been a sanctuary, these last seven years we've been here. This has been with me through good times and bad times, and I have so much gratitude to you, the fans and the producers and the amazing casts of both of these shows, for allowing me to come here and be a part of this community every week.

This is what this is. This is a community, and we're along the precipice of a lot of changes on both "Walking Dead" shows in the coming weeks and months, and I am so looking forward to going on that journey with you, and I've said the following words a million times, countless times, and that I've never been more thankful than I am in this very moment, to say to you that I am Chris Hardwick, and this is "Talking Dead."
Hardwick went on to praise Brown, who was a guest on the pre-taped episode, for taking over his various hosting spots. The two shared a hug and the studio audience applauded. He did not directly address the investigation or staff departures.
Two Asians in America, Killing it in Hollywood
Burbank, CA – April 22, 2019 – Some associations are more serendipitous than others and for Mohit Soni and Chang Park their first meeting blossomed into an enduring friendship,resulting in award-winning work collaborations. Together, they're killing it in Hollywood.
"I first met Chang on the set of the music video "Aliens" he was directing for Dynamine," said Soni. "We work extremely well together. We just seem to instinctively know what the other person's vision is for the projects we've worked together on."
Soni is a producer from Rajasthan, India, and Park is a South Korean director from Southern California. Their most recent project is "Bridging Colors" that's streaming exclusively on Amazon Prime to the UK, U.S., Germany and Japan.
The short film is the story of an artist that must learn to see the world differently when he becomes color blind. It was a passion project for both of them in honor of a mutual friend and designed to bring awareness about color blindness and its effects.
"Mohit is always a passionate and intelligent producer," said Park. "When I first told him about this story, he totally agreed with my opinion and supported my plan. He knows me very well and I don't have to tell him what I want on set. He already knows my concerns and takes care of it – he's a genuinely nice guy that's kind to the cast and crew."
After "Aliens," they teamed up again on "Saving the World," a music video for Nessa Rica. Soni reciprocated, bringing Park on board for his short film "Hinjews" and Park immediately asked Soni to join him on "Bridging Colors," a project that's already earned numerous awards at film festivals.
Park holds a Bachelor's degree in filmmaking from the New York Film Academy in Los Angeles and Soni received his BFA degree in filmmaking from the New York Film Academy. As a producer, it also helps that Soni has a background in commerce and entrepreneurship. He has an interest in history, costumes and views every project as a new adventure. They both have more than 30 productions to their credit in multiple genres.
Soni and Park have each separately worked on more than 30 projects in multiple genres and viewevery project as a new adventure."Film producing is fun, it can be an intimidating task, and it will test you in every way possible.You need to be a multitasker, a people person and a problem solver."
"It's fun to put all the puzzle pieces together," continued Soni. "You have to deal with a lot of different personalities and you'll hear lots of "no" before you get a "yes." Nothing is more rewarding than when I see the script and all the hard work come together on the screen."
Soni has carried that passion to every production company with which he's worked, that includes a number of high-profile companies that include Dynamic Features, Warner Bros. Studio, Adobe, Pernel Media, Planet C Studios, Emblem Entertainment, and Lifetime TV to name a few. Currently working with Dynamic Features, he has upcoming projects with Ox Films, Paramore Entertainment and he's working with prestigious model agencies.
His award-winning projects run the gamut from horror and drama to comedy and period pieces, some of which touch upon controversial subjects. Among his highly-acclaimed projects are "Hinjews," "Wild Nights with Emily," and "Loss of Grace" to be released later in 2019,along with "Blood & Water" now in post-production. His credits also include music videos encompassing "IshqNashila" and "Coco."
Park's list of credits is equally impressive. He's won numerous national and international awards for his work that includes the short "The Script," the feature "Look Back," the documentaries "Dancing High in LA" and the "Dream Project." He's currently working on "The Walk" that's in pre-production.
There are three basic criteria Soni looks at when deciding whether a project is right – writing, the filmmakers, and financing.
"The quality of the script is crucial," said Soni. "If the writing isn't strong, the film won't be successful. I don't want to waste anyone's time or money if the script isn't solid. Next are the filmmakers involved. If they're hard to work with, you're going to regret it no matter how great the script is. Then there's financing and budget. If the money isn't there, the film is going to suffer. And I follow Murphy's Law – anything that can go wrong, will." Soni and Park have proven to be a cinematic dynamic duo when it comes to filmmaking and both only become stronger with each project they work on whether it's together or independently. That fortuitous meeting on the set of "Aliens" could almost be described as karma. It was the meeting of two great minds that really are killing it in Hollywood.
Interesting Things To Do On A Safari Tour In Tanzania
Tanzania is one of the most popular countries in the land of Africa. The country is quite popular among world tourists because of a number of valid reasons. Starting from witnessing the great migration to climbing the peaks of Mount Kilimanjaro, Tanzania seems to be the ideal holiday destination for all the adventure lovers. Safari in Tanzania is one of the many reasons why tourists are attracted to the place like wild bees. Tanzania has two of the famous safari destinations including Ngorongoro Crater and Serengti. Going on these safari tours in Tanzania is a lifetime experience. If your sole purpose to visit Tanzania is to go on various safari tours, you must do the things mentioned in the list below.
Must-To-Do Things On Tanzania Safari Tour
Tanzania safari tours are quite popular with tourists. While visiting Tanzania, you must go on at least one safari tour. Here are some of the exciting things that are totally worth doing on your Tanzania safari tour.
Witness the great wildebeest migration
The annual wildebeest migration is popular worldwide. People come from different corners of the world to witness the great migration of the animals from Serengeti National Park to the Maasai Mara National Park. Over 1 million wildebeest are seen to migrate every year. This is a site worth watching. You may have seen this immense movement on wildlife channels but witnessing the great movement in person is a completely new experience. This is one of the main reasons why tourists visit the country in the first place.
You can find a large variety of birds in Africa. There are over 1000 species to be found there in Africa. Starting from Malacjite Kingfisher to Nubian Woodpecker, you can find all varieties of exotic bird species out there. While going on a Tanzania safari tour, you are sure to witness different varieties of bird throughout your entire trip. Make sure you have your camera ready to capture the beautiful site of the birds living in its habitat.
Don't miss the hippo pool
When out on a safari tour in Tanzania, you are sure to come across a hippo pool where you can see hundreds of hippo relaxing in the water. In the Serengeti Hippo Pool, you can witness around 200 hippos relaxing together. This is quite a unique site to watch. This kind of site can only be enjoyed in Africa.
Meet the long tusked elephant
Catching a glimpse of the long tusked elephant on your safari tour drive is worth a million experiences. These big animals are hard to spot. However, if you are lucky enough you can surely find some of them in the vast wilderness of Africa.
Tanzania is mainly known for its exotic wildlife. People mainly visit the place to take a glimpse into the habitat of these beautiful wild animals. Make sure you tick off all the things mentioned in the list to have a great experience in your Tanzania safari tour.
Classification of various types of photographers
Have you considered photography as your hobby for a long time? Chances are high that you might have thought of turning it into a profession. In this manner you will be doing something you love and earning money in this process as well. To don the hat of a professional photographer is not an easy job at all. A mere hobby is not going to help you. You need to have skills and talent to make a mark in this profession. Then only you will be able to make your mark as a professional photographer.
Seeking admission into top ranking photography institutes India will help you avail details and loophole of this profession. You might be a good photographer but still it is difficult to figure out the type of photographer you are. Educating yourself will help you immensely and you might be able to improve at a considerable level. Mainly there are four basic types of photographers as it will give you an idea about the type of photographer you are and in due course of time you can improve yourself.
Untrained photographer
A basic type of photographer as they just know to click pictures and nothing else! They are not aware on what qualities an image needs to possess and what can be done to capture a better image. The pictures that you normally come across in social media profiles are mostly of untrained photographers. In case if you are planning to make a move from this untrained state then you needs to equip yourself with technical skills and develop a creative eye as well.
Art photographer
Such type of photographers is blessed with a great eye. An artistic flair is built in them helping them to locate spots which would help to become great images. Sadly they do not have a lot of knowledge about camera, proper technique, lens etc. A few quality images here and there can be captured but they lack in terms of consistency. In order to capture a quality image every time you click on the camera join photography courses in India. They would train you to become a quality professional in the days to come.
Practical photographer
A very complicated process with a lot of technical details incorporated to the procedures. You could capture an amazing click during the day time but at night to capture an image in artificial lighting you need special qualities. You could end up capturing images of a boring landscape or people. A practical photographer might end up capturing good images, when they have the potential to develop great ones.
Holistic photographer
Balance is a vital quality and a professional photographer should learn this method of managing their artistic eye with technical skills associated with photography. By doing so they can capture some amazing pictures. A holistic approach to photography will reveal what they want to achieve and how it can be done. They are aware of basic principles of photography and are able to put this into practice to capture amazing pictures.