CityScape recognizes YSU alumni's 20+ years of volunteer work – YSU.edu
January 14, 2022



Youngstown State University alumni have been chosen to receive the 2022 David and Pat Sweet Grass Roots Award, honoring more than two decades of helping beautify downtown Youngstown as part of Youngstown CityScape's annual Streetscape Day initiative. 
"Our alumni engage in the Streetscape project as representatives of Youngstown State University, demonstrating the important partnership between the university and the city," said Heather Belgin, YSU associate director of Alumni and Events. "They look forward to being part of Cityscape's remarkable beautification efforts each year."
The award from Youngstown CityScape, named after former YSU President David C. Sweet and his wife, Pat, will be presented at CityScape's 12th annual Grass Roots Gala Thursday, Feb. 24 at Basilica of Our Lady of Mt. Carmel Social Hall in Youngstown.
 
It is YSU's second award in as many months from Youngstown CityScape. In December, the 500-foot-long Andrews Avenue Memory Mural, a collaborative project of YSU's Art Department and Lit Youngstown, received a Youngstown CityScape Beautification Award.  Twenty-seven YSU art students and more than 30 volunteers from the YSU Honors College and the community contributed to the project.  
The Sweet Grass Roots Award is presented annually to an individual or group making a significant personal and professional commitment to CityScape's mission of revitalizing downtown Youngstown, gateways and corridors through beautification, education and preservation.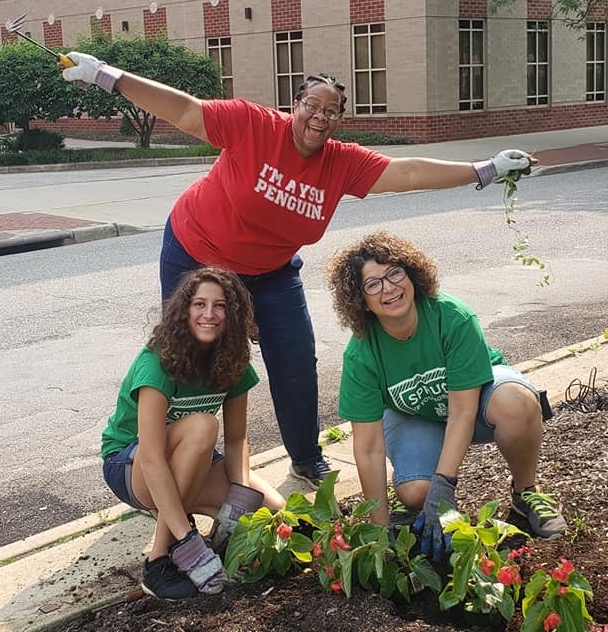 Since 2005, hundreds of YSU alumni, friends and family members have volunteered countless hours to help spruce-up the downtown region, mulching and planting flowers along West Federal Street and up Fifth Avenue near the Madison Avenue Expressway, as well as the hillside below Choffin Career Center. The annual event attracts about 50 alumni on average per year, adding to the event's 600+ volunteers. 
"We want to celebrate YSU alumni's long, rich tradition of partnership and service in the downtown community," said Sharon Letson, executive director of Youngstown CityScape. 
"This year is the perfect opportunity for CityScape to recognize YSU alumni's dedication and encourage their ongoing participation. The YSU contingent is always an important part of this annual initiative.  YSU alumni add so much to the success of every Streetscape Day."
 
Founded in 1998, Youngstown CityScape is a non-profit community development organization dedicated to the revitalization of the greater downtown Youngstown area. Its mission is to focus on strengthening Youngstown's revitalized urban core which connects downtown, the YSU campus and adjacent neighborhoods and gateways through strategic partnerships. For details, visit www.YoungstownCityScape.com.
 
"In addition to planting together, the alumni group has always enjoyed socializing over breakfast and joining other volunteer groups for lunch when the work is finished," Belgin said. "It's a reunion of sorts, where they give back to our beloved community."
To attend the gala, make reservations at YoungstownCityScape.org/Events. Cost is $65 per person and includes dinner, entertainment and cash bar. A portion of the proceeds will benefit the Youngstown CityScape Endowment Fund, a component fund of the Community Foundation of the Mahoning Valley. 
 
McDonough opens 2022 with four new exhibits
Several YSU programs hit national ranking lists
The Rise of Online Businesses: A Comprehensive Guide to Success
In a world increasingly connected through the internet, the possibilities for starting and growing online businesses have expanded exponentially. Whether you're looking to escape the traditional nine-to-five grind, want to tap into a global market, or are simply passionate about a niche interest, launching an online business is a promising venture. In this comprehensive guide, we'll explore the key steps to success in the dynamic world of online entrepreneurship.
1. Choose Your Niche
The first crucial step in starting an online business is selecting the right niche. Identify your passions, expertise, and market demand. Research the competition and look for gaps that your business can fill. A well-defined niche will help you target the right audience and stand out in the crowded online marketplace.
2. Develop a Business Plan
Just like traditional businesses, online ventures require a solid business plan. Your plan should outline your business goals, strategies, financial projections, and marketing tactics. It's a roadmap that will keep you focused and serve as a valuable reference point as your business grows.
3. Legal Structure and Registration
Choose a legal structure for your online business, such as a sole proprietorship, LLC, or corporation. Register your business with the necessary authorities and obtain any required licenses or permits. This step is vital to ensure your business operates legally and efficiently.
4. Website Development
Your website is the heart of your online business. Create a professional, user-friendly website that reflects your brand and offers a seamless customer experience browse around this site. Ensure your site is mobile-responsive and optimized for search engines (SEO) to maximize your online visibility.
5. Branding and Identity
Build a strong brand identity that differentiates your online business. This includes designing a captivating logo, crafting a unique value proposition, and maintaining a consistent visual style and tone across all your online platforms.
6. E-Commerce and Payment Solutions
If your online business involves selling products or services, choose a reliable e-commerce platform and payment gateway. Offer various payment options to cater to your customers' preferences and ensure secure transactions.
7. Content Creation
High-quality content is key to attracting and engaging your target audience. Develop a content strategy that includes blog posts, videos, and other relevant content that provides value to your audience. Consistent and relevant content can drive traffic and establish your authority in your niche.
8. Digital Marketing
Promote your online business through various digital marketing channels. These may include social media marketing, email marketing, pay-per-click advertising, and search engine optimization. Tailor your marketing efforts to reach your specific target audience.
9. Customer Service
Deliver excellent customer service to build trust and loyalty. Respond promptly to inquiries, resolve issues, and seek feedback to continually improve your products or services. Happy customers are more likely to become repeat buyers and refer others.
10. Data Analysis and Adaptation
Regularly monitor your online business's performance through analytics tools. Analyze the data to make informed decisions and adapt your strategies accordingly. The online landscape evolves quickly, so staying agile and open to change is essential.
11. Legal and Tax Compliance
Stay informed about legal and tax obligations relevant to your online business. Compliance is vital to avoid legal issues and financial penalties. Consider consulting with a professional accountant or attorney to navigate the complexities of online business regulations and taxation.
12. Scale and Diversify
Once your online business is thriving, explore opportunities for growth. This might involve expanding your product or service range, reaching new markets, or diversifying your income streams. Continual innovation is key to long-term success.
In conclusion, the world of online businesses offers endless possibilities for aspiring entrepreneurs. By following these essential steps, you can increase your chances of creating a successful online venture. Remember that persistence, adaptability, and a commitment to providing value to your audience are fundamental qualities of a thriving online business owner.
The internet has revolutionized the way we do business. If you have a unique idea, a passion, or a solution to a problem, there's never been a better time to start your online business. So, why wait? Take the plunge and embark on your journey to online business success today.