Will a Gainful Employment Rule for For-Profit Colleges Return? – Diverse: Issues in Higher Education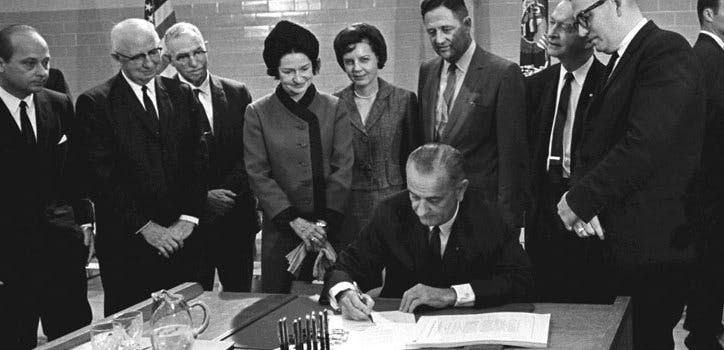 President Lyndon B. Johnson signs the Higher Education Act of 1965Brian Whitehead served in the U.S. Army from 2000 to 2005 before he went to ITT Technical Institute, a for-profit college chain that later closed in 2016. At ITT Tech from 2006 to 2008, he studied computer and electrical engineering earning an associate's degree. But he has never been able to get a job in his field since he graduated.
"On a campus tour at ITT, they bragged about their job placement rates for graduates, saying that 90% of their graduates get a job right out of the gate, with average salaries starting around $60-$70,000 a year," said Whitehead. "That was not true. The experience was nothing like what I had been promised."
Whitehead was left with about $50,000 in student loan debt, and his testimonial is one of thousands of borrowers who have called for tighter regulations of the for-profit college industry. The U.S. Department of Education (ED) since found that ITT Tech made exaggerated claims about its graduates landing jobs. 
"ITT may be closed, but I have to live with the debt and frustration that they left behind," said Whitehead.
Greater oversight of the for-profit college sector may be underway. ED next week will begin debating a rule that could more stringently regulate for-profits. Through public sessions called negotiated rulemaking, ED negotiators will discuss several issues with stakeholders, including student loan borrower advocates and for-profit college representatives. One such issue will be a rule called Gainful Employment (GE).
At a press briefing this week, several education policy experts and advocates said that this GE rule is key to holding for-profits accountable.
The federal Higher Education Act (HEA) requires that all career education programs that receive federal student aid "prepare students for gainful employment in a recognized occupation." But HEA does not define "gainful employment." So, in 2014, ED adopted a rule that defined GE to make sure graduates of federally-funded career education programs earned enough money to pay back the debt they took on to enroll in the programs. During the Trump administration, however, this GE rule was rescinded and has not yet been restored under Biden.
Meanwhile, student completion rates at for-profit colleges remain lower on average than at nonprofit colleges. Student loan default rates are also higher on average among people who attend for-profits versus nonprofits. 
"We should restore the original promise of the Higher Education Act," said Amanda Martinez, a senior education policy analyst at UnidosUS, a Latino civil rights organization, at this week's press briefing. "It was a civil rights law built on the idea that education is essential to all Americans… But in an unregulated market, that promise is being broken by one specific sector: for-profits."
Martinez pointed out how students of color disproportionately enroll in for-profits, which she argued makes for-profit regulations a racial justice and civil rights issue. A July 2021 report from the Student Borrower Protection Center, a nonprofit and nonpartisan research and advocacy group, found that for-profit schools are about twice as likely to be located in majority Latino or majority Black zip codes compared to majority white zip codes.
Yet during ED's rulemaking next week, GE will be one of seven topics on the table. Jared Bass, senior director of the Center for American Progress, a nonpartisan policy institute, said that he wonders how much air time GE will get relative to other critical issues up for debate.
"It will also be interesting to see what changes the Department will make," added Bass at the press briefing. "How much will the Department rely on the 2014 Gainful Employment rule? Will there be a significant departure from it?"
To Amy Laitinen, director for higher education at New America, a public policy think tank, a GE rule is critical to implement the law already in place under HEA. She and Bass noted as well that they will be curious to see which alliances will form among negotiators during rulemaking about GE.
"Who is going to end up supporting this—and who isn't?" said Laitinen at the press briefing. "We know the for-profit industry in particular has fought gainful employment every step of the way over the last decade. But it will be interesting to see how other various factions align on this."
Whitehead said that he will be closely watching what for-profit college regulations will come: "Schools need to be held accountable for their lies because they have the power to destroy our lives."
Rebecca Kelliher can be reached at rkelliher@diverseeducation.com.
Carrots Have These 8 Amazing, Surprising Health Benefits
Initially, the vegetable originated in the geological area and the Asian United States, and it was initially only available in purple and yellow hues. Carrots are an excellent source of beta carotene, a natural mineral introduced by the body to provide sustenance, and they are high in fibre.
Carrots, which are crunchy, orange, and delicious, provide a variety of benefits to our health, pores, skin, and hair. These don't appear to be particularly tasty, but they are loaded with numerous important nutrients, for example, beta-carotene, cell reinforcements, potassium, fibre, sustenance K, and so on.
Carrots are cultivated to promote eye health, lower dangerous LDL cholesterol, and aid in weight loss. Let's put it to the test and find out why carrots are so good for you!
The following are twelve effective edges you might get from carrots:
1. Supports gadget
Most importantly, carrots contain a few phytochemicals that are well-known for their cancer-causing properties. Carotenoids and carotenoids are present in more than one of these associations. Overall, compounds create resistance and activate specific proteins that prevent the growth of most tumor cells. An investigation reveals on a screen that carrot juice can also fight leukemia.
2. Advances Glowing Skin
Investigate tips that stop outcome, and vegetables well off in those composites will finish pores and pores and skin ground and work with people's appearances, thus making them more noteworthy young.
3. Fortifies Bones
Carrots are high in vitamins, minerals, and cancer-fighting agents. Vitamins B6 and K, potassium, phosphorous, and other minerals contribute to bone health, a more durable, and help with mental performance. Aside from selling the body to free extreme annihilation, cancer prevention agents keep an eye on the casing in the course of dangerous microbes, infections, and diseases. Physical cell digestion is managed by the ophthalmic component. Carotenoids have been linked to improved bone health.
4. Advances Male physiological circumstance (ED)
These fruitfulness meals may increase the number of sperm cells and their motility. According to research, this is a direct result of the fake carotenoids found in carrots, which are responsible for the vegetable's orange color. However, it is still unknown whether carrots can improve sperm enjoyment and motility. Carrots are being tried to improve food for male physiological conditions and erectile dysfunction. Cenforce FM and Cenforce D can be used to treat impotency.
5. Keeps From Cancer and Stroke
Carrots have an unusual endowment in that they are loaded down with anti-cancer resources that will depress the cells' blast. Essentially, studies have discovered that carrots can reduce the risk of a variety of diseases, including colon, breast, and prostate cancer.
6. Further develops the natural framework Health
Carrots contain a significant amount of dietary fibre, which plays an important role in supporting healthy stomach function. Fibre expands your stool, allowing it to pass more easily through the stomach-related plot and preventing stoppage.
7. Assists with managing polygenic affliction and basic sign
Carrots are high in fibre, which promotes cardiovascular health by lowering LDL cholesterol levels in veins and blood vessels. Calcium is absorbed through the frame of carrots, resulting in low but dangerous cholesterol levels.
Carrots have an unbalanced fibre content. An investigation found that advanced fibre consumption improves aldohexose digestion in people with the polygenic disorder. Following a healthy, well-balanced diet and maintaining a healthy weight can reduce the risk of type 2 diabetes.
Inconsistencies in glucose digestion may require a high level to combat aerophilic strain, and this is frequently where the inhibitor nutrients dilettanti ophthalmic thing axerophthol fats-solvent sustenance may also benefit.
According to one review, juice provided a 5 wrinkle inside the beat fundamental sign. The supplements in carrot juice, with fibre, K, nitrates, and vitamin C, have all been obtained to help this final product.
8. Advances Healthy Heart
To begin with, each cancer prevention agent is beneficial to your coronary heart. Furthermore, at 0.33, they should contain fibre, which can help you stay in shape and lower your chances of having a heart attack.
9. Forestalls devolution
Edges that are hostile to ophthalmic detail ensure the floor of the eye and provide a sharp inventiveness and perception. Taking juice will help to delay many eye diseases, such as macular degeneration, cataracts, and visual impairment. Overall, carrots contain lutein, which is an inhibitor that protects the eye from obliterating light.
10. Works on urinary organ and Liver perform
Carrots contain glutathione. Cell reinforcement has been shown to be effective in treating liver disease caused by aerophilic strains. The greens are high in plant flavonoids and beta-carotene, both of which stimulate and develop your popular liver component. Carrots contain carotenoid, which can help fight liver problems.
11. Palatable Anti-Aging
Along with carrots on your regular food, you will appreciate limiting the way you get more seasoned. Furthermore, beta-carotene functions as an inhibitor that advances cell harm, which happens as a result of the casing's normal digestion.
12. Advances Weight Loss
Uncooked Carrots are 88% water when raw or ebb and flow. A regular carrot has the lowest difficulty level of 25 energy. Taking everything into consideration, including carrots in your diet is a wise way to fuel yourself while collecting calories.