6 Software like Gemini 2 for Mac
When we use our system regularly it keeps on storing duplicate files, folders and unused applications. You forget to manage the files and delete the unwanted ones and that is the reason the precious hard disk space gets blocked by these unwanted files. Thus the problem you have to face is sluggish performance and storage issues. To get rid of the situation you need to download a duplicate file finder software that can deeply scan your Mac for the duplicate files, junk files, temp files and all the other redundant files that are blocking your storage space. Most of the users use Gemini 2 to clean and optimize their Mac.
Undoubtedly, Gemini 2 is one of the best and most effective Mac cleaner software but lacks many features which you can get in its alternatives. People are looking for Gemini 2 alternatives due to several reasons like it fails in clearing all the clutter and junk from the Mac and is quite expensive and that is also not worthy of the price.
Gemini 2 consumes a lot of system resources and is a heavy application. According to its price, Gemini 2 doesn't offer a great range of tools which you can get in other Software like Gemini 2. If you are using Gemini 2 for Mac cleaning and do not satisfy with the software then you are on the right platform.
This article is specially meant for those users who are looking for software like Gemini 2. In this article, we will be discussing the top 6 software that are the best alternatives to Gemini 2 but offers more features, consume fewer system resources and are less expensive compared to Gemini 2. Let's have a look at them.
6 Software Like Gemini 2 for Mac
1. iObit MacBooster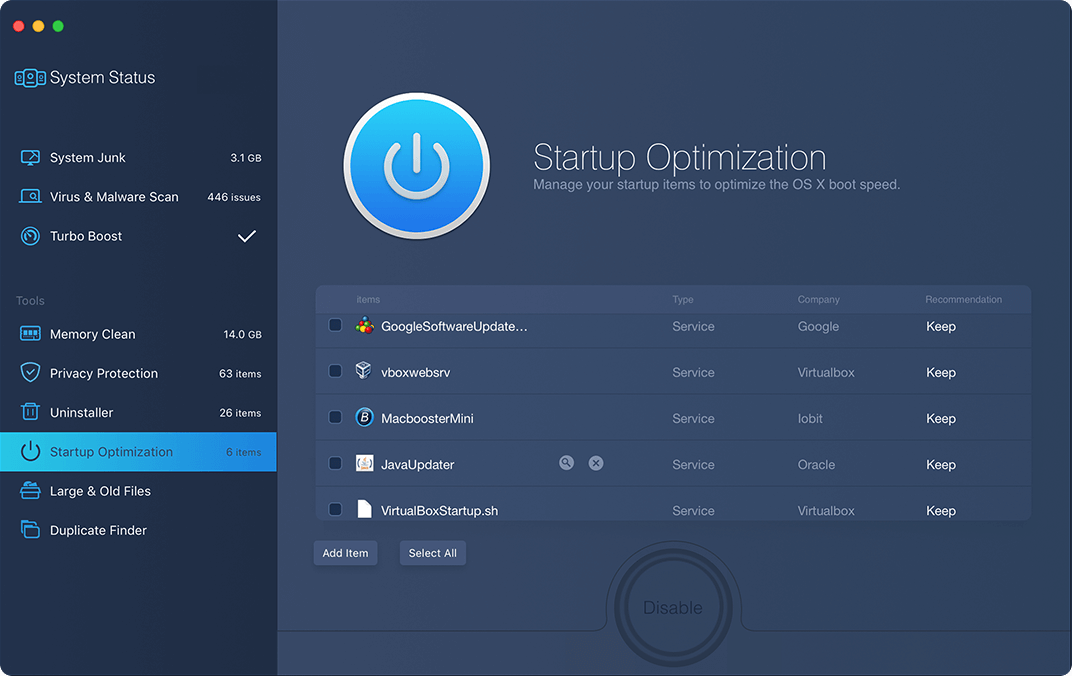 IObit MacBooster is one of the best Mac cleaning software which you can use instead of Gemini 2. The software is capable of optimizing your hard disk and boosting its performance. It has several tools which protect your Mac device from malware attacks.
It can scan the old and unwanted files that are hogging the disk space and making your system slower. The software consists of a built-in utility to identify and delete duplicate files. In this software, you will also get tools like Turbo boost and startup optimization.
2. CleanMyMac X
When we talk about the best Mac cleaning software one name that always strikes our mind is cleanmyMac X. It is a tool like Gemini 2 and is developed by the same company that is MacPaw. It is a great Mac cleaning software that consists of a drag and drop option to scan files immediately and handily.
CleanMyMac is a software that can also update outdated software. Using this application you can also get detailed information regarding each application so that you can easily know that which application is consuming what amount of disk space.
Apart from cleaning and optimizing the Mac it also protects your device against malware, virus,  ransomware and other malicious activities.
3. PhotoSweeper X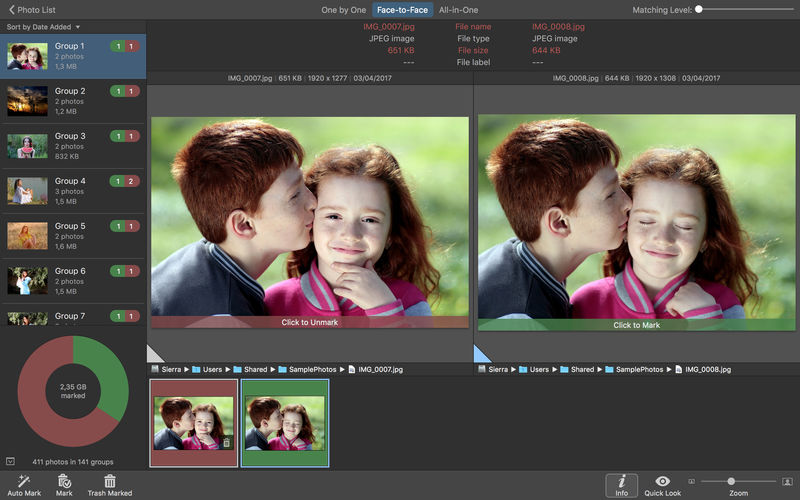 Another software which is an exact software like Gemini 2. It is capable of removing all the junk and unwanted files from your Mac. It is the best software that can manage your photos library and iPotos. The software helps you to organize your library by removing duplicate and blurred photos.
PhotoSweeper X is the foremost application that is easy to use and has a simple user interface. It allows you to review scanned files in three different ways; face to face, one by one and all in one. Using this software you can also delete duplicate photos and videos from external device.
4. DupeGuru
DupeGuru is another reliable software like Gemini 2 that makes your Mac device clutter free. It scans for the duplicate files in two ways; filenames or contents. Using the filenames scanning feature can bring out the duplicate filenames even when they are not specifically similar.
For finding the duplicate music it uses a special music mode that can scan tags, display music related information in the duplicate results window. It can also scan similar looking photos.
DupeGuru not only lets you delete the duplicate files but also allows you to move or copy them in different places. Apart from Mac, the software is also available in Windows as well as Linux platforms.
5. Duplicate Cleaner
Next, Duplicate Cleaner is also a prominent Mac cleaning software that you can use instead of Gemini 2. Duplicate Cleaner is a software that can quickly identify all the duplicate files such as photos, documents, videos, music and other files and removes them to free up a huge amount of disk space.
This is the best duplicate photo finder for mac whether they are edited, cropped or resized. Duplicate cleaner comprises a huge array of advanced tools like advanced filtering, snapshot states, finding duplicate folders, searching inside zip files, etc.
The user interface is very simple and you can easily start searching for duplicate photos. Its Assistant selection helps you in selecting files by groups, dates, drives, folders, etc. It uses advanced visual comparison techniques to discover all types of duplicate images. It is an all in one tool to make your Mac clutter free and run it smoothly.
7. TidyUp
Last but not the least, TidyUp is software like Gemini 2. It is a Mac cleaning software that can wipe out the waste and junk files from your device and boosts its performance. It can remove the duplicate files to free up the hogged up disk space.
The software has the ability to remove duplicates from the Lightroom library. It deeply scans your system and finds duplicate files from different locations. It is a free mac cleaning software.
Conclusion
The above mentioned are some of the nicest alternatives that you can use in place of Gemini 2. With these tools, you can get more features than Gemini 2 at better prices. I hope the above-mentioned software can help you in recovering the lost storage space which is equipped with duplicate files and all the other junk files.
Florida woman pays $6,000 for Coronavirus and associated tests at AdventHealth.
One day, your body starts aching. You begin to cough and can't catch your breath. You have just returned from an overseas trip. You think you have the Coronavirus.
You do exactly what you are supposed to do. Reach out to your primary healthcare provider. The doctor tells you to go to a local hospital and get tested. So you get tested.
You are then hit with medical bills that exceed $6,000.
Sounds like a bad dream, right?
After receiving a test at AdventHealth, DeLand, a Volusia County resident, shared her medical bills with The Daytona Beach News-Journal.
Due to the stigma associated with Coronavirus, the woman requested that her name be kept private. AdventHealth officials declined to comment on the newspaper's request.
The woman said she didn't know that testing would be so expensive. According to everything she read, she believed that the test was free. The ER visit and a series of unrelated tests she received led to a bill she is still trying to understand how to pay.
After undergoing coronavirus testing, a DeLand woman aged 23 received her initial bill from AdventHealth DeLand.
The 23-year-old DeLand woman said she felt fine after returning from Spain on March 17. After teaching English abroad, she returned to the United States after coronavirus cases began rising in Europe.
She said she had a headache and a fever the day she returned from Spain. After her fever had spiked, she called her family doctor on March 19, and they diagnosed her with a mild cough. She also began experiencing chest irritation.
AdventHealth DeLand was recommended to her. This was before coronavirus testing expanded throughout the state. The only option for testing was through the Florida Department of Health or local hospitals.
She said she was directed straight to the entrance for those who believed they might have COVID-19 when she arrived. The hospital staff performed various tests on her, including one for the flu and one for strep. A chest X-ray was also performed.
The woman explained that she had only gone for the coronavirus test and that they did tests she didn't request. They didn't ask me questions about them or whether I wanted them. They said that they would do this, that, and this. I should have stated that I wouldn't say I liked the other stuff. It was just something I felt had to be done.
The staff should have told her what it would cost or how much she would have to pay.
She said, "I assumed it would most likely be free because coronavirus testing was free."
She was sent an invoice for $4,356.28 after her initial visit. She was charged for IV therapy, laboratory services, pharmacy, and emergency center fees. Because the bill did not include it, it is unclear if she was accused of coronavirus testing.
Three weeks later, she received a second bill for $1969 for ER physician services.
She said that she and her dad were frustrated. "Disbelief that coronavirus testing should be free, but it's misleading that you go to the hospital and get tested. No one warns you or asks if it will cost you hundreds of thousands."
AdventHealth was asked by The News-Journal why patients were receiving tests they did not request and why patients needed to be informed about the cost of the tests before they were performed. A spokesman JeffGrainger asked for the patient's name, which The News-Journal gave him along with consent from the woman.
In the past two weeks, the newspaper made multiple unsuccessful attempts to obtain additional information from AdventHealth.
According to the woman, her father tried numerous times to contact AdventHealth to inquire about her bills.
She said Wednesday that Mike, AdventHealth's customer service director, called her twice to get me to pay the bill. "He claimed that the coronavirus charge wasn't on my bill, even though I only requested it at the hospital. I was not given a choice about the treatment I received."
She said she must pay $871 of the first and second bills totaling $2,840. She claimed she had Spanish health insurance through her employer. However, the policy is no longer valid in the United States.
She stated that she was asking the hospital to review the charges and remove them.
She was even more frustrated when her coronavirus testing came back three days later.
Her 56-year-old mother and her 20-year-old brother, with whom she lived with her 64-year-old father, were tested at the Florida Department of Health office in Daytona Beach. They did not have to pay for the test, and they didn't receive additional testing.
Holly Smith, the spokeswoman of the Volusia County FDOH office, said that "when the Department of Health conducts a testing, it is part of an epidemiological investigation." This includes taking a history. It has no additional tests or exams and is free to the patient.
The mother of the woman tested positive for the virus. Although her brother was negative for the virus, they believe he may have contracted it while studying in London. Her father was not tested for the virus.
The woman believes she is fortunate, except for AdventHealth's bill. She was able to stay at home throughout her illness. Her fever lasted only 24 hours. After being tested, she had only a slight cough and chest irritation for 12 days.
She said, "I feel fortunate, I suppose." "It's a very new virus, and they don't know why some people are more affected than others."
Her mother, however, had worse symptoms. She had a mild fever, cough, and fatigue for four days. Her symptoms lasted longer than those of her daughters.
She stated earlier that she was more concerned about her mom's health since she had a positive test. "Mostly, I am worried about my parents."
She advised others to verify the cost of testing at the beginning.
"I appreciated their thoroughness, but I didn't anticipate how much it would cost."